ESPN is the big sticking point in Disney's dispute with New York pay-TV operator Altice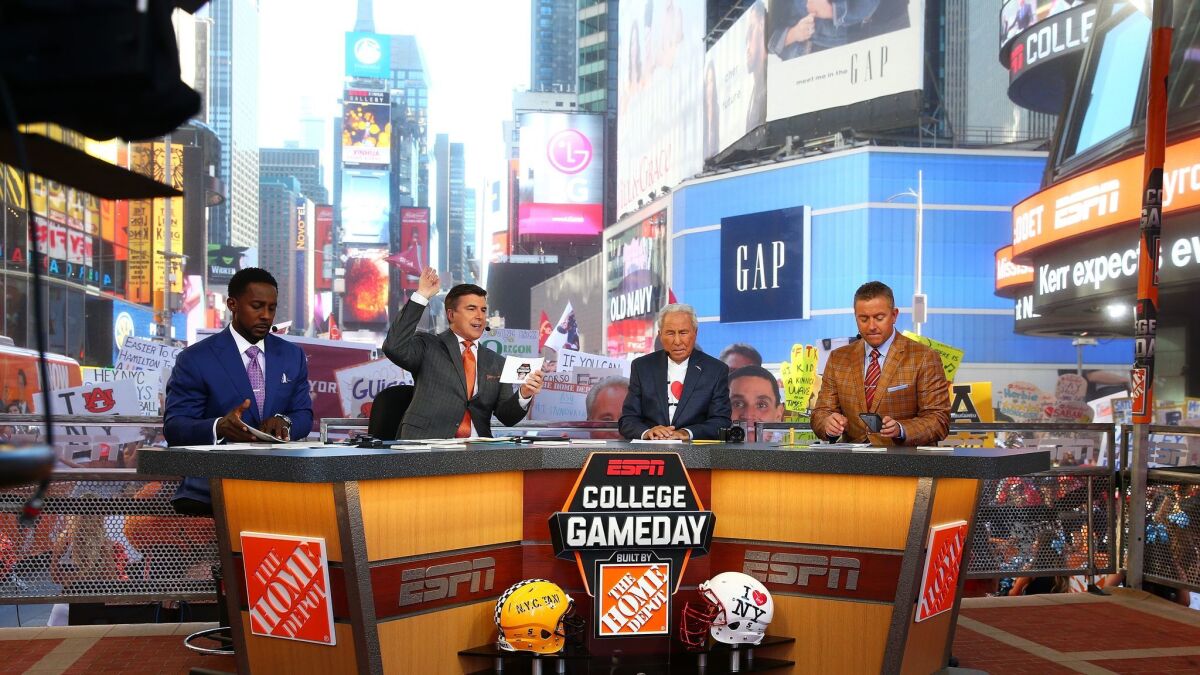 Walt Disney Co. is facing a crucial test of the strength of its ESPN sports empire as a New York pay-TV provider is balking at the Burbank entertainment giant's contract demands, setting the stage for a high-stakes showdown.
Altice USA is refusing to meet Disney's demands to carry ESPN and Disney's entertainment channels, including ABC, saying Disney is asking for too much money, particularly for ESPN, which has been struggling with subscriber losses and ratings declines.
The carriage agreement — which covers Altice's 2.6 million customer homes in the New York City suburbs — expires Saturday night. Without a new deal, millions of sports fans will be left in the lurch, unable to watch "Monday Night Football" or a pivotal New York Yankees wildcard playoff game next week.
"Disney is not going to back down, and neither is Altice," said veteran media analyst Michael Nathanson of MoffettNathanson Research.
Much is riding on the negotiations, which will continue in advance of the deadline, according to people familiar with the discussions. The Altice talks represent the first major deal renewal for Disney in nearly three years — and the first since ESPN's fortunes have fallen.
For years, Disney was able to extract substantial rate hikes for ESPN, and cable and satellite-TV operators grudgingly paid. But now, distributors are pushing back because they are trying to keep a lid on costs as they lose more customers to internet streaming services, such as Sling TV or Netflix.
Although Altice is not the biggest pay-TV operator — it is dwarfed by such giants as Charter Communications, Comcast Corp. and AT&T's DirecTV — the deal terms that Disney strikes with Altice could provide a template for other renewals that are coming up for the Burbank company in the next few years.
"This is a big deal. Disney needs to get rate increases and more subscribers for ESPN," Nathanson said.
ESPN has long been a cash cow for Disney — it is the most expensive basic cable network in the industry, costing distributors about $7.50 per month, per subscriber home, according to SNL Kagan.
However, the king of TV sports has been squeezed by an exodus of subscribers. In 2010, ESPN was available in nearly 100 million homes in the U.S. but it is now in about 87 million homes, according to Nielsen data.
Those ESPN subscriber losses have led to a drop in profit at Disney's important media networks division, which also includes ABC, the Disney Channel and Freeform. Profit in that segment was down 11% to $5.4 billion in the first nine months of the company's 2017 fiscal year.
ESPN's troubles have weighed on Disney's stock, which is down 4% this year. On Wednesday, Disney shares closed up 0.6%, or 61 cents, to $99.24.
"We remain fully committed to reaching a deal and are hopeful we can do so," a Disney spokesperson said in a statement. "Our company has never had a disruption of service for our family of networks and there is no reason that should change now."
Disney is under pressure to increase revenue at ESPN because it is on the hook to pay huge sports rights fees. ESPN pays the NFL $1.9 billion a year for "Monday Night Football," and its NBA contract, which kicked in last year, costs an estimated $1.4 billion a year — more than double the amount of the previous basketball contract.
MoffettNathanson, in a recent report, estimated that Disney must absorb $450 million in annualized costs in fiscal 2018 to fiscal 2021 simply to cover the inflation in its sports rights deals. Until about three years ago, Disney's subscriber fee increases were more than enough to provide a cushion for the rising costs — but not any longer.
"Skyrocketing programming costs, particularly those charged by broadcasters and sports networks, are the greatest contributor to rising cable bills, and ESPN is already the most expensive basic cable channel in history," an Altice spokesperson said in a statement.
Altice is a French telecommunications firm, founded by entrepreneur Patrick Drahi. It acquired Long Island-based Cablevision last year, taking over Cablevision's Optimum internet and TV service. The firm is motivated to contain costs because consumers have more options and could defect to another provider, such as Verizon FiOS, Dish's Sling or DirecTV.
Altice contends that Disney is asking too much for channels that have been losing viewers. Disney is "demanding double the rates for ABC for the same content they offer today, exorbitant fee increases for ESPN, and are trying to force customers who don't receive ESPN to have to pay for it," Altice said in a statement.
ESPN has cut expenses — including laying off hundreds of employees — and its goal has been to bolster its revenue by striking more lucrative carriage fee deals. ABC also is making plans to reduce its headcount.
ESPN is in an unfamiliar position. Until now, the sports giant appeared to hold all of the cards in negotiations with pay-TV operators.
"You have these people who are rabid sports fans and they want ESPN and they want it bad," said Derek Baine, cable television analyst with SNL Kagan. "But you have other people who don't watch sports — the vast majority — and I don't think they realize how much they are paying for ESPN."
A key element of the negotiations revolves around Disney's desire to get ESPN into more homes, according to knowledgeable people. More than a decade ago, Disney mandated that ESPN be available in 90% of the subscriber base of any individual pay-TV operator. So ESPN was part of nearly all the basic bundles offered to consumers.
However, pay-TV distributors began demanding more flexibility because they wanted to market skinny bundles to price-sensitive customers — packages without all of the expensive sports networks. Disney agreed to lower the penetration of ESPN to about 80% of subscriber homes for individual distributors, according to industry sources.
"That was a huge mistake," Baine said. "That difference turned out to be a lot of money."
Nathanson, the analyst, said that Disney should try to recapture about 5 million to 6 million homes in its contract renewals. And, he said, the company might have the upper hand in negotiations because of ESPN's strong lineup of sports programming, including the NFL and Major League Baseball — that viewers still want to watch live.
On Altice's Optimum community Facebook page, customers' opinions were mixed. "If ABC is removed, I won't be able to watch Jeopardy and Wheel of Fortune," wrote one customer. Another subscriber added: "Optimum better get a new contract with Disney to get ABC and ESPN back. Don't [mess] with my NBA man or you will lose a customer."
ALSO
NFL pregame shows tackling players' response to Trump get a ratings boost
How one election changed Disneyland's relationship with its hometown
'ABC World News Tonight' takes ratings crown, but broadcast news audiences continue to shrink
Inside the business of entertainment
The Wide Shot brings you news, analysis and insights on everything from streaming wars to production — and what it all means for the future.
You may occasionally receive promotional content from the Los Angeles Times.