FilmNation has 3 movies at Sundance but is quickly moving beyond film
A perennial presence at the Sundance Film Festival, FilmNation Entertainment has distinguished itself as an independent film financier and production house that takes risks and attracts major stars. But despite its name, the company is increasingly looking beyond film, diversifying its content portfolio to include prestige TV and live theater.
"There's a lot of change in our industry and how people are consuming content. A lot of companies are struggling to adapt," said Glen Basner, FilmNation's chief executive. "TV is a growth part of our business."
FilmNation is set to begin production this spring of "I Know This Much Is True," a limited HBO series starring Mark Ruffalo and directed by Derek Cianfrance. It also launched a television joint venture in the U.K. with Nordic Entertainment Group that will focus on producing content for international TV audiences.
The company recently hired Stefanie Berk from FremantleMedia to serve as executive vice president of television. Other TV projects include two titles in development with Hulu.
Competitors including Annapurna and Anonymous Content have similarly looked more to TV as the theatrical market for indie films continues to be squeezed by streaming.
FilmNation invested in the current West End revival of Sam Shepard's "True West," starring Kit Harington, as well as the Broadway run of the Tony-winning musical "The Band's Visit." Annapurna is also investing in live theater, such as the current "Network" running on Broadway.
The New York-based FilmNation is still committed to traditional movies and has a strong presence at this year's Sundance with three titles, all directed by women.
The title with the most buzz is "Late Night," written by Mindy Kaling, following the travails of a late-night TV comedy host (Emma Thompson) and her new staff writer (Kaling). The movie is directed by Nisha Ganatra. "The Lodge" is a horror movie starring Riley Keough and co-directed by Veronika Franz and Severin Fiala.
The company also is representing sales for "The Nightingale," a period drama directed by Jennifer Kent.
FilmNation began 10 years ago as an international film sales company and has grown to encompass financing and producing. Its crowded slate includes the latest movie from "Veep" creator Armando Iannucci — an adaptation of Charles Dickens' "David Copperfield." The movie, starring Dev Patel in the title role, recently completed filming.
Speaking from New York, Basner discussed Sundance and FilmNation's strategy for diversification. Here are excerpts from the conversation.
You have three films at Sundance this year and all three were directed by women. Was that a deliberate choice?
It's something we're very proud of. This move to diversity, this conversation in our industry, we think it's very positive. It's something we started looking at seriously a few years ago when I was invited to be a ReFrame ambassador. [ReFrame is a gender-parity initiative from Women in Film and the Sundance Institute.] So part of this is a reflection of that.
Two years ago, FilmNation garnered a lot of attention when it sold "The Big Sick" to Amazon for $12 million. Do you expect any big deals this year?
I don't really go in with expectations. It's just about finishing the films — making them as excellent as possible and delivering them in time to make the festival. … I think people get caught up in who's going to write a big check. If the film warrants it, there will be people who will compete.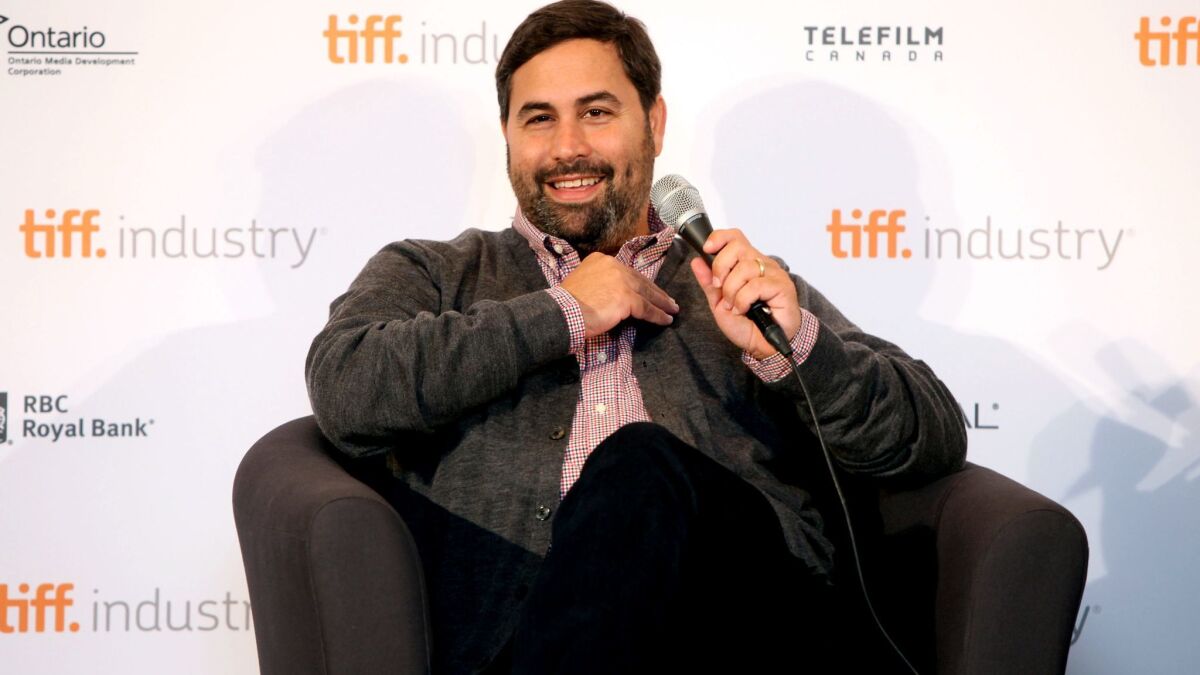 FULL COVERAGE: 2019 Sundance Film Festival »
Many of your movies have ended up with Amazon.
There is no contractual obligation on either side. We just like the people there.
The indie world has changed a lot with streaming companies like Netflix and Amazon dominating the marketplace. You're moving into the TV business, for example.
We're not only surviving but thriving by radically diversifying our business. That's how TV comes in. One of our core competencies is our taste and aesthetic. Whether TV or theater, maintaining our core aesthetic is something that is fundamental to us.
What is your core taste?
It's always hard to define taste. It's personal. It's somewhat specialized. Where we've had our most success is taking content that doesn't seem broadly commercial but has something unique to it, and through execution, it becomes more commercial. "Arrival" is the best example. On the page, it doesn't seem like something that would gross $100 million. "The Big Sick" is another example. It looks specialized on paper, but it turned out to be more commercial.
You're also investing in live theater.
It's a natural evolution of wanting to tell stories — it's another form of doing so. We were one of the producers on "The Band's Visit," which won the Tony Award for new musical last year. … As we start working with storytellers in different media, it lets us build relationships. Now we have different touch points with creative talent.
Last year, you secured $120 million in new financing from Bank of America Merrill Lynch and Union Bank. How are you putting that money to use?
We're working hard at investing that money. We're financing the new Armando Iannucci film. We're also financing "The Nest" [starring Jude Law] and the new film ["Ironbark"] by Dominic Cooke and starring Benedict Cumberbatch. So we are putting that money to work.
Do you think there's a future for theatrical distribution in indie cinema?
I think the theatrical marketplace is going to be a key factor going forward, but which ones will succeed will evolve and change. We actually think with high-quality content, it's exactly what people want to see in a theater. We have a movie coming out this year with Julianne Moore — "Gloria Bell" — that A24 is distributing. We're very much optimistic about people continuing to see movies in theater. That said, we're also aware of other kinds of viewing and are diversifying our content — creating content that serves all possible platforms.
Sundance 2019 Film Festival: See the latest video interviews
On Now
Video: Behind the scenes of the L.A. Times 2019 Sundance photo/video studio
On Now
Video: The 2019 Sundance Film Festival Boomerang Supercut
On Now
Video: How do you make the most of a small budget?
On Now
Video: Cast and filmmaker discuss trusting each other while shooting 'Premature'
3:12
On Now
Video: 'Brittany Runs a Marathon' breaks conventions and stereotypes
On Now
Video: Jillian Bell is tired of getting scripts about body image issues
On Now
Video: Jillian Bell lost 40 pounds for her role in 'Brittany Runs a Marathon'
On Now
Video: 'Brittany Runs a Marathon' actors break out of their sidekick roles
Inside the business of entertainment
The Wide Shot brings you news, analysis and insights on everything from streaming wars to production — and what it all means for the future.
You may occasionally receive promotional content from the Los Angeles Times.