Sean Hannity goes on vacation as some advertisers drop out of his show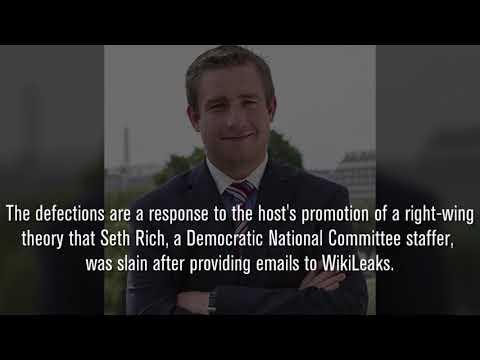 At least seven advertisers have reportedly asked to be pulled from Sean Hannity's prime-time program. (Sign up for our free video newsletter here http://bit.ly/2n6VKPR)
Fox News may be seeing a repeat of advertiser backlash that eventually drove out its former top anchor, Bill O'Reilly.
At least seven advertisers — Cars.com, Leesa Sleep, Casper, USAA, Peloton, the Crowne Plaza hotel chain and doorbell company Ring — have reportedly asked to be pulled from Sean Hannity's prime-time program.
The defections are in response to the host's promotion of a right-wing theory that Seth Rich, a Democratic National Committee staffer, was slain after providing party emails to WikiLeaks.
"We don't have the ability to influence content at the time we make our advertising purchase," Cars.com said in a statement. "In this case, we've been watching closely and have recently made the decision to pull our advertising from Hannity."
A representative of Fox News would not comment on the pullout by advertisers and said Hannity is off the rest of the week on a scheduled vacation.
"Like the rest of the country, Sean Hannity is taking a vacation around Memorial Day weekend and will be back on Tuesday," a spokesperson for Fox News said. "Those who suggest otherwise are going to look foolish."
The advertiser pullback was first reported by BuzzFeed News.
In March, advertisers started dropping out of "The O'Reilly Factor" amid reports that O'Reilly and Fox News had paid $13 million to settle claims of sexual harassment and verbal abuse by the prime-time star. By early April, every major advertiser was off the program.
O'Reilly left for vacation after his April 11 broadcast but was never seen on Fox News Channel again. He was fired April 19, with the company paying off his $25-million-a-year contract.
The departure of O'Reilly, for years the most popular prime-time personality on Fox News, has put cracks in the ratings dominance of the top-rated cable news channel. Last week, Fox News finished behind CNN and MSNBC in the 25-to-54 age group — the group most coveted by advertisers — for the first time since 2008 (outside of weeks when the Democratic National Convention was held).
But the advertiser exodus from "Hannity" does not appear to be gaining the kind of traction that led to O'Reilly's demise. Mercedes Benz issued a statement Thursday saying it has no plans to move its commercials out of the program
"[The] rule of thumb is that we do not pull our ads based on editorial content," the company said. "Our feeling is that a variety of viewpoints is part of the natural discourse that takes place in a free media."
A Hyundai Motor Company spokesman told BuzzFeed, which has been surveying companies about whether they intend to keep their spots in Hannity, it has no plans to change its ad buys.
When the two automotive companies defected from "The O'Reilly Factor," it was a sign to Fox News executives that they had full-blown crisis on their hands.
Hannity has always been the most outspoken conservative voice on Fox News and as a commentator does not have to adhere to the journalistic rigors of correspondents and news anchors on the channel. But after Fox News retracted the story, he was forced to back off of his speculation about Rich, who was killed on the streets of Washington in what police have said was a botched robbery.
Hannity insists that it was his decision to stop discussing the theory that Rich's death was related to the leaking of DNC emails to WikiLeaks, which U.S. intelligence agencies have instead said was the work of Russia-backed hackers. He said on his program Tuesday that he had spoken to Rich's brother and would no longer discuss the matter out of respect for the family.
But the talk within Fox News is that Hannity was asked to back off the matter, which comes at a delicate time as Fox News parent 21st Century Fox is attempting to get British regulators to approve its acquisition of European pay TV giant Sky.
Advertisers asking Fox News to take their commercials out of the program in response to the controversy — the same thing that led to O'Reilly's undoing — will be a test for Fox News.
Fox News stood by O'Reilly in the early weeks of the advertiser defection. But nature of the allegations against O'Reilly — with the possibility of more coming — and no clear signal that advertisers would return, led to a parting of ways.
If Fox News severed its ties with Hannity, it would be a statement on how much latitude it's willing to give its opinionated hosts. It could also raise questions about whether advertisers have undue influence in what political ideas can be shared on cable news.
"Moving away from a news story that may or may not be true suggests brands are now taking political positions," said Larry Chiagouris, a professor of marketing at Pace University's Lubin School of Business in New York. "It may cost them sales in the long run as some consumers push back."
Although O'Reilly was not a popular figure among his Fox News colleagues, Hannity is generally well-regarded even among co-workers who don't agree with his political views.
Numerous on-air personalities have issued apologies for misstatements or inaccuracies they have perpetuated on Fox News programs. But suspensions or firings have been rare.
Hannity has been a supporter of free speech for other TV and radio hosts who have run into controversies.
When "Late Show" host Stephen Colbert recently faced criticism over a lewd joke he told on the air about President Trump's relationship with Russian President Vladimir Putin, Hannity tweeted: "I will NOT support #FireColbert. I am vs ALL BOYCOTTS. He is a horrible human being, but if u don't like him change the channel."
Twitter: @SteveBattaglio
ALSO
CAA and China's Bona Film Group create $150-million film fund
Amid turmoil, is Fox News losing its perch as cable news leader?
Fox News moves to dismiss lawsuit by former on-air host Andrea Tantaros
---
UPDATES:
9:35 a.m.: This article was updated to include a statement from Mercedes Benz
2:40 p.m.: This article was updated with additional details on the advertising pullout.
May 26, 9:07 a.m.: This article was updated with information on Mercedes Benz and Hyundai Motor Company.
This article was originally published at 11:55 a.m.
Inside the business of entertainment
The Wide Shot brings you news, analysis and insights on everything from streaming wars to production — and what it all means for the future.
You may occasionally receive promotional content from the Los Angeles Times.