Netflix to experiment with interactive TV, letting viewers choose an ending for 'Black Mirror' film
Ever screamed at the television, wishing the character you're rooting for would follow your advice? Now's your chance.
On Friday, Netflix launched an interactive film from the sci-fi anthology "Black Mirror" that allowed viewers to vote on a series of potential plot developments, leading to one of five possible prerecorded endings.
The effort, a 90-minute film named "Bandersnatch," offers viewers a chance to decide what main character Stefan has for breakfast or whether he indulges in drugs. Viewers can replay the show and make different decisions to see the other possible endings, in a structure that echoes the "Choose Your Own Adventure" children's books sold during the 1980s and '90s.
Choose your own "Black Mirror: Bandersnatch" review: Click here for Lorraine Ali | Click here for Robert Lloyd
Netflix's expansion into interactive shows signifies a big effort by Silicon Valley to re-imagine what the next generation of Hollywood entertainment will look like. In an era when audiences demand interactivity, whether proposing topics for a YouTube star to tackle or quizzing prominent guests on Reddit's Ask Me Anything forum, some believe embracing interactive shows could be an important move for studios.
Entertainment and tech companies believe there is tremendous potential in interactive shows, as new technologies allow viewers to respond to shows virtually instantaneously. Such shows also combine elements of scripted television with gaming — an increasingly popular medium that allows players take an active role in choosing how the story evolves.
"This could actually ultimately give birth to the next mass medium with huge appeal, which could mean it could be very profitable," said Robert Thompson, director of the Bleier Center for Television and Popular Culture at Syracuse University.
More than 15 years ago, reality TV brought viewers a much slower form of interactivity — the chance to vote on who would make the next round in shows like "American Idol." But today's technology offers speed and the ability to pair interactivity with scripted programming, a strategy Netflix says it intends to pursue more.
The recent "Black Mirror" episode "flung open the door for more opportunities and we're excited about what's next," Netflix said in a statement. "Expect more to come from this space."
Already, Netflix has experimented with interactive storytelling with other programs, including the 23-minute "Puss in Book: Trapped in an Epic Tale." In the 2017 offering, viewers could make choices that drove the story, (for example, whether Puss should attack a god or a tree).
HBO last year launched "Mosaic," a project directed by Steven Soderbergh that allowed viewers to choose on an app which character's perspective they would like to see the story from. Viewers could go back and watch the story unfold from multiple perspectives. (Earlier this year, HBO released the footage as a six-episode limited series.)
And Amazon-owned Twitch, based in San Francisco, has also expressed support for interactive scripted shows. Twitch is better known as a widely popular platform for broadcasting live gaming, drawing more than 15 million active users a day, but the company believes its tools — among them live chats and instant polls — can also be successfully used for interactive shows.
Earlier this year , producer Bernie Su and author Evan Mandery launched interactive scripted drama "Artificial" on Twitch about a robot named Sophie who yearns to become more human. Unlike Netflix's "Black Mirror: Bandersnatch," which completes its story in a 90-minute movie with five possible endings, "Artificial" had 16 episodes in its first season and asked viewers to make plot decisions during live broadcasts. The show was funded by outside investors and private partners (Twitch did not fund the show but offered technical and promotional support).
Those viewer choices permanently altered the plot of the show, and the showrunners discarded the plot elements that audience members had turned down. In one episode, filmed in Hollywood Hills, the main character asked the audience how she should greet the boy next door — with a hug, kiss or handshake. After conducting the poll for a few minutes, viewers chose kiss and the actress moments later kissed the neighbor on the cheek, altering the story line through their awkward interaction.
The show's creators chose Twitch as their distribution platform because of this live polling capability and other advances in Twitch's technology. Analysts say that marrying elements of gaming with scripted entertainment could help draw in younger audiences who don't watch traditional network television.
The concept of interactivity in scripted entertainment isn't new, but technology has evolved to present audiences with much more satisfying outcomes in real time. One of the early examples in TV of interactive storytelling was the 1950s CBS show, "Winky Dink and You," Thompson said. Children were encouraged to place transparent screens on top their television to draw solutions to problems portrayed on the program. For example, if a character was trapped against a wall, the kids would draw a ladder. But the rudimentary interaction did upset some parents when some kids forgot to scribble on transparent screens and used crayon directly on their TVs instead, he added.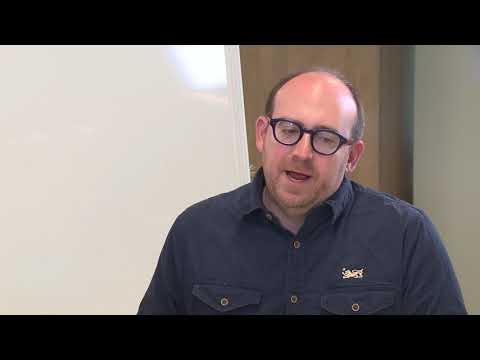 Los Angeles Times television critic Lorraine Ali and music editor Todd Martens discuss the pros and cons of "Black Mirror: Bandersnatch."
While technology has evolved, some analysts remain skeptical that interactive TV shows will take off because it's hard for TV producers to develop multiple endings that are entertaining since they are more accustomed to linear story telling, said Michael Pachter, a managing director of equity research at Wedbush Securities. For example, Chuck Lorre's "Nathan's Choice," a 2001 pilot that had interactive elements, failed to take off, he said.
"They don't know how to tell that open world, anything-they-want type story," Pachter said. "Game makers are good at it. TV guys aren't."
Interactive TV can also be expensive; shooting multiple endings is costly. The interactive film "Late Shift," a story that lets viewers direct the actions of Matt, a student on his way to work, scaled back its budget because some investors said they didn't think the movie would work.
"They said people don't want this in cinema," producer Baptiste Planche told the L.A. Times in 2016. "They said theater people want to lean back."
Netflix's recent interactive film comes at a time when the Los Gatos company is under pressure to add more content to its streaming platform as companies like Disney are expected to launch their own services. If Fox and Disney were to pull all their content off Netflix, that would significantly cut into the amount of programming available on the service, Pachter estimates.
"That's a big hole in the Netflix lineup," Pachter said.
Netflix is expected to spend $13.5 billion on original content in 2019, up from $10 billion in 2018, according to venture capital firm Loup Ventures.
With "Black Mirror: Bandersnatch," the ability to re-watch the show to see multiple endings could encourage people to talk about what they saw and compare notes, Su said.
"It can definitely create re-watch value, which is an added benefit for Netflix," Su said.
Rob LaPlante, president of production company Lighthearted Entertainment Inc., said the growth of streaming video platforms has helped spur more creativity among producers. Companies like Twitch and Facebook are building tools to help producers create more interactive programming while reaching their large user bases.
LaPlante's company worked on the second season of "RelationShipped," a reality dating show on Facebook Watch, the social network's video platform, that polled voters to determine which women should get to meet the show's resident bachelor. He said the interactivity of the show was something he always wanted to do, but never had the opportunity to do before because traditional networks had limitations.
That was not the case with Facebook. "They want to break molds," LaPlante said.
Still, Thompson said he believes there will continue to be a place for premium, scripted shows. For example, Thompson says he believes he couldn't have chosen a better ending for "The Sopranos." In some cases, having multiple endings could be inferior to having one powerful conclusion, he said.
"The fact remains that one of the reasons we pay Hollywood writers producers and directors so much money is because they are presumably better at it than the crowd," Thompson said.
Twitter: @thewendylee
Inside the business of entertainment
The Wide Shot brings you news, analysis and insights on everything from streaming wars to production — and what it all means for the future.
You may occasionally receive promotional content from the Los Angeles Times.