Insured losses from California wildfires top $11 billion as claims keep rolling in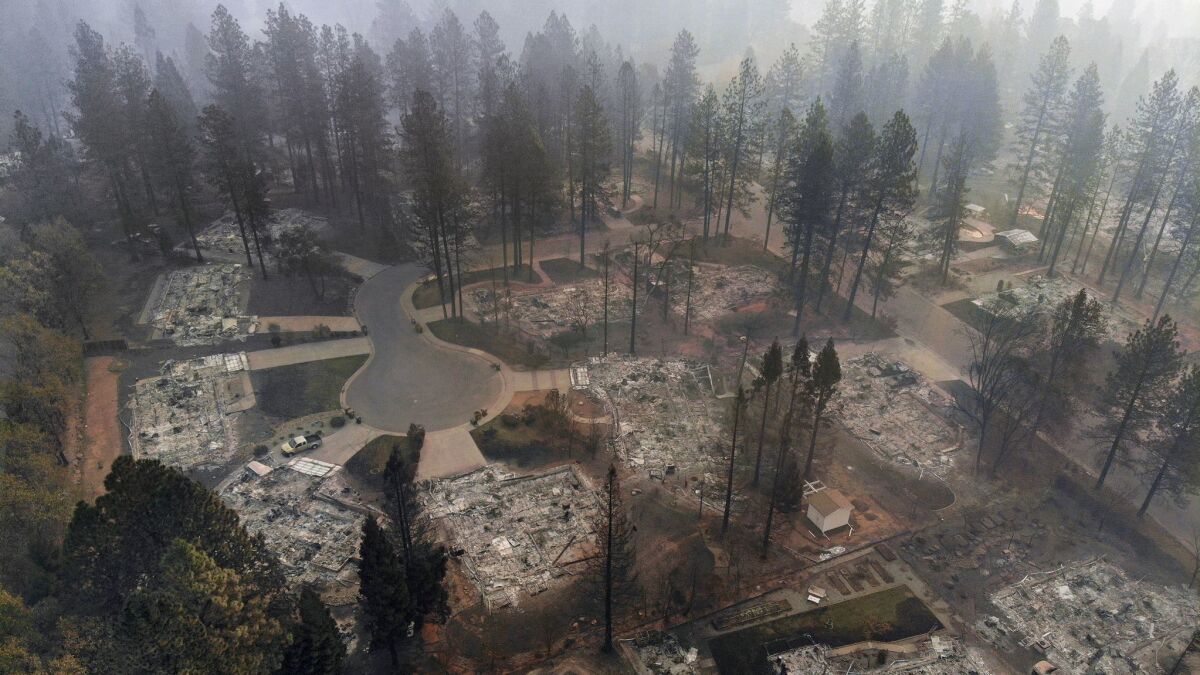 Insurers have received claims of $11.4 billion so far to cover losses caused by the wildfires that ravaged California in November — and that number is going to grow, state Insurance Commissioner Ricardo Lara announced Monday.
"These are massive numbers," Lara said to reporters. Furthermore, people are expected to continue reporting insured losses for months, and the figures don't include uninsured losses, he said.
The figure announced Monday was a jump from the preliminary $9.05 billion the department reported in December after the Camp and Woolsey fires, which together killed 89 people and left thousands homeless, and the Hill fire, which was destructive as well.
Insurers reported more than 46,000 claims, and more than 13,000 insured homes and businesses suffered a total loss, Lara said. The data reflect damage to homes, businesses, vehicles and other property.
"Today, we have a clearer picture of the loss from the devastating Camp and Woolsey fires," Lara said. "To the residents of Paradise, Butte, Malibu, Los Angeles and the other communities who have lost so much — we stand with you on the long road to recovery."
The 2018 fire season was the most destructive on record: 104 people were killed and nearly 1.9 million acres were burned. In 2017, wildfires caused 47 deaths and burned nearly 1.4 million acres. Until 2017, the 2007 and 2008 seasons were the worst.
In all, the Insurance Department has tallied more than 56,000 claims and $12.4 billion in insured losses due to wildfires last year. Insurers received more than $11.7 billion in claims from California wildfires in 2017.
Butte County, which saw the deadliest fire in California history kill 86 people and destroy more than 13,900 homes, led costs in insured losses among counties across the state at about $8.3 billion. Los Angeles County, where the Woolsey fire killed three people and destroyed more than 1,600 structures, including 440 in Malibu, followed at $2.6 billion, according to the department.
The Carr and Mendocino Complex fires that started in July totaled nearly $934 million in insured losses, Lara said.
After the unprecedented fire season, the department expects that homeowners in any areas that are considered high-risk for wildfire loss will see fewer options for coverage as wildfires grow larger, more intense and more frequent.
"We have seen an uptick in nonrenewals and will continue to monitor this closely," Lara said.
A Times analysis in December of wildfire hazards across the state found that more than 1.1 million structures, or roughly 1 in 10 buildings in California, lie within the highest-risk fire zones in maps drawn by the Department of Forestry and Fire Protection.
Lara stressed the need for the state to be better prepared for extreme wildfires ahead of the next fire season.
"Our current wet, wet winter weather is laying the seeds for another year of growth, and climate change, as we know, is not our friend," Lara said.
Lara said the recent government shutdown didn't help the cause.
"Crews who should be doing prescribed burns [in forests] were not working," Lara said. "I'm glad the shutdown is over, so federal workers can get back on the job and we can work together closely to prepare for what is, unfortunately, the inevitable."
Lara briefly addressed how victims could be affected if Pacific Gas & Electric Co., California's largest power company, files for bankruptcy protection. The utility's equipment is being investigated as a possible source of the Camp fire, which destroyed the town of Paradise and was the costliest single natural disaster in the world for insurers last year.
"The outcome is still undecided on who is responsible for that fire, but we know insurers have the money they need to make the claims whole," Lara said. "Regardless of who's at fault, we are confident insurers have the money."
The department said it is monitoring the potential effects of the bankruptcy filing and will ensure wildfire survivors are able to collect the full benefits of their insurance claims.
"It is the expectation of the department that insurers will continue to pay claims fairly and in a timely manner," Lara said in a statement this month.
The department plans to give its next update on insured losses after the 2018 wildfires in April.
---
Sign up for the California Politics newsletter to get exclusive analysis from our reporters.
You may occasionally receive promotional content from the Los Angeles Times.