Drivers angry, resigned about gas-price jump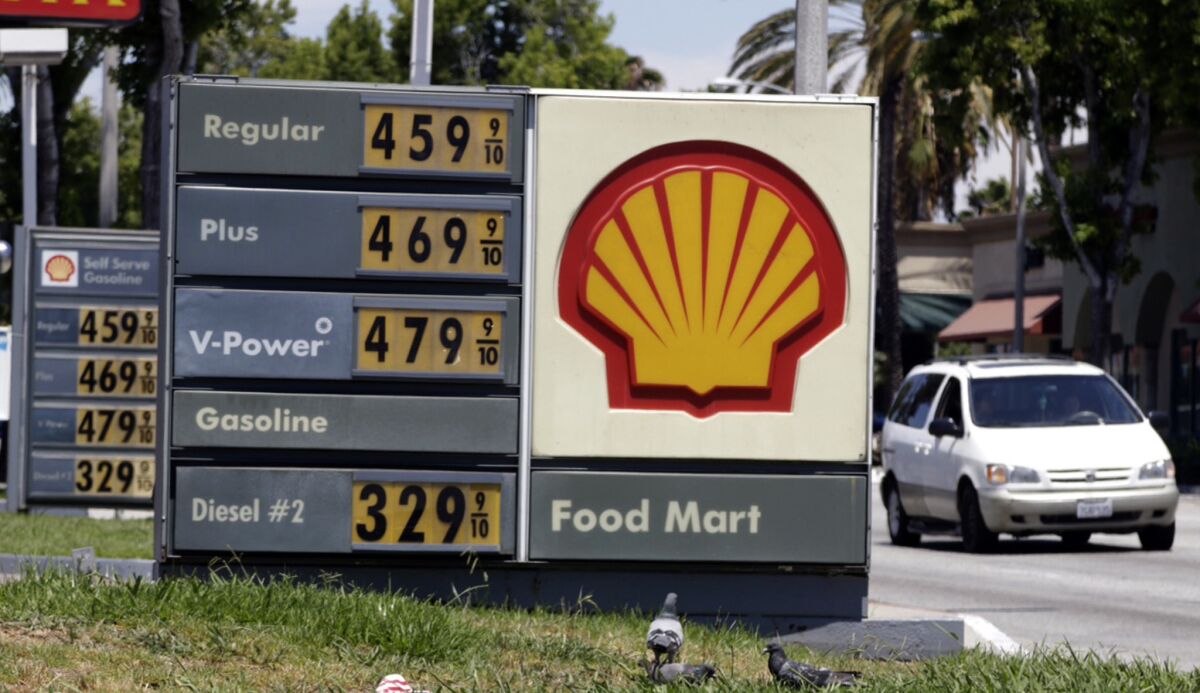 Eye-popping gasoline prices in Los Angeles are driving Dean Smith into a second job.
The 54-year-old L.A. city clerk shook his fist Monday at a 76 gasoline station pump where gas reached $4.65 a gallon. He said he now works on the side as an Uber driver to help pay his bills.
"I'm mad as hell," Smith said at the station on 6th Street in downtown L.A. "What can you do? It's crazy, man. It is crazy."
Gasoline prices have reached as high as $5 a gallon in the region, and experts predict the daily double-digit increases that began last week could continue a few more days before retreating.
Prices have risen 50 cents a gallon from a week ago in the Los Angeles-Long Beach region amid a shortage of refined petroleum, according to the Automobile Club of Southern California.
The Tesoro Corp. plant in Carson, for instance, just reduced its refining capacity to perform maintenance. That followed Tesoro's move in February to idle its Northern California refinery in Martinez after a nationwide union walkout. Then Exxon Mobil Corp. scaled back operations at its Torrance facility after an explosion in February damaged an air pollution monitoring unit.
"The market is responding to all of these pressures," said Marie Montgomery, a spokeswoman for the Auto Club. "Until the refineries resolve the problems … prices will probably continue to go up at the gas stations."
Statewide, the average price for a gallon of regular gas stood at $3.72. The Auto Club put Monday's average price at $4.05 in the L.A. area.
That compares with an average of $2.77 nationally.
"This is a complete disconnect with the rest of the country," said Tom Kloza, global head of energy analysis for the independent Oil Price Information Service. "This really is illustrative of the fact that California is its own market."
California prices are driven up by about 70 cents per gallon in taxes and fees; state requirements to produce special low-pollution blends; and the relatively small number of refineries in the state. Few refineries outside the state are equipped to produce California gasoline, so any interruption of capacity at California refineries has an outsized effect on supply — and prices.
Last week, the U.S. Energy Information Administration released a report saying there was a lack of fuel imports to California, said Patrick DeHaan, senior petroleum analyst for Gas Buddy.
Wholesale prices quickly jumped, and that's now reflected in prices at local gas stations. But wholesale prices have eased a bit since, a drop that could show up at the pump by midweek.
Expected shipments of gasoline from Europe and Asia — along with ingredients for California's refineries to produce the state blend — could also ease the shortage, DeHaan said. High prices typically encourage more imports, he said.
The main hope for declining prices, however, may come when the Exxon Mobile refinery in Torrance returns to full operation, said Gordon Schremp, a senior fuels specialist at the California Energy Commission.
"Hopefully, that will be next month," he said.
Don't expect an immediate drop in prices. Allison Mac, petroleum analyst for Gas Buddy, said prices won't fall as fast as they rose.
Smith said he's preparing for the worse. In addition to his taking on a second job, he and his wife now carpool from South L.A.
"The gas prices are quite bizarre," Smith said. "It's California."
Downtown L.A. had some of the highest prices: $4.65 for a gallon of regular gas at a 76 station on 6th Street; $4.99 at a Shell station on Hill Street.
Some have just become resigned to the reality of expensive gas in California.
Jessi Diaz, 27, a model who lives in L.A., usually spends $60 to fill up her Toyota Tacoma. On Monday, she stopped at $20.
"I think it's ridiculous," Diaz said.
Montgomery, the Auto Club spokeswoman, cautioned motorists to pay more attention to prices and avoid waiting till the last minute to buy gas. Comparison shopping can pay off.
"There are plenty of gas stations that are under $4 right now," Montgomery said.
ivan.penn@latimes.com
Hoy: Léa esta historia en español
Twitter: @ivanlpenn
Times staff writer Samantha Masunaga contributed to this report.
ALSO:
Chevy unveils refreshed Silverado for 2016
Toyota's next Prius is unlikely to boost sagging hybrid market
What kind of car is the most green, fuel efficient and budget friendly?
---
Sign up for the California Politics newsletter to get exclusive analysis from our reporters.
You may occasionally receive promotional content from the Los Angeles Times.