Economic growth rebounded to 2.6% annual rate in second quarter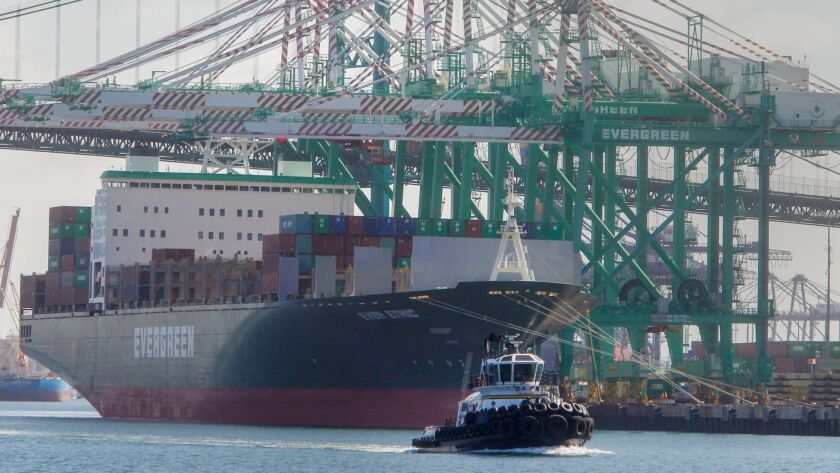 Reporting from Washington —
The U.S. economy rebounded this spring after a weak winter, expanding at a solid 2.6% annual rate as consumers picked up their spending pace, the Commerce Department said Friday.
Total economic output, also known as gross domestic product, for the April-through-June period was in line with analyst expectations for a bounce-back based in part on pent-up demand.
The economic growth rate was more than double the 1.2% pace in the first quarter. That figure was revised down Friday from an earlier estimate of 1.4%.
"After the winter blues, the economy has rebounded," said Sung Won Sohn, an economist at Cal State Channel Islands.
The stronger second-quarter means that the economy expanded 1.9% in the first half of the year. That is roughly in line with estimates by the Federal Reserve and International Monetary Fund of 2.1% this year, which would be similar to the sluggish annual growth that has plagued the recovery from the Great Recession.
The report, the first of three official government estimates for the quarter, was good news for President Trump as it indicated that the economy's lackluster first-quarter performance was an anomaly. In a research note, Barclays said the stronger growth showed the first-quarter weakness "was just a blip."
Trump touted the new data on Friday.
"GDP is up double from what it was in the first quarter," he said during a speech in New York. "We're doing well. We're doing really well."
But the new data underscored the challenge facing Trump to fulfill his pledge of at least 3% annual growth, and is likely to increase calls from Republicans and businesses for big tax cuts to spur the economy.
White House and congressional Republican leaders took a key step toward tax reform Thursday by agreeing to ditch a controversial proposal for a border tax and agreeing on a broad set of principles.
Rep. Kevin Brady (R-Texas), chairman of the tax-writing House Ways and Means Committee, said Friday that Congress was "on track to deliver transformational tax reform legislation" this year.
But the outlook for large tax cuts remains unclear, particularly with the loss of offsetting revenue that would have come from the border-adjustment tax.
"This report signals our economy is moving in the right direction under President Trump's leadership," Brady said of the second-quarter data. "But we have much more work to do to spur the steady economic growth middle-class families need to find better jobs, earn bigger raises and achieve their own American dream."
Sohn noted that "consumers led the parade" to the second-quarter rebound.
Consumer spending growth improved to a healthy 2.8% in the second quarter. It had been just 1.9% in the first quarter.
A key measure of business investment grew at 5.2% in the first quarter. That was down from 7.2% in the first quarter — the best performance since 2014 — but still a strong performance amid higher business confidence since the November election.
But in a troubling sign, spending on residential construction and improvements declined 6.8% in the second quarter, the biggest drop since 2010.
Noting the drop came after two very strong quarters, Barclays said, "we view the recent weakness as payback to some degree and expect it to return to modest growth in the third quarter."
Government spending posted its largest gain in more than a year in the second quarter. The 0.7% increase was driven by a 5.2% boost in defense spending, the biggest jump in that category since 2011.
U.S. exports showed a solid 4.1% gain, although that was down from 7.3% the previous quarter.
The Commerce Department also updated annual economic growth figures for 2013-16. The revisions showed that the economy was slightly stronger during that period, expanding at an average annual rate of 2.3% compared with an earlier estimate of 2.2%.
Growth in 2016 was revised down a tenth of a percentage point to 1.5%. But 2015 growth was revised up to 2.9%, from an earlier estimate of 2.6%.
Twitter: @JimPuzzanghera
---
UPDATES:
11:30 a.m.: This article was updated with comments from President Trump.
7:30 a.m.: This article was updated with additional details and comments from Sung Won Sohn of Cal State Channel Islands, Rep. Kevin Brady, Office of Management and Budget Director Mick Mulvaney and Barclays.
This article originally was published at 6:20 a.m.
---
Your guide to our clean energy future
Get our Boiling Point newsletter for the latest on the power sector, water wars and more — and what they mean for California.
You may occasionally receive promotional content from the Los Angeles Times.