Mohamed Hadid played financial shell game to skirt legal judgment, former security guard alleges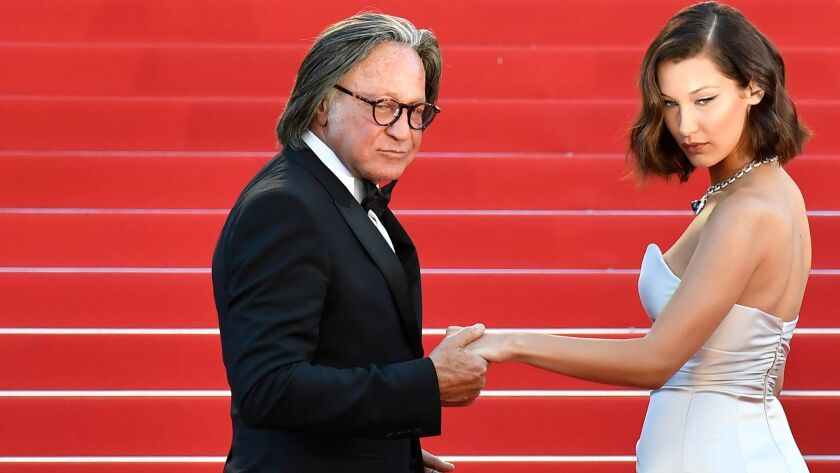 For 5½ years, Juan Carlos Gonzalez worked as a security guard and driver for Mohamed Hadid, the wealthy celebrity developer who recently pleaded no contest to breaking a host of city rules while trying to build a mega-mansion in Bel-Air.
Gonzalez said he worked 12 hours a day, seven days a week, and was not paid for overtime work. He sued Hadid in 2014 for unpaid wages and, last summer, a judge agreed with him, ordering the developer to pay $576,000 in back pay and legal costs.
A year later, Hadid still hasn't paid Gonzalez and has tried to hide assets to avoid paying, according to a new lawsuit filed last week.
In the suit, filed in U.S. District Court in Los Angeles, Gonzalez accused Hadid and his assistant of making numerous wire transfers — out of the company that used to pay Gonzalez and into out-of-state entities — to keep from paying last year's judgment.
"Gonzalez has collected nothing," according to the suit, which also alleges Hadid made false tax filings and did not pay or withhold payroll taxes for his employees.
Attorneys for Hadid did not return calls for comment.
The new allegations come just weeks after Hadid was ordered to pay fines and perform community service after pleading no contest to misdemeanor charges related to his construction of a 30,000-square-foot mansion on Bel-Air's Strada Vecchia Road.
The home is bigger and taller than the city allowed and included numerous features — including an IMAX theater — that were never approved.
Last month's sentencing was just the latest in what's been a years-long battle between Hadid, the city and other Bel-Air residents over the home, where construction work continued long after the city revoked permits.
Throughout, Hadid, who has appeared on reality TV shows and is the father of models Bella and Gigi Hadid, has been criticized by his neighbors as a scofflaw who either skirts or ignores the rules.
Gonzalez started out working for Hadid's construction business as a security guard at several job sites. In 2008, he was hired as a guard at Hadid's home, a 48,000-square-foot spread in Bel-Air.
He also served as a chauffeur for Hadid's family members and guests — despite the fact that, according to a judge's ruling last year, Hadid and his bookkeeper never checked whether Gonzalez had a driver's license. He didn't.
When Gonzalez was pulled over while driving one of Hadid's cars, police officers found he had no license. He then quit or was fired. The judge said it wasn't clear.
What was clear, Superior Court Judge Michael Johnson found, was that the employment agreement between Gonzalez and Hadid was not up to snuff.
Gonzalez was told he would be paid a weekly salary of $900 — later raised to $980 — to work 12 hours a day, every day. That's 84 hours a week, meaning he should have been paid additional wages for 44 hours a week.
Hadid's team argued the weekly salary covered regular and overtime pay, and that Gonzalez, who is from Mexico, should not be able to sue for back pay because, according to Johnson's ruling, he "failed to disclose that he is an undocumented worker who is not eligible to work in the United States" — and did not disclose that he had no driver's license.
Johnson, though, ruled that Gonzalez was eligible for overtime pay and ordered Hadid to pay $263,340 in back wages, plus a penalty of $10,290. He also ordered Hadid to pay more than $300,000 in legal fees and court costs, bringing the total judgment to $576,267.
Follow me: @jrkoren
ALSO
Michael Hiltzik: In a blow to the GOP, a federal judge orders the government to pay Molina Health $52 million in Obamacare funds
Tesla starts raising cash to help it get Model 3 to the masses
Google VP denounces worker's views on women: 'Diversity and inclusion are critical to our success'
---
Your guide to our clean energy future
Get our Boiling Point newsletter for the latest on the power sector, water wars and more — and what they mean for California.
You may occasionally receive promotional content from the Los Angeles Times.