How I Made It: Lyft's SoCal head Allen Narcisse is driven to build something indispensable
Allen Narcisse, 42, is Southern California regional director for ride-hailing service Lyft, which is active in 640 cities across the country. He oversees 100 employees and 11 markets in the area, including Los Angeles, San Diego, Orange County and the Inland Empire.
After an underwhelming initial public offering in March, the company finds itself in a critical stretch as it wrestles with Uber for market share. As regional director, Narcisse is tasked with marketing, government relations and ensuring drivers and riders are satisfied.
Family business
Growing up in Des Moines, Narcisse spent summers working at his uncle Jonathan Narcisse's newspaper, the Iowa Bystander. Between copy edits and interview transcriptions, he developed a taste not only for media but for jobs involving many hats.
"I understood how the different aspects fit together. Now, it would be hard for me to work in just one function," he said.
Upping the ante
After graduating from the University of Michigan, he worked as a financial consultant for Arthur Andersen and KPMG International. The exciting world of media beckoned, however, and at the urging of his uncle, he applied to Harvard Business School until he was accepted.
In 2005, he packed his bags for Los Angeles. An internship with CBS led to a digital strategy job with the Los Angeles Times, which led to a managing role at Hoy, The Times' Spanish-language newspaper. Next came a global strategy position with Paramount Pictures.
"It gave me a broader perspective on the city's success and challenges. At Hoy, my delivery area was the size of Ohio," he said, adding that it forced him to think about L.A.'s complex system of transportation, infrastructure and local governments.
One 'yes'
Soon after, he co-founded a company called Ebyline, which connected freelance writers with publications. His confidence waned as 50 venture capitalists said no, but he used the experience to hone his pitch until he finally heard "yes."
"Entrepreneurs struggle when you have an idea of how you're going to grow, but after you get some initial traction, it's hard to continue that growth. A lot of entrepreneurs try many things at that point, but it's better to focus on what your company does well and what makes it unique rather than diversify."
Flag football's fault
Narcisse sold Ebyline in 2015, and his next career turn came out of left field. On Valentine's Day, he tore his Achilles' tendon during a game of flag football and relied on ride-hailing services for the next few months.
"I couldn't get around, and ride-sharing made things much easier. Now I know how many people they help every day who don't have any other option," he said.
Game plan
He spent two years with UberEats before becoming Lyft's general manager for the Greater Los Angeles area in 2017. Uber controlled most of the market at the time — and still does. His strategy moving forward has never changed: relationships.
After 2017's deadly Thomas fire burned through Ventura and Santa Barbara counties, he reached out to the community to provide masks, water and free Lyft rides from emergency zones. Now, Narcisse has a strong relationship with the California Governor's Office of Emergency Services.
More recently, he worked to partner with venues such as the Hollywood Bowl and Los Angeles Coliseum, offering phone chargers and couches at pickup areas and sending ambassadors to events to aid drivers and riders in an attempt to reduce wait times.
"Our goal is to be the indispensable ride-sharing company for Angelenos," he said.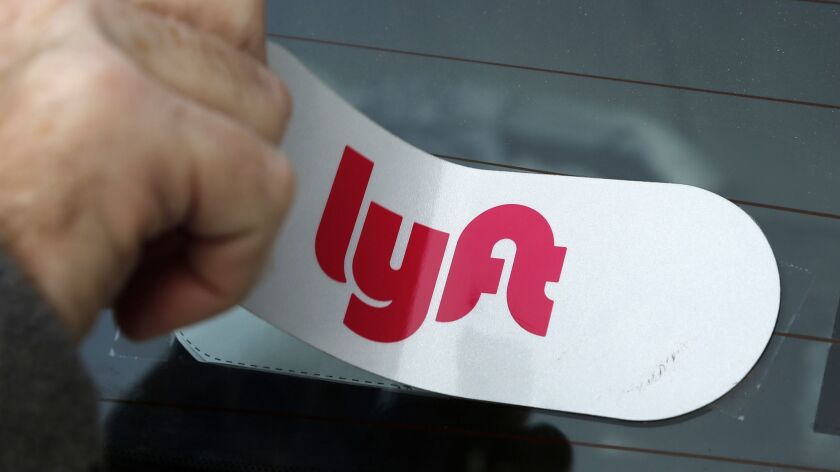 Long days
For Narcisse, each day begins with meditation. After that, he drops off his 2-year-old daughter at daycare and arrives at Lyft's office in downtown Los Angeles' Arts District around 8:30 a.m.
His days are busy, whether he's meeting with the driver services team or the marketing team or chatting with government officials about the services his company provides. He heads home around 6:30 p.m. but then ends the night with three more hours of work from 8 to 11 p.m.
Growing sustainably
The last two years have seen Narcisse's staff swell to 100 employees from 20. The San Francisco company's rapid growth has come with problems, including a disappointing IPO in March and a nationwide strike in May by Uber and Lyft drivers to protest low wages.
Narcisse said the IPO was a milestone for the company, but regardless of the outcome, his approach doesn't change. Every day, he said, he focuses on serving drivers and building a strong internal team.
For starters, that means listening. In meetings, Narcisse said, he makes sure everyone speaks and stresses that the best idea should win, no matter where it comes from.
When he first came on board, he told his team he wanted to make 5% of decisions. That, he said, empowers his employees and ensures that everyone's voice matters.
Leadership style
Growing up playing team sports, Narcisse always carried a competitive streak. That manifests in many ways in the workplace, whether he's trash-talking after an office basketball shooting game or setting specific goals for each member of his staff.
"An important part of being a leader is setting a course but also providing freedom and flexibility," he said. "My team in San Diego is very different than the teams that run Orange County and the Inland Empire, and they're both highly successful."
Mentors
He credits two former Los Angeles Times colleagues as his greatest role models: former editor Dean Baquet (now executive editor of the New York Times) and former Chief Financial Officer Bob Bellack (now CFO of OnPoint, an online data firm). The former taught him the merit of unmovable principles, and the latter taught him the value of knowing your operation top to bottom.
"I manage as a combination of those two: high principles along with … being really on top of how your business functions," he said.
Personal
Narcisse lives in Los Angeles with his wife, Sonata, whom he met his first day working at CBS, and their daughter.

---
Your guide to our new economic reality.
Get our free business newsletter for insights and tips for getting by.
You may occasionally receive promotional content from the Los Angeles Times.