Newsletter: California Inc.: Year's biggest drop is forecast for auto sales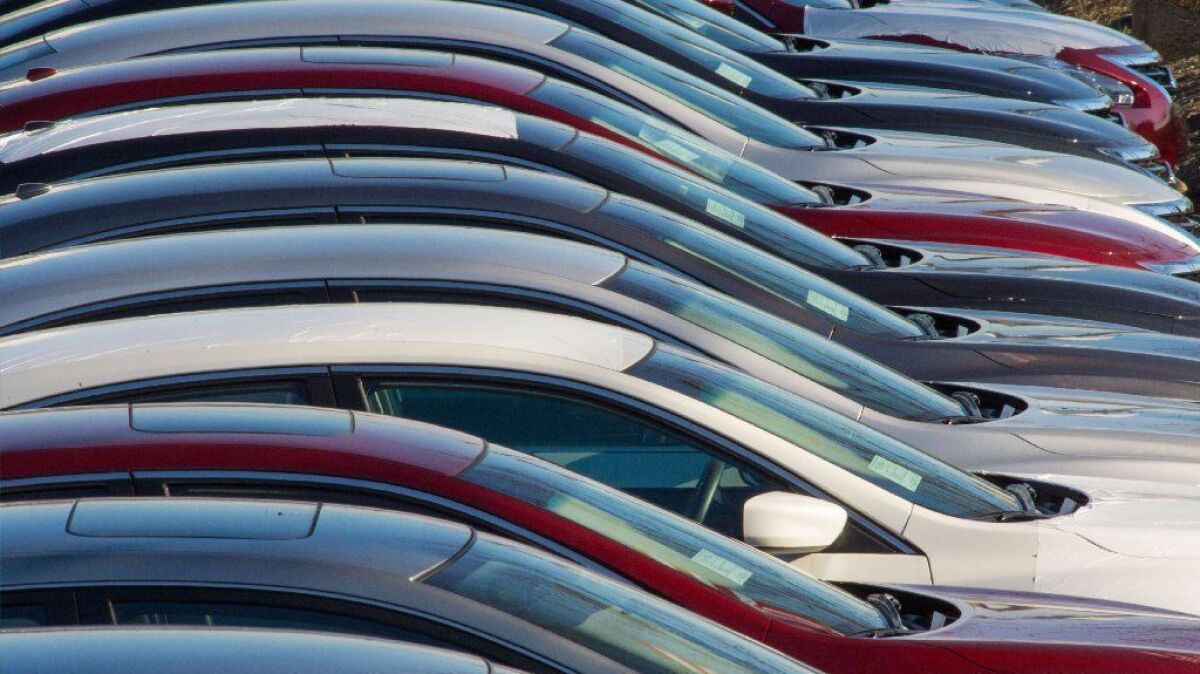 Welcome to California Inc., the weekly newsletter of the L.A. Times Business Section.
I'm Business columnist David Lazarus, and here's a rundown of upcoming stories this week and the highlights of last week.
Wall Street has the wind at its back Monday after Friday's news that the U.S. economy rebounded this spring after a weak winter, expanding at a solid 2.6% annual rate. The economic growth rate was more than double the 1.2% pace in the first quarter. That figure was revised down Friday from an earlier estimate of 1.4%.
LOOKING AHEAD
Auto sales: July auto sales will be announced Monday. It likely won't be pretty. Analysts are forecasting the biggest drop of the year, with possibly a 3.1% decrease in sales from June and a 6.2% drop from July 2016. Auto sales fell in June for the sixth straight month despite low interest rates. The declines follow a big run-up in sales earlier this decade as the economy recovered from the recession.
Consumer spending: On Tuesday, the Commerce Department will report consumer spending for June. Analysts expect a small 0.1% increase, the same as in May, despite solid income growth of 0.4%. Consumer spending is a key driver of growth and typically reflects how much confidence Americans have in the economy.
Wild ones: Beginning Wednesday, as many as 500,000 bikers will converge on the South Dakota Black Hills for the 77th annual Sturgis Rally, the world's largest gathering of two-wheeled enthusiasts. The event, which draws riders from Los Angeles and across the nation, was first held prior to World War II and is expected to bring in more than $10 million in taxable sales to the area.
Jobs numbers: The Labor Department will release its July jobs report on Friday. Analysts expect it to show that job growth slowed to a still-solid 180,000, while unemployment ticked down to 4.3%. The economy added 222,000 jobs in June, the best performance since February and well above analyst expectations.
Pass the popcorn: Three new movies will duke it out for ticket sales this weekend. One is "Detroit," the acclaimed Kathryn Bigelow drama. Another is "The Dark Tower," a long-awaited Stephen King adaptation. Then there's Halle Berry's "Kidnap," an orphan from the Relativity Media bankruptcy that is now getting an independent release.
THE AGENDA
Monday's Business section says that for the beleaguered retail industry, the $84-billion back-to-school shopping season is back just in time. Consumer spending on kids and young adults returning to school is one area where conventional physical stores are holding their own against the surge in online shopping. "This is one category where we're seeing a surprising level of support for the in-store experience," says one analyst.
STORY LINES
Here are some of the other stories that ran in the Times Business section in recent days that we're continuing to follow:
Bogus auto loan costs: Wells Fargo will pay $80 million to auto loan customers who were charged for insurance they did not ask for or need — in some cases causing those customers' cars to be repossessed. After reviewing records from 2012 through 2017, Wells identified about 570,000 customers who may have been wrongly pushed into these auto insurance policies — yet another black eye for the bank, which has yet to fully recover from its fake accounts scandal.
Redfin IPO: In pledging to transform the home-buying experience, Redfin has many of the hallmarks of a "disruptive" tech firm. Yet, when the 11-year-old online brokerage proceeded with its initial public offering on Friday, the Seattle company sold its shares for $15, valuing the company at a relatively low $1.2 billion. Shares shot up 45% in their first day of trading, but the valuation still reflects the tough slog the company has faced in revolutionizing an industry built on personal relationships.
Oh, Snap: The company behind the Russell 3000 index will not include Snap Inc. stock in that or other closely watched indices after investors voiced concern over the lack of voting rights given to shareholders of the mobile app developer. The move could limit demand for shares, which have steadily declined in price since the Snapchat maker's $3.4-billion initial public offering in March, the largest ever for a Los Angeles company.
Conventional win: As a hub for conventions, Los Angeles has had a big year. The Los Angeles Convention Center reported an operating surplus of $10.2 million, a 5% increase from the previous year's surplus of $9.7 million. It's the biggest surplus since AEG took over management of the 46-year-old facility. Before that December 2013 handover, the city operated the Convention Center, usually at a deficit.
Mousekateer: Martin "Marty" Sklar, the pioneering Walt Disney Co. imagineer who played an instrumental role in the design of Disney theme parks, has died. He was 83. During his 54 years at Disney, Sklar worked closely with Walt Disney and led the creative development of the Burbank company's theme parks, attractions and resorts around the world.
WHAT WE'RE READING
And some recent stories from other publications that caught our eye:
No repeal deal: The New Yorker provides a solid analysis of how and why Republican lawmakers came up short in their efforts to repeal Obamacare. "The GOP's signature policy initiative has collapsed under the weight of its own shortcomings and contradictions."
Cautionary tale: Wired takes a close look at a drone company that fell to Earth. "The trajectory of Lily Robotics is a cautionary tale for the young and adventurous enchanted by the latest technology dreams."
Female coaches: There's a shortage of female coaches in youth sports, says the Atlantic, and that's having an impact on young people in terms of how they perceive leaders. "This has deep implications for our society as boys grow into adulthood, work with, and decide whether to empower, women," says one researcher.
Bad medicine: From the New York Times, a close examination of EmCare, the company behind many surprise ER bills. "When emergency room doctors work for a company that has not made a deal with an insurer, they are free to bill whatever they want."
Faster, faster: Popular Mechanics highlights a very cool idea: Linking workouts to binge-watching favorite shows. The trick is a stationary bike called Cyxflix, which hooks up to your TV. "If you fall under the programmed speed, your show will be paused until you can pick it back up."
SPARE CHANGE
The cannabis industry is quickly becoming more legitimate. In this video, Fast Company profiles Hmbldt, a Los Angeles health-and-wellness company that just so happens to trade in weed. Trust me, with this talk of "haptic feedback loop" and "customer base," these guys don't sound like Cheech & Chong.
For the latest money news, go to www.latimes.com/business. Mad props to Scott J. Wilson for helping put this thing together.
Until next time, I'll see you in the Business section.
Sign up for the California Politics newsletter to get exclusive analysis from our reporters.
You may occasionally receive promotional content from the Los Angeles Times.