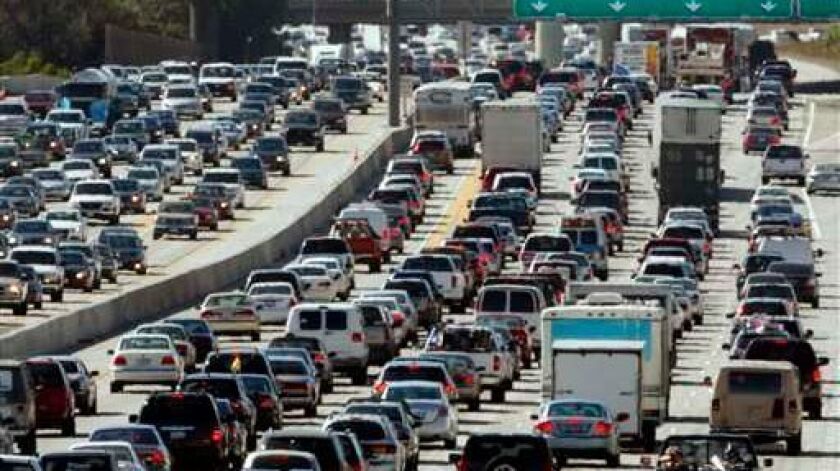 Welcome to California Inc., the weekly newsletter of the L.A. Times Business Section.
I'm Business columnist David Lazarus, and here's a rundown of upcoming stories this week and the highlights of last week.
Good times in the Golden State: We learned Friday that California added 31,700 net jobs in October and the state unemployment rate fell to 4.9% from 5.1% a month earlier. The latest state jobs report follows a strong September, when employers boosted payrolls by a revised 50,300. In October, the leisure and hospitality sector, and the educational and health services sector, saw the largest gains.
LOOKING AHEAD
Thanksgiving travel: Going on a trip this week? You won't be alone. The Automobile Club of Southern California says this year's Thanksgiving holiday will be the busiest locally since 2007, with 3.87 million residents expected to get away for the long weekend. That's a 3.6% increase over last year's 3.74 million travelers. Almost 86% of local travelers — 3.3 million — will be going by car to their destinations, AAA says.
The winner is: The Hollywood awards machine kicks into high gear, with several deadlines and announcements this week. Submissions for the Cinema Audio Society awards are due Monday. On Tuesday, Film Independent Spirit Awards nominations will be announced, as well as the documentary nominees for the Producers Guild Awards. Friday is the deadline to submit nomination ballots for the 75th annual Golden Globes awards.
Movie premiere: The latest Pixar animated film, "Coco," about a young aspiring musician in Mexico who meets his ancestors in the Land of the Dead, opens Wednesday. The well-reviewed movie, the first Pixar effort since the summer box-office disappointment of "Cars 3," is expected to take in a decent $55 million or more in its first five days. It's already a big hit in Mexico.
Park fees: End-of-day Thursday is the deadline if you want to comment on the National Park Service's proposal to raise vehicle entrance fees by up to 180% at the nation's most popular parks during the peak visiting season. Under the plan to raise money to fix roads, bridges, campgrounds and bathrooms, the Park Service is proposing a $70 fee for each private, noncommercial vehicle — up from current fares of $25 to $30. You can comment online here.
Shopping: To open on Thanksgiving or not? Retail stores are divided. Some are opening on the holiday to lure bargain-hunting shoppers, while others pointedly are staying closed. Among those open this year on Thursday will be Walmart, Target, Macy's and Kohl's. Those staying closed include TJ Maxx, Bed Bath & Beyond and Neiman Marcus. The traditional frenzy of in-person Black Friday events may be ebbing; last year, a record number of people shopped online instead.
THE AGENDA
It's that time of year: When retailers pray you'll be in a mood to spend. Monday's Business section looks at how Walmart, Target and others are aggressively advertising holiday specials online and in stores to get a jump on the spending spree that remains a key contributor to merchants' financial health. Although Black Friday remains a big shopping day, its import has been eroded by ever-earlier bargains, the growing clout of online shopping and retailers' fear that the other guy is getting a jump on them.
STORY LINES
Here are some of the other stories that ran in the Times Business section in recent days that we're continuing to follow:
Tax reform: House Republicans approved their sweeping tax-cut package, setting up a showdown with the Senate, where Republicans are struggling to take a different approach. Among other things, the plan means hospitals, university buildings and affordable housing projects could become markedly more expensive because it would eliminate a tax break on a type of bond financing used to build those and other projects.
Fox in play: Comcast has joined the pursuit of Rupert Murdoch's 21st Century Fox entertainment assets, expressing interest in acquiring Fox's Los Angeles-based movie studio, sports networks, cable channels and its vast international operations. Walt Disney Co. engaged in similar talks with the Murdoch family last month, but those discussions broke off. The conversations with Comcast are in a preliminary stage.
Cordray leaving: The nation's top consumer financial watchdog will step down, sparking concern from advocacy groups — and relief from financial firms — that the federal agency he has led since 2012 will soon be much friendlier to the industry it polices. Richard Cordray said he'll exit the Consumer Financial Protection Bureau at the end of the month. The agency was established by the 2010 Dodd-Frank Wall Street reform act.
Toy merger? Mattel stock soared more than 20% after rival Hasbro made a takeover offer for the El Segundo toy maker. Mattel reportedly rebuffed the overture, but the move could be a play for more money. A tie-up between Hasbro and Mattel would put brands including Barbie, American Girl, G.I. Joe and Nerf under the same roof. Mattel has struggled with slumping sales in recent months.
Broadcasting change: In a move that could reshape America's media landscape, federal regulators have voted to eliminate a long-standing rule covering radio and television stations. The 80-year-old regulation requires broadcasters to have a physical studio in or near the areas where they have a license to transmit TV or radio signals so local residents have some say over the content.
WHAT WE'RE READING
And some recent stories from other publications that caught our eye:
Awash in litigation: Flooding that inundated one of Houston's richest neighborhoods during Hurricane Harvey has brought a deluge of lawsuits, reports Bloomberg. Residents in West Houston's "Energy Corridor" want compensation from the federal government, blaming the flooding on the Army Corps of Engineers' intentional release of water from a dam. "There are also concerns that, if the cases succeed, they could create a daunting precedent for the government."
Cozy relationship: Lobbyists from the pesticide industry are enjoying easy access to top officials at the Agriculture Department, reports ProPublica and the New York Times. Part of the reason may be that the officials have been chosen by the Trump administration directly from the industry. One official, Rebeckah Adcock, has been meeting with her former employer, the pesticide industry's main trade group, CropLife America, to discuss deregulation.
Enemy of Putin: GQ profiles Bill Browder, an American-born businessman who has become an enemy of the Russian state. Since one of his attorneys was killed in a Moscow jail in 2009, Browder has been pushing to hold Russian officials accountable for the death. "For eight years, he's been jamming up the gears of Vladimir Putin's kleptocratic machine, a job that seems to often end in jail or death, both of which he'd very much like to avoid."
Narcos tourism: Fans of the Netflix series "Narcos" are flocking to Colombia for an unusual experience: guided trips through the old Medellin haunts of the late drug kingpin Pablo Escobar, Bloomberg reports. "But in Colombia, where more than 200,000 people have died in conflict over the past half-century, the wounds are still fresh. Moreover, the boom in narco-tourism comes at a time when the country is trying to remake its image."
Pay to play: After a revolt by video game players, Walt Disney Co. pressured Electronic Arts to halt all in-game purchases in the new Star Wars video game, reports the Wall Street Journal. "A little more than a month before the "Star Wars Battlefront II" launch, players testing the game told Electronic Arts it had gone over to the dark side. The sequel packed in too many ways to bleed money — for souped-up weapons or fancy character animations — from people already expected to spend $60 to buy the game, the testers said."
SPARE CHANGE
There are no in-game purchases required for Cal Inc., but this may flip you out. Here, courtesy of CNN, is the latest iteration of a Boston Dynamics robot that can do back flips. Seriously. Back flips. It doesn't always stick the landing, but make no mistake: This is a machine doing something you probably can't. Bow down before your future robot overlord.
For the latest money news, go to www.latimes.com/business. Mad props to Scott J. Wilson for helping put this thing together.
Until next time, I'll see you in the Business section.
---