Newsletter: California Inc.: Keanu and Winona meet, fight and fall in love — what's not to like?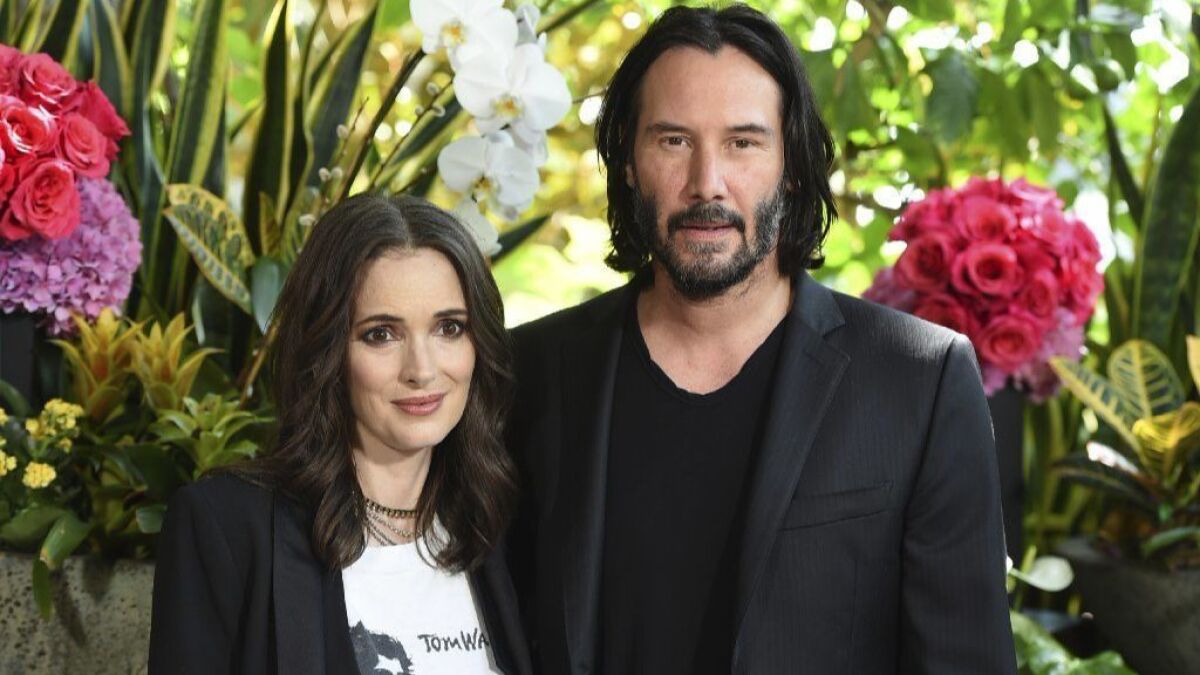 Welcome to California Inc., the weekly newsletter of the L.A. Times Business section.
I'm Business columnist David Lazarus, and here's a rundown of upcoming stories this week and the highlights of last week.
One issue that continues to overshadow the market is President Trump's ongoing attempts to pressure Federal Reserve Chairman Jerome H. Powell into forgoing additional interest rate hikes. On Friday, Powell signaled that the Fed will continue its efforts to normalize rates that had been kept historically low to fight the Great Recession.
LOOKING AHEAD
Home prices: The latest CoreLogic Case-Shiller national home price index will be released Tuesday, providing a snapshot of June prices. In May, home prices marked a 6.4% gain from the same period last year, similar to the growth recorded in April.
Spending check: The Commerce Department will release stats Thursday for consumer spending in July. Spending posted a fourth-straight solid advance in June, fueled by steady income growth and highlighting strength in the biggest part of the economy.
Jobless claims: Weekly jobless claims will be released by the Labor Department on Thursday. It was reported last week that initial claims for state unemployment benefits slipped 2,000 to a seasonally adjusted 210,000 for the week ended Aug. 18.
Crazy love: The staff of California Inc. is unashamed in thinking there are worse ways to spend an evening than a romantic comedy starring Keanu Reeves and Winona Ryder. "Destination Wedding" opens Friday. It tells the unexpected story of two people who don't like each other very much but discover they're actually great together.
THE AGENDA
Monday's Business section focuses on the future of self-driving cars and concludes that what's needed isn't necessarily smarter cars (although that helps) but smarter people, particularly ones prone to jaywalking. In a line reminiscent of Steve Jobs' famous defense of the iPhone 4's flawed antenna — "Don't hold it like that" — some technologists say the problem isn't that self-driving cars don't work, it's that people act unpredictably, which makes it harder for machines to respond.
STORY LINES
Here are some of the other stories that ran in the Times Business section in recent days that we're continuing to follow:
A taxing relationship: Amid growing animosity between Anaheim and Walt Disney Co., the president of the media giant's Disneyland Resort asked the city to end all tax incentive deals in hopes of promoting "cooperation and goodwill." By eliminating certain tax agreements, Disney may be ensuring that it isn't affected by a Nov. 6 ballot measure that, if passed, would require the resort to pay all its workers a living wage.
Deductions: The Internal Revenue Service and Treasury Department have moved to block efforts by California and other Democratic-controlled states to help residents avoid a new limit on state and local tax deductions. The proposed rule targets state legislation that would allow taxpayers to claim a charitable deduction for state and local tax payments above the $10,000 limit set in the tax cuts passed by Congress last year.
Consumer agency: Kathy Kraninger is a step closer to becoming the nation's top consumer financial watchdog. A Senate committee narrowly approved the White House aide's nomination to lead the Consumer Financial Protection Bureau despite strenuous objections from Democrats that she's not qualified for the job.
Global Road: Film company Global Road Entertainment, known for flops such as "Hotel Artemis," is facing dire financial problems after failing to raise the needed capital to pursue its ambitious business plan to strengthen ties between Hollywood and China. Lenders for the budding company reportedly have taken control of the firm's domestic film distribution and production operations.
Adios, OSH: All Orchard Supply Hardware stores in California and elsewhere will close by February, the company's parent, home-improvement retail giant Lowe's, announced. The chain, also known as OSH, has 99 locations in California, Oregon and Florida, as well as distribution centers, all of which will close. The move comes five years after Lowe's bought most OSH stores out of bankruptcy.
WHAT WE'RE READING
And some recent stories from other publications that caught our eye:
Jobs report: The New York Times profiles Lisa Brennan-Jobs, daughter of Steve Jobs, on the occasion of her new memoir, "Small Fry." "In passage after passage of 'Small Fry,' Mr. Jobs is vicious to his daughter and those around her. Now, in the days before the book is released, Ms. Brennan-Jobs is fearful that it will be received as a tell-all exposé, and not the more nuanced portrait of a family she intended."
Water woes: Esquire explores the planet's growing thirst for fresh water. "A survey in 2015 of members of the World Economic Forum in Davos listed 'water crises' for the first time as the world's leading threat, ahead of 'spread of infectious diseases' and 'weapons of mass destruction.' "
Hog heaven: If Harley-Davidson wants to survive, says Bloomberg Businessweek, it will have to find a way to attract a new generation of motorcycle riders. "The average Harley rider's age has inched up to almost 50. 'It's not just the brand, but the people associated with the brand,' says Heather Malenshek, Harley's vice president for global marketing."
Rough play: From the Wall Street Journal, a look at whose hands are bloody after the demise of Toys R Us. "Many factors contributed to the retailer's troubles, including the costs of a leveraged buyout, competition from Amazon.com Inc. and a disastrous Christmas season. What pushed it over the edge, however, was a small group of hedge funds."
Giving trees: The New Yorker casts its eye on philanthropy in this new Gilded Age. "When it comes to who gets heard in the public square, ordinary citizens can't begin to compete with an activist donor class," says one expert. "How many very rich people need to care intensely about a cause to finance megaphones that drown out the voices of everyone else? Not many."
SPARE CHANGE
Is universal basic income a good idea? The Atlantic thinks so and makes its case with a smart video outlining why this practice "would help close the income inequality gap, eliminating poverty and increasing mobility and opportunity for all American citizens."
For the latest money news, go to www.latimes.com/business. Mad props to Laurence Darmiento for helping put this thing together.
Until next time, I'll see you in the Business section.
---
Sign up for the California Politics newsletter to get exclusive analysis from our reporters.
You may occasionally receive promotional content from the Los Angeles Times.