Offering breakfast is a made-to-order success for McDonald's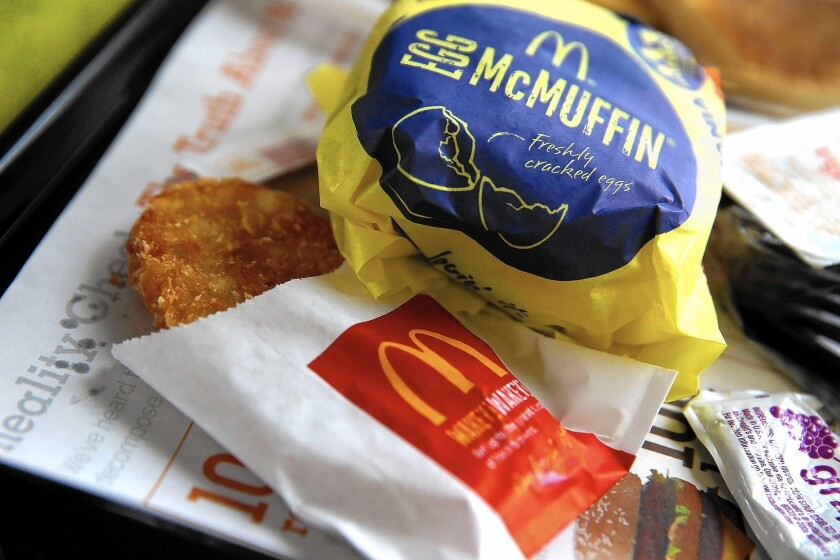 Turns out that an Egg McMuffin for lunch hit the spot at McDonald's.
The fast-food giant's decision this fall to offer breakfast items all day in the U.S. market is one reason why McDonald's is ending 2015 on a notable upswing after starting the year in a deep slump.
Under the guidance of Steve Easterbrook, who took over as McDonald's chief executive in March, the chain's U.S. comparable-store sales — that is, sales at restaurants open at least one year — are rising again from year-earlier levels for the first time since 2013.
In response, the price of McDonald's stock has soared about 25% since late August to record highs, making it one of the top-performing stocks in the Dow Jones industrial average this year. Shares closed at $118.57 on Thursday.
------------
For the Record
Dec. 26, 11:10 a.m.: A previous version of this article gave the wrong stock price for McDonald's shares. Shares closed Thursday at $118.57, not $18.57.
------------
Join the conversation on Facebook >>
Besides all-day breakfast, Easterbrook has pushed McDonald's to streamline its menu; improve the quality of its hamburgers, chicken sandwiches and other foods; slash its bureaucracy; and bolster its digital marketing effort.
Despite McDonald's enormous market presence and iconic brand identity, "no business or brand has a divine right to succeed," Easterbrook said at a McDonald's investor meeting last month.
"The plain fact is we were not executing to our standards," he said. "We were missing customer expectations in too many places."
After nearly a decade of steady growth, McDonald's ran into trouble starting in early 2013. Along with competition from longtime rivals such as Burger King and Carl's Jr., it faced added pressure from "better burger" chains such as Shake Shack and fast-casual restaurants such as Chipotle Mexican Grill Inc. that tout fresher and more customized products.
McDonald's also grappled with a cluttered menu that slowed service, a tainted-meat scandal in China and persistent consumer skepticism about the quality and health effects of its food, among other problems.
Don Thompson, who had been chief executive for less than three years, abruptly resigned early this year and Easterbrook, who had been McDonald's chief global brand officer, took over.
Turning around a company of McDonald's size is no easy task. The Oak Brook, Ill.-based chain serves 69 million people each day with about 14,000 stores in the United States and 36,400 overall in 119 countries. Its annual revenue last year was $27.4 billion, and about 81% of its restaurants are owned by franchisees.
McDonald's plans to increase its franchise base to 95% because it "gets us closer to the customers and communities we serve" and "unleashes more entrepreneurial spirit, risk-taking and innovation," Easterbrook said.
In the third quarter, McDonald's said its U.S. comparable-store sales rose 0.9% from a year earlier, its first gain in the U.S market after two years of declines.
The company also said global comparable sales rose 4% in the third quarter, and it expects to report sales gains in the United States and worldwide again for the fourth quarter.
McDonald's management has "increasing confidence in the momentum of the business," wrote analyst Will Slabaugh of the investment firm Stephens Inc. in a note to clients last month.
But McDonald's will need to show sustained growth to prove its turnaround has taken hold, said Greg Wank, head of the food and beverage group at the consulting and accounting firm Anchin, Block & Anchin.
"You can say [Easterbrook] had a really tough assignment to turn around this gigantic ship, or you could say the bar was set lower for him" after McDonald's extended sales declines, Wank said.
"There were many areas for them to make marginal improvements" and Easterbrook had the "fresh pair of eyes" to execute the changes, whether it be tweaking the menu or cutting costs, he added.
A key Easterbrook move came Oct. 6 when McDonald's launched all-day breakfast in the United States, ending the normal 10:30 a.m. cutoff time for breakfast foods.
"For years customers told us they wanted breakfast all day," Easterbrook told the investor meeting. "They wanted something we could deliver, but didn't. That's changed."
The effect was immediate. The all-day breakfast items have enticed new customers and brought back those who hadn't eaten at McDonald's in some time, research firm NPD Group said in early December.
NPD said its survey also found that customers "were most interested in ordering breakfast foods at lunch — the chain's busiest time of day," which "contributed to a bump in average check size" during lunch hours.
Easterbrook also has pushed for more innovation at McDonald's. For instance, the chain is testing a program called Chef-Craft Flavors in which consumers can customize toppings and buns on their beef or chicken sandwiches.
"We continue to believe odds favor" that program also going national in 2016, analyst Mark Kalinowski of Nomura Securities said in a note to clients.
But Easterbrook has cautioned that McDonald's rebound is still in its early stages.
"We're gaining traction," he said, but added that "it takes time for the actions underpinning this shift to take root. There is no silver bullet or single solution."
Twitter: @PeltzLA Times
ALSO
Have gift cards become the modern day sweater? An expert weighs in
Watch how these YouTube stars make money unboxing toys
Why a federal regulator is warning about shipping hoverboards (in a DeLorean or not)
---
Must-read stories from the L.A. Times
Get the day's top news with our Today's Headlines newsletter, sent every weekday morning.
You may occasionally receive promotional content from the Los Angeles Times.