California will log off some Obamacare applicants as website slows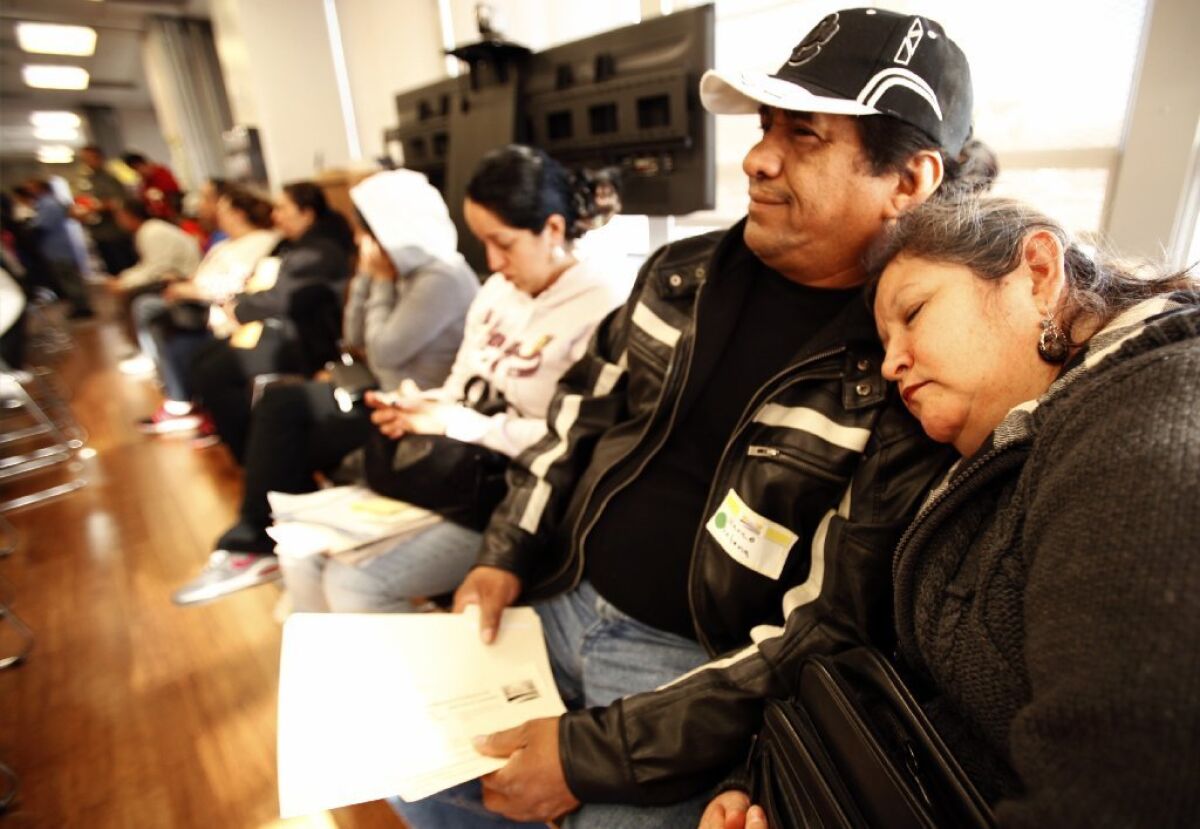 Facing a flood of interest, the Covered California exchange plans to prevent some consumers from finishing their Obamacare enrollment so others can start the sign-up process to meet Monday's deadline.
Californians were waiting in line for hours Monday to get coverage and heavy consumer traffic was slowing down the state's exchange website at coveredca.com. Overall, health plan enrollment through Covered California surpassed more than 1.2 million by early Monday.
Peter Lee, executive director of Covered California, said the state plans to log off some online applicants to make room for other consumers to use the website. The state will tell people that they have until April 15 to complete their application.
Photos: The battle over the Affordable Care Act
Monday is only the deadline to create an account and start an application, so state officials say they don't necessarily need everyone to finish the process.
"We know this isn't ideal," Lee said. "If the system is too slow, some individuals can start the application process but we will not let them finish it."
Lee said this online triage system will be turned on or off depending on website traffic during the day.
"We are being swamped with huge interest, which is slowing down our system," Lee said. "We want to make sure people who want to enroll get into the system. It will be a fluid adjustment during the day."
In the past week, the state said nearly 156,000 people enrolled in private health plans. An additional 124,000 households opened accounts at Covered California on Saturday and Sunday and started shopping for coverage.
Los Angeles college student Mario Estala, 22, got in line before 7 a.m. Monday at an enrollment event hosted by a labor union.
More than 50 people were ahead of him and it took about three hours before he was seen by an enrollment counselor at the L.A. event.
Estala qualified for MediCal, the state's Medicaid program for lower-income people. At 10:15 a.m., an enrollment worker rang a bell signaling another successful sign up. Other workers cheered.
"I was relieved" to get coverage, Estala said. "I feel much more safe now."
Estala said he knew he could sign up online but the process seemed complicated and he didn't want to try it alone.
The Service Employees International Union was running the 19-hour enrollment event until midnight Monday, the cut-off for people to start an application. At midday, about 500 people had shown up.
Some enrollment counselors elsewhere in the state reported trouble logging onto the Covered California website early Monday and experiencing lengthy delays.
The wait time at the state's call center was 70 minutes, on average, this past weekend, officials said.
In addition to 1.2 million Californians enrolled in exchange health plans, an additional 1.5 million residents have qualified for an expansion of MediCal.
Consumer advocates applauded the stronger-than-expected enrollment in the first year, but they say it hasn't been easy for many applicants to get coverage.
"It's impressive that the numbers have been so high even though some obstacles remain, from website glitches and outages to long waits on the phone," said Anthony Wright, executive director of Health Access, a consumer advocacy group.
"While for some enrollment has been easy, too many have not gotten the world-class customer service that has been the goal, and Covered California needs to continue to work on improving it," Wright added.
Health plans, too, have been pleased with California's robust enrollment. But they acknowledge there will be growing pains amid so much change in the healthcare system all at once.
Health insurers have struggled in recent months to process monthly bills and get out member identification cards on time. Many consumers have also complained about the inability to find doctors willing to take their new insurance.
"This major transformation of healthcare in California will still be a work in progress over the coming years," said Patrick Johnston, chief executive of the California Assn. of Health Plans.
"As we move in to the next chapter and people begin to utilize their coverage, health plans remain committed to ensuring the long-term success of our healthcare system."
ALSO:
Many Americans open to narrow doctor networks in Obamacare
California says 14,500 must redo Obamacare applications after glitch
Health insurance basics stump many Obamacare shoppers, survey finds
Sign up for the California Politics newsletter to get exclusive analysis from our reporters.
You may occasionally receive promotional content from the Los Angeles Times.