Homeowners were defrauded through the PACE lending program, L.A.'s city attorney alleges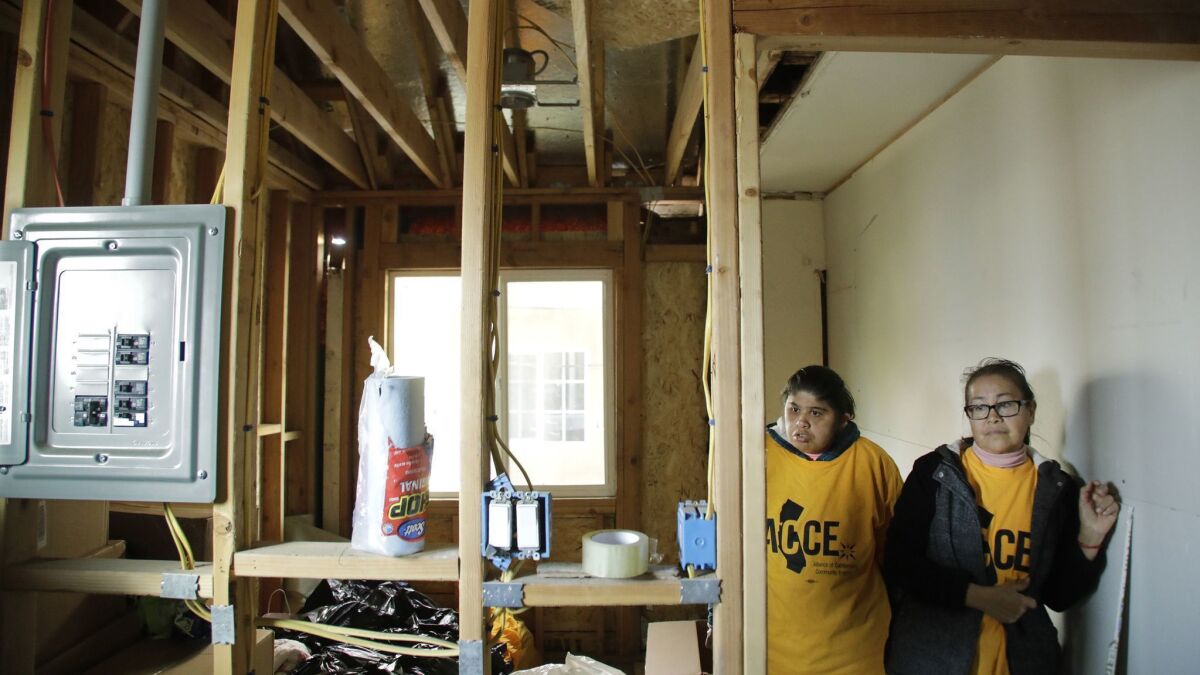 The Los Angeles city attorney has alleged an unlicensed contractor used a government-established loan program to defraud low-income consumers by misleading them into taking on unaffordable financing and abandoning incomplete jobs after it was paid.
In a lawsuit filed last week in Los Angeles County Superior Court, City Atty. Mike Feuer alleged Montebello-based Eco Solar Home Improvement and affiliated companies defrauded homeowners of at least $1.4 million, mostly by using the Property Assessed Clean Energy program that's reserved for environmentally friendly projects, or safety improvements such as earthquake retrofitting.
Homeowners, the lawsuit says, are now stuck with incomplete work and steep loan payments, putting them in severe financial distress and in danger of losing their homes.
"This is outrageous," Feuer said at a news conference Thursday. "If the facts as we allege prove true, this is … among the most devastating scams that I can recall in my career."
So-called PACE loan programs are funded through private lenders but must be set up by local authorities, because payments are made through property taxes. Local governments establish the unique financing mechanism to reduce greenhouse gases, though authorities and their private lender partners have drawn sharp criticism in recent years because lenders rely on home improvement contractors to sign up consumers.
Consumer advocates allege those contractors often misled homeowners over how the loans work. Eco Solar, which has declared bankruptcy, was included in a recent Los Angeles Times article that examined the misuse of PACE loans.
The lawsuit marks the first time the city has filed a lawsuit alleging a company misused the PACE financing mechanism, though the city attorney's office said it has "other PACE related matters under review."
Defendants in the lawsuit include Eco Solar, Chief Executive Jose Nelson Solis and several associates and related entities.
Solis could not be reached for comment. Messages left on a Google Voice number listed for the company online were not returned. Solis' bankruptcy attorney did not respond to emails seeking comment from his client.
Five homeowners previously told The Times a separate company not named in the lawsuit signed them up for PACE loans to fund questionable projects. Those included ineligible work on "granny flat" accessory dwelling units. The homeowners said the company pressured or coaxed them into providing lenders with false information so the loans could go through.
Another homeowner told The Times that Eco Solar did the same. An advocacy group, Alliance of Californians for Community Empowerment, said at least 70 people who hired the two companies for accessory dwelling units had PACE loans and projects that never started or were abandoned.
According to Feuer's lawsuit, Eco Solar targeted Spanish speakers through advertisements that promised to "convert their garage into the best home to rent."
Unlicensed salespeople then used "high-pressure in-home sales tactics, misrepresentations and false promises" to sign consumers up for PACE, the lawsuit says. At times Eco Solar falsely said a government program would cover all costs or that rental income would help cover loan payments, even though it had "no intention to fully perform" work it promised, the lawsuit alleged.
Some jobs were never started, while others were abandoned midway, the lawsuit alleged, leaving homeowners stuck with open trenches and "nothing but tarps left to protect large portions of their homes."
When it came to financing, authorities said, consumers in many ways were left in the dark. In signing up homeowners, the lawsuit alleged, Eco Solar often failed to make required disclosures and "misrepresented or concealed entirely from their victims critical information about PACE loan applications." That included the cost and the fact that loans are secured by a house and, if unpaid, can lead to foreclosure.
Eco Solar workers used their laptops and cellphones to access online applications and flashed only "limited snippets of information at their victims from their screens," the lawsuit alleged. In some cases, the complaint alleges workers electronically signed for homeowners without their knowledge and homeowners weren't aware they had actually taken out a PACE loan.
Eco Solar suggested to some homeowners that lenders knew loans would fund items other than energy-efficiency upgrades, the complaint alleges, but the company usually did not tell consumers that the PACE loan applications Eco Solar submitted "did not accurately describe the large-scale construction projects these homeowners had agreed to, but instead referenced" only authorized energy-efficiency improvements.
Under PACE, construction companies aren't supposed to receive money until the consumer tells the lender the work is finished.
However, the lawsuit alleges Eco Solar pressured homeowners to tell lenders on phone calls that unfinished work was done, describing it as a necessary "technicality" to start construction on their garages.
"In some cases, Defendants even wholly falsified these telephone verifications to PACE lenders," the lawsuit reads.
In an interview Thursday, Mariela Reyes said she hired Eco Solar to build a two-bedroom addition to her South Los Angeles home. But she didn't understand she was signing up for PACE and the company stopped work midway. The 59-year-old clothing factory worker said she's had to start selling cosmetic products to afford her PACE payments, which caused her mortgage payment to jump.
"I am desperate," she said in Spanish during a news conference. "I want justice, please."
Since Eco Solar declared bankruptcy in August, Solis and other defendants haven't stopped, authorities say. The lawsuit alleges they've concealed assets, told homeowners the company was still operating and made "secret plans to continue their fraud."
Solis has also tried to dissuade clients from making claims in bankruptcy court, the lawsuit alleges. That included an instance when he threatened a homeowner whose house Eco Solar "partially destroyed," the complaint says. Solis, according to the complaint, told the homeowner that if she filed a claim, he would tell authorities her home was uninhabitable and, as a result, she would "lose her children."
The city attorney's lawsuit asks the court for civil penalties and restitution for homeowners, including that PACE loans obtained through "unfair, unlawful or fraudulent" practices be canceled.
At the news conference Thursday, Feuer urged consumers who believe any company defrauded them through PACE to contact his office.
"We are prepared to stand up for people if they have been victimized," Feuer said Thursday. "There could be hundreds or more … out in our community who right now are being victimized."
Follow me @khouriandrew on Twitter
---
Sign up for the California Politics newsletter to get exclusive analysis from our reporters.
You may occasionally receive promotional content from the Los Angeles Times.