Disneyland declares Star Wars land opening a success, says crowding 'nonexistent'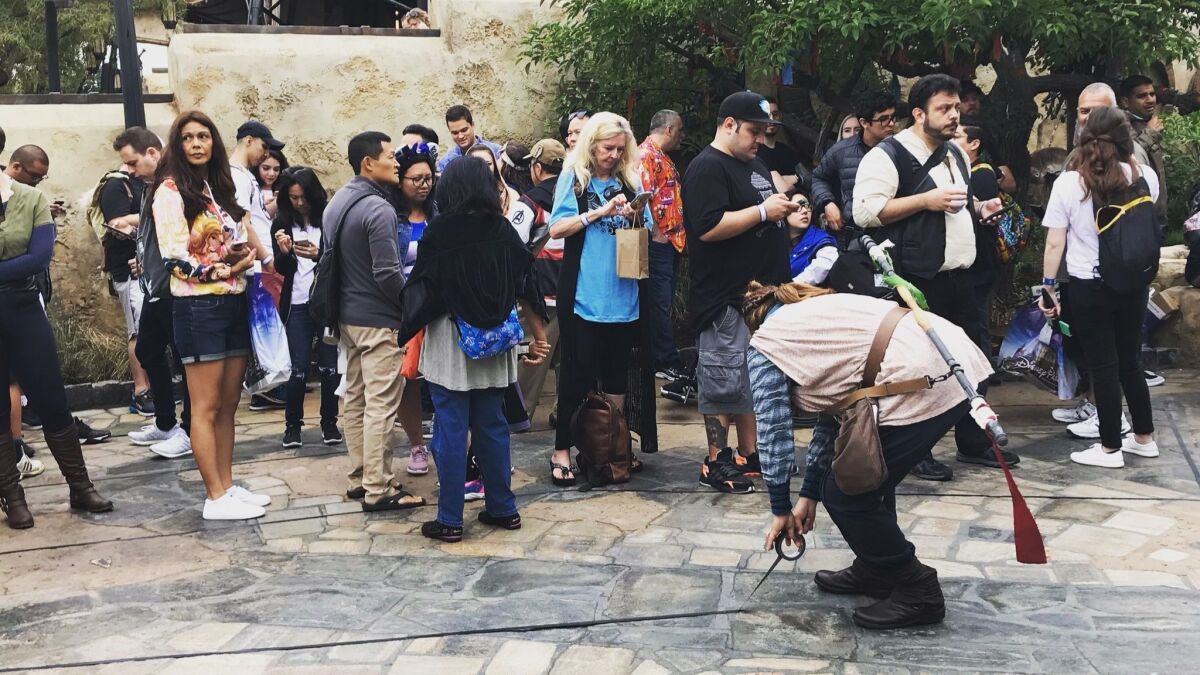 Star Wars: Galaxy's Edge wrapped up the first week of its maiden voyage with Disneyland management saying the largest expansion in park history wasn't marred by crowding problems that some visitors groused about on social media.
"The crowding issues that many of our guests anticipated have not come to fruition thanks to the measures we've put in place," said Disneyland vice president Kris Theiler. "They are nonexistent."
The $1-billion Star Wars-themed land was officially dedicated with a star-studded, live-streamed ceremony on May 29, and the general public got its first look two days later, resulting in long lines at times for the most popular attractions.
The park adopted a few new crowd-management policies over the weekend in response to lengthy waits at the lightsaber-building experience and a cantina. Disney officials said such changes were anticipated.
Reviews of Star Wars: Galaxy's Edge on social media have been mostly positive, with a few parkgoers complaining about long wait times.
The only attraction in operation so far, Millennium Falcon: Smugglers Run, had an average wait time of 45 to 50 minutes, with the longest queues stretching to 90 minutes. A second ride, Star Wars: Rise of the Resistance, will open later in the year.
Even longer lines were reported to enter Oga's Cantina, a space-themed bar where visitors can order alcoholic drinks, snacks and coffee. To address the long waits, the park began over the weekend to ask visitors in the queue to give their cell phone number so they could be sent a text when the crowds inside thinned out and they could return.
In addition, the park added a 45-minute and two-drink limit to visitors at the cantina, although Disneyland representatives said those limits were not strictly enforced.
CHECK into our full coverage of Star Wars: Galaxy's Edge »
At Savi's Workshop, a store where Star Wars fans can build a custom lightsaber for $200, the demand to enter was so heavy that Disneyland began giving parkgoers colored cards that designate a time that they could return when the shop is less busy.
"The land has been very organized and controlled," Theiler said.
Hoping to avoid the crowding, long lines and frustration that occurred with the opening of previous expansions, Disneyland required that visitors during the first three weeks of the land's opening book a reservation to spend a maximum of four hours in the land. Those slots were booked up within two hours after the park began accepting reservations. Park officials declined to say how many reservations they gave out.
When the reservation period ends June 24, Disneyland will implement a virtual queuing system for visitors, similar to the Fastpass that the park now uses for its most popular attraction. Details of that system have not been disclosed.
"We feel strongly that the virtual queue is going to help manage the land," Theiler said.
Disneyland will continue to consider other crowd-management ideas for the new land, she said.
"We are hard at work looking at all of these aspects right now," Theiler said. "We are looking at all different avenues that we have."
The 14-acre park increased the size of Disneyland by up to 20%, and, as a result, eased the wait times in other attractions throughout the park by 20 to 40 minutes, park representative said.
To read more about the travel and tourism industries, follow @hugomartin on Twitter.
---
Sign up for the California Politics newsletter to get exclusive analysis from our reporters.
You may occasionally receive promotional content from the Los Angeles Times.