LAX to launch bathroom technology that lets you know when you can go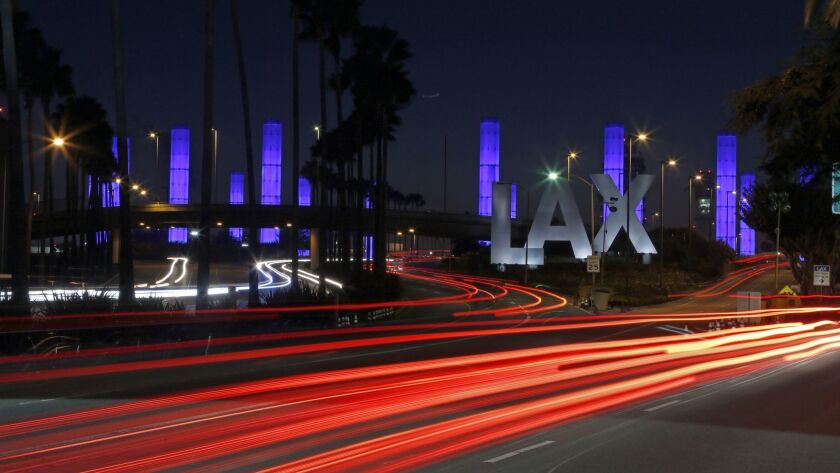 Because the cleanliness of airport bathrooms is important to travelers, Los Angeles International Airport officials are launching a pilot program that uses new technology to manage a restroom in one of its terminals.
LAX officials are teaming up with two technology companies — Infax and Tooshlights — to install lights and digital gadgets that keep track of how often bathrooms are cleaned and let travelers know when a stall is in use or vacant.
The new "smart restroom" pilot project will be introduced Wednesday on a bathroom at Terminal 4, which is occupied by American Airlines, American Eagle and Qantas. Lights that turn green when a stall is vacant and red when a stall is occupied are being installed above each stall.
The Tooshlights system will be tied in with technology by Infax to keep track of how often a bathroom is used and when it needs to be cleaned. The new digital system keeps track of the number of people who use a bathroom and alerts a janitor to clean it when it has reached a specific passenger usage threshold. The same system tells managers when and how often bathrooms are cleaned.
"We're incredibly excited to try out this new technology, which should help improve our guest experience and allow us to better monitor and service our restrooms," said Barbara Yamamoto, chief experience officer at Los Angeles World Airports.
To read more about the travel and tourism industries, follow @hugomartin on Twitter.
---
For reporting and exclusive analysis from bureau chief John Myers, get our California Politics newsletter.
You may occasionally receive promotional content from the Los Angeles Times.