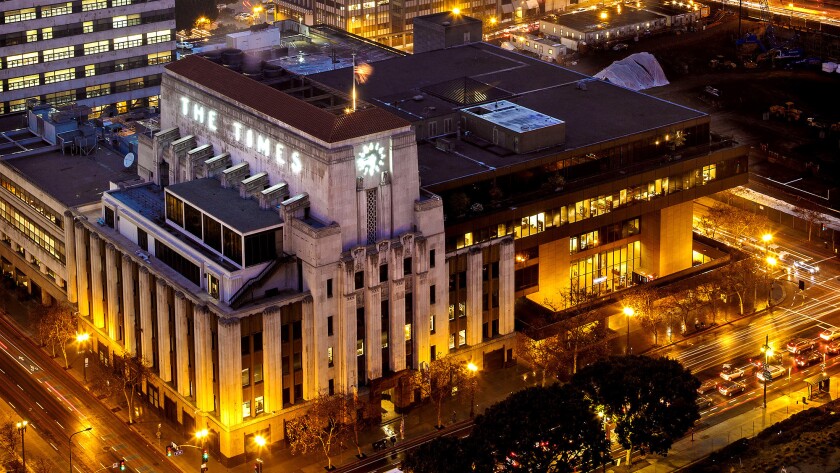 A regulatory filing on Monday showed that many Tribune Publishing shareholders support a sale to rival Gannett Co., fueling a surge in the stock price on speculation that the company will continue with its buyout offer.
Shareholders on Thursday cast votes for Tribune's board of directors. A tally of those votes, filed with the Securities and Exchange Commission, shows that the company's nominees each received between 53% and 60% of votes cast – small figures considering all of them were running unopposed.
USA Today publisher Gannett since April has been trying to buy Tribune amid fierce opposition from the company's chairman and largest shareholder, Michael Ferro. Gannett had urged shareholders to withhold their votes for Tribune's board nominees to show disapproval with Tribune's rejection of two buyout offers.
Some large shareholders – including Oaktree Capital Management and Towle & Co. —have voiced support for a Gannett buyout and withheld their votes from Tribune. Between 40% and 48% of votes were withheld against each board nominee.
Excluding Tribune insiders, most shareholders backed Gannett, according to the filing. Ferro himself would have failed to win a majority of votes cast had it not been for the 5.22 million shares he controls. Without his own votes, 50.3% withheld support, about 160,000 votes shy of a majority.
The actual vote tally, like the withhold campaign itself, is largely symbolic. Tribune's nominees were running unopposed and did not need a majority vote to be elected.
Still, the support for Gannett's campaign could prompt the McLean, Va., company to continue with its bid for Tribune. Sources told CNBC that Gannett is not ready to give up.
Tribune's board has twice rejected Gannett's buyout offers, first for $12.25 a share, then for $15, both big premiums to where Tribune shares were trading before Gannett went public with its offer. The company has said Gannett's offer undervalues Tribune and doesn't take into account a digital-driven turnaround strategy.
Tribune Publishing stock closed Monday at $13.01, up $1.96, or more than 17%. The stock will move from the New York Stock Exchange to the Nasdaq on June 20, the same day it will change its name to Tronc Inc.
ALSO
Oaktree renews call for Tribune to sell to Gannett
Is billionaire Patrick Soon-Shiong Tribune Publishing's white knight?
Tribune Publishing renames itself Tronc as its dispute with Gannett continues
Twitter: @jrkoren
---
UPDATES:
2:28 p.m.: This article was updated with the closing stock price.
The article was originally published at 12:00 p.m.
---