Uber IPO: Stock sinks more than 7% on first day of public trading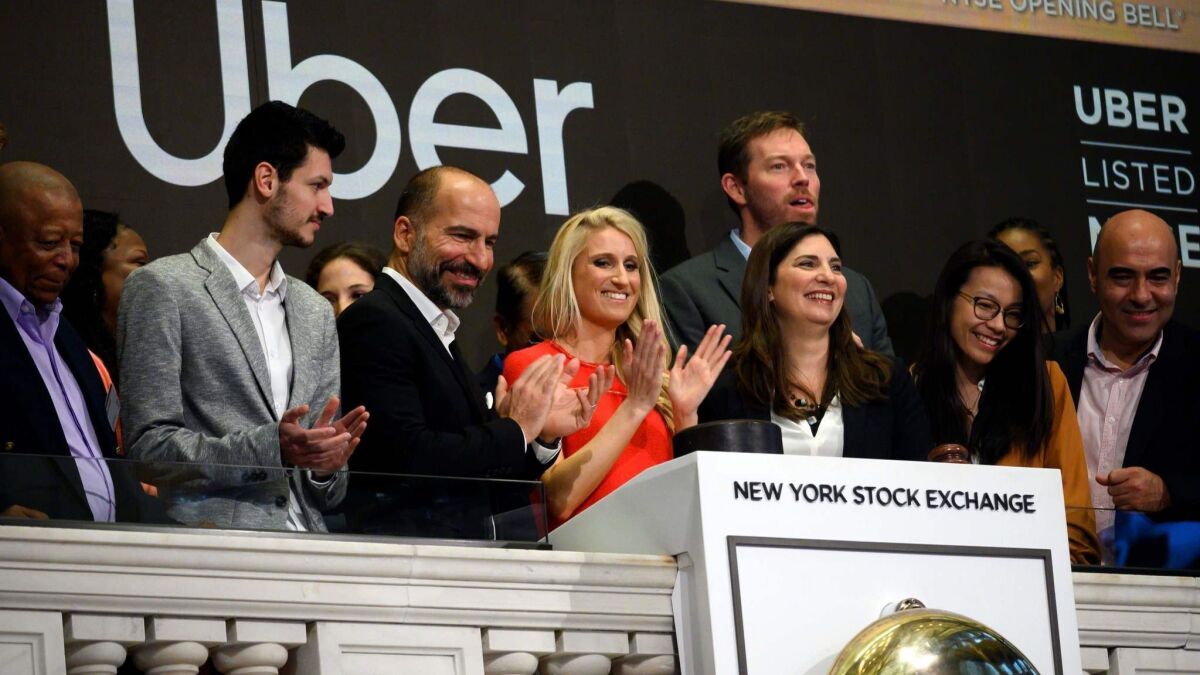 When Uber was conceived in San Francisco in 2008, founders Travis Kalanick and Garrett Camp in one of their earliest pitch decks compared it to a private jet service, but for cars.
The idea, Kalanick said in 2013, arose because they wanted to be "ballers," able to order a ride in a luxury car at the push of a button. That thought turned into a company that grew at warp speed, aggressively elbowing its way into the global transportation industry and transforming it.
The company that began trading on public markets Friday is far more than the baller cab service Kalanick envisioned. Uber helped spawn the gig economy, enlisting a contracted workforce of 3.9 million drivers and inspiring nearly as many start-ups intent on being the Uber for X, Y or Z. But it has also become shorthand for tech at its most brazen — a company built on the premise of asking forgiveness, not permission.
The competing narratives played out Friday at the New York Stock Exchange, where Kalanick — ousted in 2017 after a series of scandals — was forced to watch from the floor as an early employee rang the coveted opening bell with new Chief Executive Dara Khosrowshahi, marking the biggest and most anticipated initial public offering in five years.
Uber's first day on public markets did not match its penchant for precipitous growth. After raising $8.1 billion by pricing shares at $45 apiece on Thursday, shares began trading below that price and finished the day around $41.57, down 7.6%.
Khosrowshahi attributed the slow start to a rocky day for Wall Street, which was disturbed by an overnight escalation in U.S.-China trade tensions.
"Today's a tough day for the market," Khosrowshahi told Bloomberg. "You can't pick when you go public, but you can control how you execute as a company."
Questions remain about the ride-hailing business model. Neither Uber nor its smaller rival, Lyft, is profitable — and neither expects to be in the short term. That has fueled skepticism among investors toward Lyft, which has flopped since it hit public markets in March, falling nearly 28%.
Investors were being cautious after the "Lyft train wreck," said Dan Ives, an equity analyst at Wedbush Securities.
Uber, too, was cautious. While Lyft priced its IPO above its expected range, Uber pricing was already conservative. The $45 per share was toward the bottom of its marketed range of $44 to $50, and it gave Uber a market value of $75.5 billion — below its last private market value of $76 billion. The fully diluted value in the Uber IPO, including restricted stock units and other shares, could have been about $82 billion, far below the $120 billion that investment bankers jockeying to lead the offering floated last year.
Still, there was energy on the trading floor, said Bradley Tusk, a former Uber advisor who holds a stake in the company.
It "felt like something big was happening," he said.
Should you buy Uber stock on Day 1 or wait? Play our interactive IPO game »
As it prepared for its initial public offering, Uber worked to clean up the image it had fostered under Kalanick.
Uber busted into cities with flagrant disregard for local transportation regulations, becoming so popular with customers that regulators had little success in curbing its rise. It classified drivers as contractors rather than employees, allowing the company to avoid costs like healthcare benefits and quickly amass a vast workforce.
And its developed a corporate culture rife with conflict and bad behavior. After a female engineer publicly alleged Uber ignored her complaints about sexual harassment by her boss, it triggered a backlash against Uber that changed the narrative around the company.
The company lost hundreds of thousands of users after it was accused of opportunistically positioning itself to profit from protests against President Trump's executive order banning refugees and immigrants from certain countries from entering the U.S.
And it was called reckless even by those inside the tech industry after one of its self-driving Uber vehicles killed a pedestrian in Arizona.
When Khosrowshahi took the helm, he resolved to take a more responsible, contrite tone. One of the new core principles Khosrowshahi proposed is "do the right thing. Period" — replacing Kalanick's "always be hustlin.'"
Whatever happened to Travis Kalanick? »
Uber has been a quieter company under its new leadership, though it is still bleeding money as it grows. Last year, it reported an operating loss of about $3 billion; that was smaller than its $4-billion operating loss the year before. Its revenue rose to $11.3 billion in 2018 from $7.9 billion in 2017.
Some — such as Ives— say Uber is poised to become a juggernaut, the "Amazon of transportation."
Others are deeply skeptical that the company will be able to turn a profit.
"I would never ever advise anyone to invest in this company," said Ashley Nunes, a researcher at MIT who studies regulatory policy. "It's remarkable to me that a company can hemorrhage this much cash and still drum up this much interest from investors."
Column: Uber's IPO filing shows it's looking for the greater fools »
Several unicorns — tech start-ups valued at more than $1 billion — have gone public in 2019.
Lyft's flop and Uber's rocky start could be a worrying sign for others expected to enter public markets soon, such as Slack, Palantir and Airbnb.
Uber's was the tenth-largest U.S. IPO of all time and the biggest on a U.S. exchange since Alibaba Group Holding Ltd.'s $25-billion global record holder in 2014, according to data compiled by Dealogic.
Ives describes Uber as a "three-headed monster" consisting of its core ride-hailing business, its Uber Eats food delivery arm and and its Uber Freight shipping logistics arm.
"The cherry on top of the sundae is autonomous driving technology," he said. The company's self-driving business landed a $1-billion investment last month.
In pitches to potential investors before the IPO, Uber touted its plans to expand in logistics and other transportation businesses, including scooters, autonomous driving and mass transit, a person familiar with the matter has said.
Arun Sundararajan, a professor at New York University's business school, said that while going public gives Uber money to capture more of the transportation market, it also could push the company to put quarterly targets ahead of its broader ambitions.
"The trillion-dollar valuation will come if they can spend the next five to 10 years getting to that place where more is spent on Uber than on any other form of transportation," Sundararajan said. "The trouble is, that's going to require keeping investors at bay who are putting pressure on Uber to deliver earnings."
Ives shrugged at the significance of Uber's first day of trading: The company has a unique opportunity to go after its target market, he said, and what it can build in the next five or 10 years is more important.
"Now the question is: Will investors buy into that vision and at what price?" Ives said.
Bloomberg was used in compiling this report.
---
Sign up for the California Politics newsletter to get exclusive analysis from our reporters.
You may occasionally receive promotional content from the Los Angeles Times.