From the Archives: The wait is over. The scene from 2007 when the iPhone first went on sale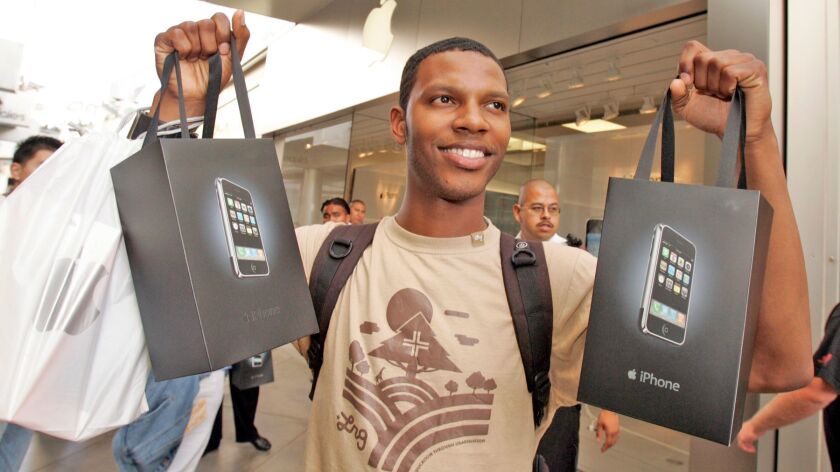 Ten years ago today on June 29, 2007, iPhones went on sale to consumers for the first time. Steve Jobs had announced the groundbreaking device months earlier, in a notable address at that year's MacWorld event. Here's the Times coverage of the first day of sales:
Throngs of people packed up their lawn chairs, their laptops and their fortitude to be among the first in the country to buy the latest lusted-after electronic object from Apple Inc.: the iPhone.
Apple considers the iPhone its biggest product launch since the Macintosh in 1984. The iPod portable music player, introduced in the weeks after the terrorist attacks of Sept. 11, 2001, was a more subdued affair. But Apple's venture into mobile phones has been greeted with the kind of fervor usually reserved for game-console debuts or hard-to-score concert tickets.
The Cupertino, Calif., company is trying to leverage the popularity of its iPod, of which it has sold 100 million, to break into the crowded yet lucrative cellular phone market.
"There's nothing like coming here to see people excited about it," said Greg Joswiak, Apple's vice president of iPod product marketing, grinning like a proud new parent as he surveyed the line of people waiting outside the Apple store at the Grove shopping center in Los Angeles. "These are just normal people. They're not computer geeks. They're normal folks."
Apple closed its 164 U.S. stores at 2 p.m. Friday to prepare for the sale of the iPhone, which began at 6 p.m.
The lines began forming before dawn at the Grove, where one Mac devotee, Jonathan Mariano, 27, returned repeatedly to the Apple store throughout the night -- and was shooed away each time -- until 4 a.m., when security relented and let him stay. By midday, hundreds of people, all sheltered under donated blue umbrellas emblazoned with "The Grove" in big gold letters, formed a line that wound all the way down the center of the open-air mall's main street and spilled out onto two side streets.
"We get big attendance like this for our tree-lighting ceremony and our summer concert series," said David Swift, marketing director for the Grove. "I don't know if I've seen big crowds of people like this for one item."
It was like that at Apple stores around the country. In a scene evocative of the annual Rose Parade, people broke out their folding chairs and formed a line along Colorado Boulevard in Old Pasadena to wait for the Apple store to begin the sale. At the Westfield Century City mall in Los Angeles, 150 people were sitting in lounge chairs and on sleeping bags, watching movies on their Mac computers, listening to their iPods and chatting with their neighbors in line about how many phones might be in the stores.
For some, the event took on the significance of a cultural happening -- the equivalent of the dawning of the new millennium or the "Human Be-In" in Golden Gate Park that launched 1960s counterculture. "The whole event has tremendous technological and popular culture significance," said Lincoln Gasking of Los Angeles, who waited at the Grove with his brother. "You want to be part of events like this."
Gasking said he was so frustrated with his old smart phone, the Treo, he planned to put it through a wood chipper, then upload the video to YouTube.
Nate Clukey, 35, a pet sitter from Santa Monica, was the first in line at the Apple store in the Manhattan Village mall in Manhattan Beach. Mall security wouldn't permit a line to form until 6 a.m., but Clukey arrived at 3 a.m. and hid behind four large planters to avoid detection.
"I would do that again all night long," Clukey said. "How many chances do you get to be like a ninja?"
Clukey, a veteran line-sitter who camped out for eight weeks before the opening of "Star Wars" episodes I, II and III, began charging the device in the store so it would be ready for an anime convention this weekend.
In Northern California, Apple co-founder Steve Wozniak and his entourage held court on couches in front of the Apple store at the Westfield Valley Fair mall in Santa Clara. They had arrived at 4 a.m., when 75 people were outside asleep. Four with Segways, including Wozniak, persuaded the mall staff to let them in, and they tooled around the mall for a few hours.
As a courtesy to the company's co-founder, the store let Wozniak be the first to buy the iPhone at the Santa Clara store, amid a cheering crowd that included Apple employees.
"I feel wonderful. It's exhilarating," said David Jackson, 51, an engineer at Cisco Systems Inc., who had waited since 6 p.m. Thursday. "Man, that was cool. I was shaking at the counter. I couldn't even sign my name."
One proud new iPhone owner, Saied Ghaffari, 23, of Cupertino, went so far as to activate the phone before he even left the mall. The online activation took about a minute.
"Take a picture of this," said Ghaffari to a friend. "This is history."
Some saw the hotly anticipated iPhone as the ticket to some fast cash.
Brian Zarabian, 15, and Michael Ohebsion, 16, were Nos. 4 and 5 in line at the Westfield Century City mall. They arrived around 6 p.m. Thursday, prepared for a long night.
"I was freezing and he wouldn't share his blanket," Zarabian joked.
The teens plan to buy two iPhones each and sell them on EBay Friday night before the hype dies down, and until then, play Scrabble and hang out. Ohebsion said he felt some resentment from some of the other people waiting in line who actually wanted the phones for themselves, but he didn't mind.
"I'll be able to say I made $1,000 in one day and spent my summer well," he said.
For longtime Apple devotees, the wait was almost a ritual.
Wiley Corbett, 43, of Bel-Air, had been in line at the Century City mall since 7 a.m., sitting in a camp chair with his Apple computer and wireless card, working. He's been to many seminal events in Apple's history: the Macworld conferences, the unveiling of the Power Mac, the announcement that Steve Jobs was returning to Apple.
"Could I have waited? Sure," he said. "But it's an event. You can say, I was there."
Corbett said he'd enjoyed sitting in line with fellow Mac fans.
"Back when Apple was almost going out of business, we looked like a bunch of real kooks," Corbett said about his fellow fans. "Now we don't look so stupid."
Of course, not everyone was swept up in iPhone mania.
Jenny Scott, a health assistant from Costa Mesa, was shopping in South Coast Plaza with her two young daughters. "I thought there was a movie star or concert tickets," said Scott, 33. "I thought Hannah Montana was here or something."
By the time Apple reopened its store in Troy, Mich., several hundred people had lined up. Like New Year's Eve, they collectively counted down the final seconds until, at 6 p.m., the glass doors slid open and customers began pouring into the store.
The first to emerge victorious was Joe Fitrzyk, an advertising executive who had paid $100 to snag the No. 2 spot in line. He desperately wanted an iPhone to show off in New York, where he was heading that evening. He bought a $599 phone for a friend and one for himself.
"You can't buy love," he said. "But you can buy cool."
Times staff writers James S. Granelli and Andrea Chang contributed to this report.
Highlights
1984: The Macintosh is introduced in a commercial during the third quarter of the Super Bowl.
1985: Steve Jobs resigns from Apple to form a new company, Next Software.
1986: Jobs buys a computer graphics group from Lucasfilm for $10 million and starts Pixar.
1989: Mac portable introduced.
1994: Power Mac introduced.
1997: Jobs returns to Apple in January as an advisor after Next is acquired by the company. In September he is named interim CEO.
1998: IMac introduced.
2000: Jobs becomes permanent CEO.
2002: IPod introduced.
2006: Disney buys Pixar; Jobs joins Disney's board of directors.
2007: IPhone debuts.
Source: Bloomberg News
ALSO
Creator of Android unveils his vision of the ultimate smartphone
Opinion: Happy birthday, iPhone: Ten years later, Steve Jobs' creation owns us
---
Your guide to our new economic reality.
Get our free business newsletter for insights and tips for getting by.
You may occasionally receive promotional content from the Los Angeles Times.