Uber says drivers are happier than ever, but not everyone's convinced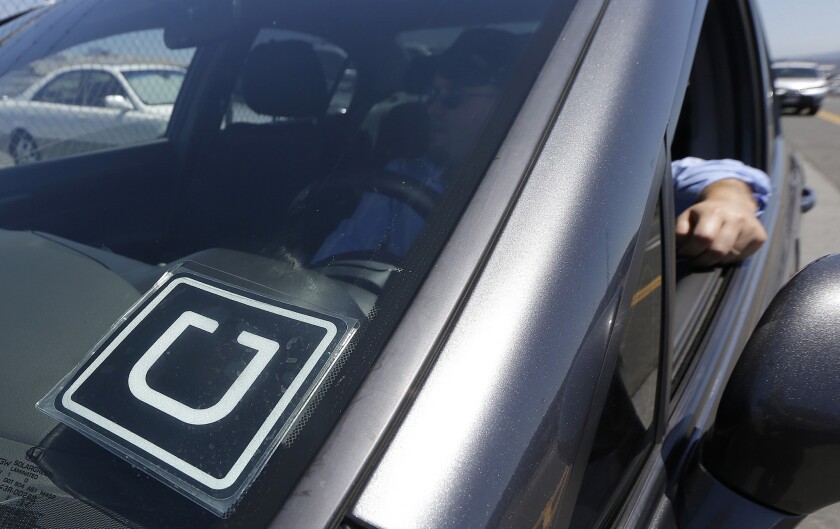 A new Uber driver survey released Monday reveals that Uber drivers are the most satisfied they've ever been. But some drivers and analysts are skeptical of the findings.
The survey, conducted in November by Benenson Strategy Group — the same group that conducted the 2014 survey — included interviews with 833 drivers from 24 of Uber's largest markets including Los Angeles, San Francisco, Chicago and New York City.
Although the sample may seem small given that the company had 327,000 active drivers in the U.S. as of October, an Uber spokesman said the number of drivers interviewed is in line with typical polling samples for its driver population.
The survey found that 81% of polled drivers said they were satisfied with the overall experience of driving for Uber — up from 78% the previous year. Ninety-seven percent said they were satisfied with the flexibility of their schedule, and 91% said they were satisfied with their ability to balance their work with Uber and the rest of their lives.
But while the results suggest there's never been a better time to drive for Uber, Harry Campbell, an Uber driver and founder of The Rideshare Guy — a website and community where Uber and Lyft drivers come together to share best practices and experiences — said it's important to approach Uber's numbers with a healthy dose of skepticism.
"I would say right off the bat that I'm not surprised Uber released a study that said their drivers are more happy or satisfied, because it wouldn't make sense for them to release a survey that didn't say that," said Campbell, who has driven for Uber and its competitor Lyft for the last year and a half.
"In the past, they've released earnings for drivers that didn't take into account drivers' expenses, for example," he said. "They're going to release data that's most beneficial for them. They haven't always been the most forthcoming."
Campbell said he also wasn't surprised to hear that drivers reported satisfaction with the flexibility of their schedules, because flexibility has always been a draw for services in the on-demand economy. According to Campbell, it's what attracts drivers to services such as Lyft, Sidecar, and on-demand delivery platforms like DoorDash and Postmates.
But reports of overall driver satisfaction being up from the previous year did come as a surprise to him, because "a lot of issues from the past year still exist today and still haven't been addressed," he said. "So I'd be interested to know who they surveyed."
According to Campbell, anecdotally, many drivers have grown increasingly dissatisfied with Uber's lowering of fares, which, while good for passengers, has cut into drivers' take-home pay.
Market saturation has been another sticking point, with drivers struggling to get as many passengers as they used to because there are now so many Uber drivers on the road.
Tipping has also been a controversial issue for Uber (passengers do not have the ability to tip drivers through the app), and drivers have long complained on community forums and Facebook groups about how hard it is to get support from Uber.
"One of the most popular articles on my site is on how to contact Uber," said Campbell, whose site recently crossed 500,000 monthly views. "They don't have a phone number drivers can call, even in an emergency."
For Uber's part, the ride-hailing company said the purpose of the survey is to help it identify areas it can improve, and get a better understanding of its drivers' profiles.
A spokeswoman for the company said Uber frequently asks its driver partners for feedback, which has led to the creation of Partner Support Centers — physical locations where drivers can drop in for support; the launch of the Momentum program, which offers drivers fuel discounts and reduced vehicle maintenance costs; and discounts on cellphone services.
Uber declined to release the survey questions.
Thilo Koslowski, vice president and automotive practice leader of research firm Gartner, said he can see another reason surveys like the one most recently conducted could be important to Uber: It's a way to get more people to consider driving for the San Francisco company.
"It might be even more important now than in the past," Koslowski said, "because potential drivers are beginning to question how lucrative it is to drive for Uber."
In that sense, Koslowski said, Uber can use the survey findings as external advertising to better direct its messaging.
"Uber is also learning what works and what doesn't work, and these surveys can certainly help," he said. "But if they're used as just a tool to portray a happy world, then I don't think they'd meet their objectives or help anyone."
Twitter: @traceylien
ALSO
Orbital ATK launches supplies to International Space Station
San Bernardino shooting: Does blanket TV coverage change minds?
---