The Colorado River is in peril. Can we save it?
Help us make Essential California serve you better. Take this survey.
Good morning, and welcome to the Essential California newsletter. It's Friday, Jan. 27.
For the record:
1:27 p.m. Jan. 29, 2023A previous version of this newsletter said a group of people attended a city council meeting in San Diego to call on city leaders to publicly defend transgender residents. The meeting took place in Santee, Calif.
When you turn on your tap in Southern California, chances are some of that water came from the Colorado River.
The waterway, which originates in the Rocky Mountains, is a key source of the water we and our crops drink. Seven Western states get a portion of their supply from the Colorado River — and California takes the biggest gulp. In 2020, 4.1 million acre-feet streamed into the Golden State (more than 1 trillion gallons) out of more than 11 million acre-feet sent out across the West (Mexico also receives water from the river).
The arrangement among Colorado, Wyoming, Utah, New Mexico, California, Arizona and Nevada to share the resource was established with the Colorado River Compact, signed in 1922. Even before that, some scientists warned that the river could not sustain that level of demand.
A century later, those concerns are on full display in near-empty reservoirs, receding lakes and dusty stretches of desert where the river once flowed.
Decades of drought — made worse by climate change — and unsustainable use have placed the Colorado River in peril. As my colleague Ian James and former Times reporter Molly Hennessy-Fiske write, the river is shrinking and "can no longer withstand the unbridled thirst of the arid West."
Ian and Molly spent months examining the hazardous state of the river for a new series, Colorado River in Crisis. The first stories in that series were published this week, with more upstream.
"I've been reporting on the Colorado River for years," Ian told me this week, "but I'm always learning more."
Southern Californians rely on the Colorado River for drinking water and to keep their yards green, but "what's less visible," he said, "is the amount of water that's used for agriculture." Ian explained:
"The Imperial Valley uses the single largest share of the river to supply about half a million acres of farmland. The water is used to grow much of the country's winter vegetables, including all sorts of produce — lettuce, broccoli, carrots, spinach, melons and lemons — as well as hay to supply beef and dairy operations."
So how do we fix this? The key solution is to reverse the underlying issue, Ian said: "Use less water throughout the region [and] bring demand in line with the supply the river can provide."
Simple, but not easy. And a few weeks of rain and snow "will only go so far because the reservoirs have declined so low," he added.
"The sorts of solutions that are being talked about will mean less water flowing to farms, and probably more water restrictions for people in Southern California's cities, as well as bigger efforts to offer cash rebates for removing lawns," Ian said.
Longer-term ideas for saving the Colorado River include increasing water efficiency on farms and in cities, recycling more wastewater and getting better at stormwater capture when it does rain.
You can read Ian and Molly's full reporting in the new series.
And now, here's what's happening across California:
Note: Some of the sites we link to may limit the number of stories you can access without subscribing.
L.A. STORIES
A new study casts doubt on a long-used method for counting L.A.'s unhoused population. The Los Angeles Homeless Services Authority's last point-in-time count resulted in a finding that homelessness was down in three communities with large unhoused populations. The Rand Corp. conducted its own study with multiple visits to those communities over a year, finding homelessness increased in each neighborhood. Los Angeles Times
Check out "The Times" podcast for essential news and more
These days, waking up to current events can be, well, daunting. If you're seeking a more balanced news diet, "The Times" podcast is for you. Gustavo Arellano, along with a diverse set of reporters from the award-winning L.A. Times newsroom, delivers the most interesting stories from the Los Angeles Times every Monday, Wednesday and Friday. Listen and subscribe wherever you get your podcasts.
POLITICS AND GOVERNMENT
L.A. County leaders voted to extend an eviction moratorium by two months, but say it's the last time. The pandemic-sparked protections for renters will expire after March 31. Los Angeles Times
Some Santee residents are calling on their city leaders to publicly defend transgender residents after two protests outside a local YMCA. The demonstrations were sparked by a teen girl telling city leaders she felt unsafe sharing a YMCA locker room with a transgender woman. This week, people crowdedcity hall to speak their mind. Many voiced support for Christynne Wood, the transgender woman who came forward to say she was the person in the locker room. "I am a threat to no one," she told council members. San Diego Union-Tribune
California Rep. Adam Schiff has announced he will run for a U.S. Senate seat in 2024. The San Fernando Valley Democrat will face fellow Rep. Katie Porter and other peers in what's expected to be a highly competitive race for Sen. Dianne Feinstein's seat. The 89-year-old senator has not yet announced if she'll seek reelection. Los Angeles Times
California Democrats are locked in a power play to determine the next state Assembly leader. Caucus members had reached an agreement to replace Speaker Anthony Rendon with Assemblyman Robert Rivas (D-Hollister), but now Assemblyman Joaquin Arambula (D-Fresno) is vying for the position, historically considered the second most powerful in state government. Los Angeles Times
CRIME, COURTS AND POLICING
The suspect in the mass killing of seven people in Half Moon Bay admitted to the fatal shootings in a news interview. Chunli Zhao, 66, told a local NBC reporter he had experienced "years of bullying" and working long hours at the mushroom farm where the mass shooting started. NBC Bay Area
Investigators have so far not been able to make any connections between the Monterey Park shooter and the victims at the dance studio he targeted on the eve of Lunar New Year. The 72-year-old gunman killed 11 people and wounded nine others. Authorities said he fatally shot himself inside his van in Torrance as officers approached him. Los Angeles Times
California's Justice Department is now mandated by law to investigate all incidents in which a police officer shoots and kills an unarmed person. But an investigation from CalMatters reveals the department isn't probing all of the incidents law enforcement agencies have referred to it — and not all the reports were being tracked. CalMatters
HEALTH AND THE ENVIRONMENT
That layer of dust in your eyes and the wild hairdos you're rocking can only mean one thing: Santa Ana winds are back. In San Diego County, gusts upward of 90 mph flipped big rigs, shutting down parts of Interstate 8, and blew over dozens of trees in Balboa Park. The fierce winds also knocked out power to thousands of homes. San Diego Union-Tribune
The parade of winter storms that soaked California boosted the state's water supply. State Water Project officials say they'll be able to deliver nearly 1.3 million acre-feet of water this year. That's six times more than they projected before the storms. But that new amount represents just 30% of what water agencies had requested for 2023. The Sacramento Bee
CALIFORNIA CULTURE
Just for the record, I write this newsletter the old-fashioned way: as a human being with a brain and fingers that translate thoughts into (hopefully) adequate language. But there's a new kind of writer shaking things up: the artificial intelligence chatbot known as ChatGPT. Some students have turned to the tech for near-instantaneous essays, math help and other academic assignments. It's causing some teachers to worry about the future of education. The Mercury News
Free online games
Get our free daily crossword puzzle, sudoku, word search and arcade games in our new game center at latimes.com/games.
AND FINALLY
Today's landmark love comes from Los Angeles resident Stephanie Hammerwold: Bunnyhenge in Newport Beach.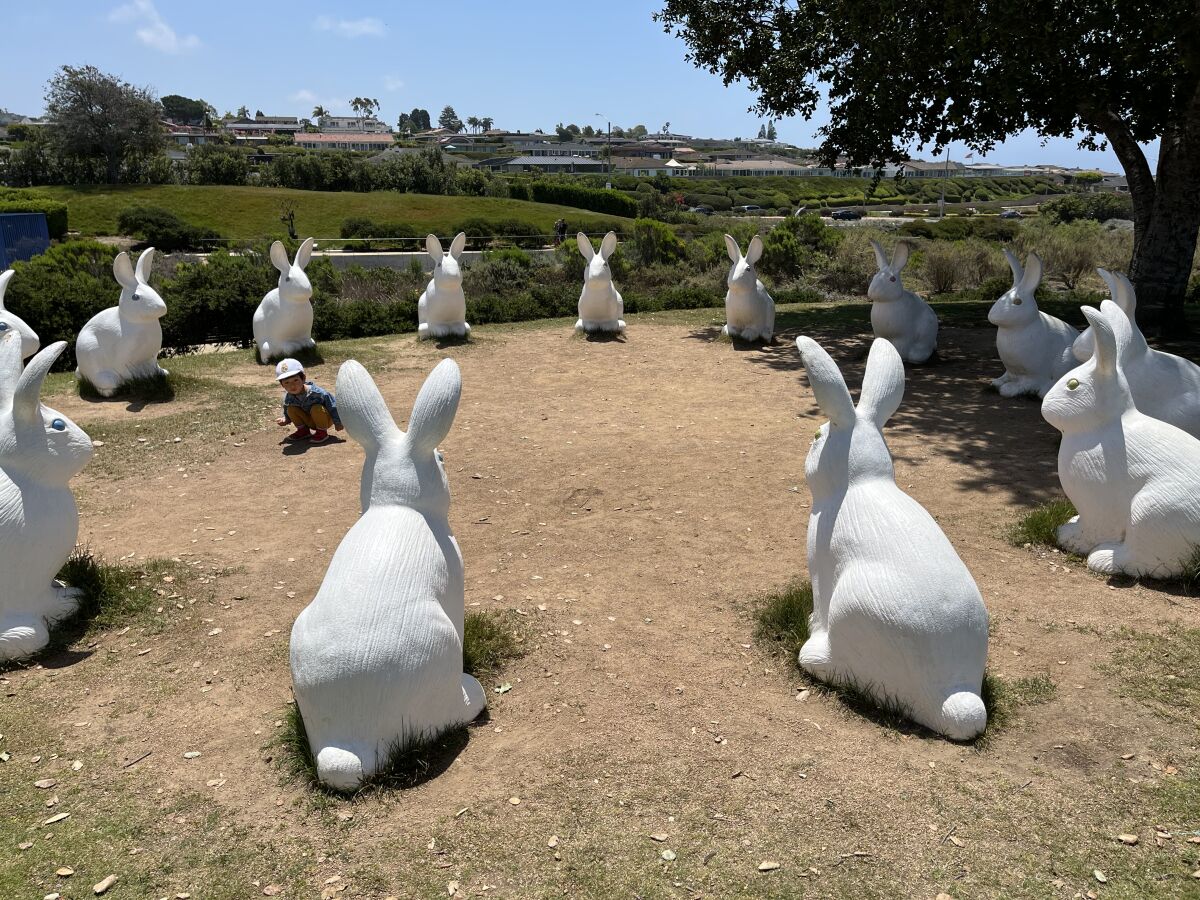 Stephanie writes:
"Bunnyhenge is part of a sculpture garden that has a lot of really interesting pieces. It's right by the library in Newport Beach, and it seems like such a surprising place to find something [so] quirky. Who doesn't love the idea of a ring of giant bunny statues hanging out in a sculpture garden?"
What are California's essential landmarks? Fill out this form to send us your photos of a special spot in California — natural or human-made. Tell us why it's interesting and what makes it a symbol of life in the Golden State. Please be sure to include only photos taken directly by you. Your submission could be featured in a future edition of the newsletter.
Please let us know what we can do to make this newsletter more useful to you. Send comments to essentialcalifornia@latimes.com.
The stories shaping California
Get up to speed with our Essential California newsletter, sent six days a week.
You may occasionally receive promotional content from the Los Angeles Times.