California Assembly advances crackdown on vaccine exemptions, but governor wants to change the bill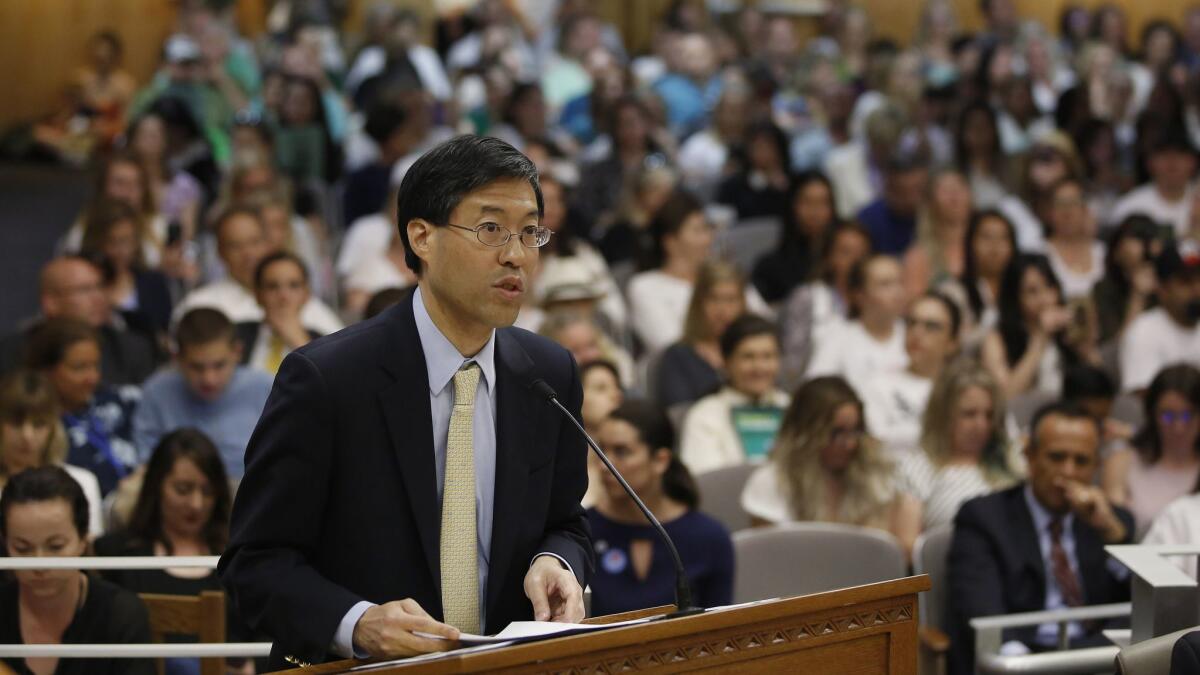 SACRAMENTO —
The California Assembly passed contentious vaccine legislation on Tuesday, a vote immediately met with an announcement from the office of Gov. Gavin Newsom that changes to the legislation would be required before it reaches his desk.
Newsom's office said in a message posted on Twitter that the governor wants a few "technical — but important" revisions to state Senate Bill 276, which would tighten the state's school immunization law. However, a brief description of the requested changes — which would be added to a separate bill — provided by the governor's office indicates they would be fairly significant.
Tuesday marked the second time Newsom has asked forthe legislation to be watered down after he raised concerns in June that SB 276 would create an immunization bureaucracy that could interfere with doctor-patient relationships. Those concerns led the bill's author, Sen. Richard Pan (D-Sacramento), to focus oversight efforts on doctors who write five or more exemptions and schools with lower immunization rates, instead of a statewide review. After those changes, Newsom pledged to sign the bill.
But last week, Capitol watchers discussed the possibility that Newsom would push for additional amendments to the legislation.
Shortly after the vote on Tuesday, the office of Assembly Speaker Anthony Rendon (D-Lakewood) notified Pan that the governor's changes would be added to another bill. Standing on the Assembly floor after the vote, the senator appeared surprised by the news. Advocacy groups on both sides of ths issue scrambled for updates on what Newsom was proposing.
"For a governor to author a second set of amendments to a bill this late in the process is unusual," said Dana Williamson, a Democratic political strategist and former Cabinet secretary to Gov. Jerry Brown. "From what has been reported, they certainly aren't technical."
The governor's changes will probably be added to a second bill that could essentially override provisions in SB 276 should both reach his desk. The amended bill, which has not yet been made public, would have to be voted on next week before the Legislature adjourns for the year.
SB 276 passed the Assembly 47 to 17 in a surprise vote that was not expected until later in the week. It now heads back to the Senate, where an earlier version passed in May.
Under the bill, the California Department of Public Health would review and potentially reject medical exemptions written by doctors who have granted five or more in a year. Newsom is asking that the tally on how many medical exemptions a doctor writes apply only to those written after Jan. 1.
The bill calls for the Public Health Department to scrutinize a child's medical exemption if they attend a school or day care with immunization rates of less than 95%. Currently, about 20% of schools and day care centers would fall under that scrutiny. Newsom's office was unclear as to whether those medical exemptions would be affected under the governor's proposal.
SB 276 would also require doctors to certify, under penalty of perjury, that a medical exemption they sign is accurate. That provision would also be erased under Newsom's proposal, which adds language to ensure individual medical information released to the state is not subject to disclosure under the Public Records Act.
Anthony York, a spokesman for the California Medical Assn., which is the lobbying arm of doctors in the state, said the current bill "reflects an agreement reached by the administration and the author and it's one the governor committed publicly to signing." York said the proposed changes by Newsom and how they might affect the bill will have to be weighed separately.
The bill comes amid the worst measles outbreak in more than 20 years, with more than 1,200 people diagnosed with the disease this year.
California already has some of the nation's tightest childhood immunization laws, requiring vaccinations to attend public or private schools or day care. A doctor can excuse a child, either temporarily or permanently, from some or all vaccinations if there is a medical reason.
But the bill's supporters have alleged that some doctors are profiting off unneeded exemptions, prompting lawmakers to introduce legislation to create state oversight of the process. Hundreds of parents have protested the bill since it was introduced this year, arguing that SB 276 would interfere with the doctor-patient relationship and that the restrictions will make doctors hesitant to write new medical exemptions.
On Tuesday, several Democratic lawmakers voted against the bill or chose not to vote at all. Assemblyman Al Muratsuchi (D-Rolling Hills Estates) said the bill was an overly broad solution to the "right policy goal." Leigh Dundas of the opposition group Advocates for Physicians' Rights said the bill "imposes on physicians a host of other draconian provisions."
Under the legislation doctors and parents would have to agree to release related health records to support their claims. Those records could help the Medical Board of California investigate doctors accused of writing fraudulent medical exemptions.
Supporters of the bill said unnecessary vaccine exemptions place children at risk, including those too young to be immunized or those with medical conditions, including undergoing cancer treatment.
"This is a really important step toward protecting our children from preventable diseases in school," said Leah Russin of Vaccinate California. "The most vulnerable among us need us to keep pushing this bill until it becomes law."
Sign up for Essential California for news, features and recommendations from the L.A. Times and beyond in your inbox six days a week.
You may occasionally receive promotional content from the Los Angeles Times.