Fire weather threatens California: Santa Ana winds blow in south; PG&E mulls power shutoff in north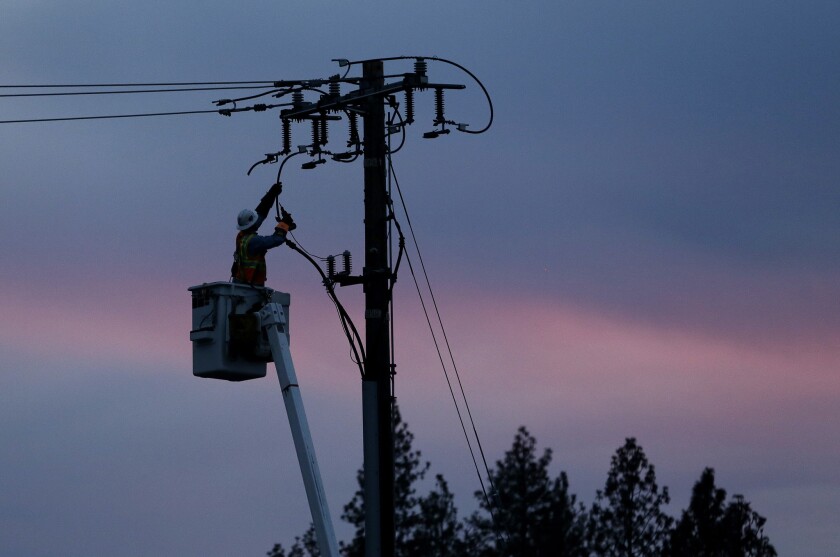 Critical fire weather is threatening California, as high winds, low humidity and dry conditions combine to form a sometimes lethal mix, the National Weather Service warned Monday.
A red flag warning is in effect for more than 3.8 million Northern Californians for the next three days, as wind gusts blow through the region.
In Southern California, Santa Ana winds will carry in warmer temperatures along with elevated fire dangers, forecasters said.
"We are looking at fall weather. Fall started early this morning," Scott McLean, a deputy chief with the California Department of Forestry and Fire Protection, said Monday. "So that means we're going to have significant winds that will be blowing in the north state as well as the south state with the Santa Anas."
The fire threat in the northern part of the state has prompted Pacific Gas & Electric Co. to consider preemptively shutting off power to about 21,000 customers in three counties, starting Monday evening. Such public safety power shutoffs are part of a strategy to reduce the risk of wildfires sparked by utility lines that break during extreme winds.
The shutoffs are expected to take place in portions of Butte, Nevada and Yuba counties in the Sierra foothills beginning about 5 p.m., PG&E said in a tweet.
The utility decided Monday afternoon not to proceed with evening shutoffs in Lake, Napa and Sonoma counties in the North Bay, and in El Dorado, Placer and Sutter counties in the Sierra foothills. PG&E said it might shut off power to parts of those counties Tuesday, depending on the weather.
"There's not a single factor that will drive a public safety power shutoff event, but we definitely look at the humidity, the temperature and the wind speeds," PG&E spokeswoman Megan McFarland said. She said the company began notifying customers in affected areas that shutoffs were possible. The notifications were made by robocalls, text messages and emails starting at 8 p.m. Saturday, she said.
In the town of Paradise, news of the preemptive measure provided little comfort.
PG&E announced — then canceled — a power shutoff just before November's Camp fire, which killed 85 people and became the deadliest wildfire in state history. Cal Fire investigators later determined the blaze was sparked by a transmission line, which PG&E said would not have been included in any preemptive shutoff.
"It's frustrating," Paradise Councilwoman Melissa Schuster said Monday. "We heard this before the Camp fire. Power was not shut off. So rather than being relieved — and we're coming up on Nov. 8 again — it's a little bit of a trigger for most of us, I think. It's where we were a year ago."
The only big difference, she said, is that there's not much left to burn.
She said that as residents rebuild, more are outfitting their homes with generators and solar panels to serve as backup power sources "because electricity is just not dependable anymore."
"It's kind of crazy," she said. "It's just one more thing that we all have to address in this 'new now,' being prepared for this type of thing."
In the Sacramento Valley and Sierra foothills, a red flag warning is in effect from 1 p.m. Monday through 11 a.m. Wednesday. Winds are forecast in the Sacramento region at 10 to 25 mph, with gusts between 30 and 40 mph, according to the weather service. Slightly stronger winds are predicted in the Sierra foothills, with 10 to 30 mph winds, gusting up to 45 mph.
The western portion of the Sacramento Valley and neighboring foothills are facing the highest fire threat because the highest wind gusts and lowest humidity are forecast there. The threat will be highest during the night and morning hours, when winds are strongest, the weather service said.
In the Bay Area, the red flag warning is in effect from 9 p.m. Monday through 5 a.m. Wednesday for the North Bay Mountains, East Bay Hills and the Diablo Range.
Strong winds are forecast for the higher elevations of Napa and Sonoma counties and the East Bay Hills, with gusts from 30 to 35 mph starting late Monday night. Wind gusts could reach 40 mph along some of the North Bay Mountains, where the fire threat will be most acute, forecasters said.
Cal Fire sent five engine strike teams and seven hand-crew strike teams to the northern part of the state, McLean said. The teams arrived Sunday and Monday and include about 300,000 extra personnel.
The Los Angeles area will face brief but critical fire weather conditions Tuesday, as temperatures warm and Santa Ana winds develop, the National Weather Service said.
Wind gusts could reach 25 to 40 mph in the mountains and valleys of Ventura and L.A. counties starting Monday night and persisting through Wednesday morning, with the strongest winds expected Tuesday morning.
Temperatures are expected to rise seven to 15 degrees Tuesday, with the biggest increase along the coasts and the coastal valleys, where highs are forecast in the 90s, according to the weather service. Some neighborhoods in the Valley, including Woodland Hills and Van Nuys, are expected to see triple-digit temperatures.
The critical fire weather comes as the state is battling more than half a dozen blazes that are larger than 500 acres. Although California has already seen more than 157,000 acres burn in wildfires this year, that number is a fraction of how many acres had burned by this time last year, according to Cal Fire data.
Still, fire officials have cautioned this is the time of year when offshore weather patterns typically bring hotter, drier and windier conditions, drying out fuels and increasing the probability of ignition.
"September and October are historically the two months that we see the most significant wildfires, as far as most disastrous, largest, etc.," McLean said. "With the winds, fires take off very quickly, hence the red flag warning."
---
The stories shaping California
Get up to speed with our Essential California newsletter, sent six days a week.
You may occasionally receive promotional content from the Los Angeles Times.