California effort will employ restaurant workers to provide meals for seniors amid coronavirus crisis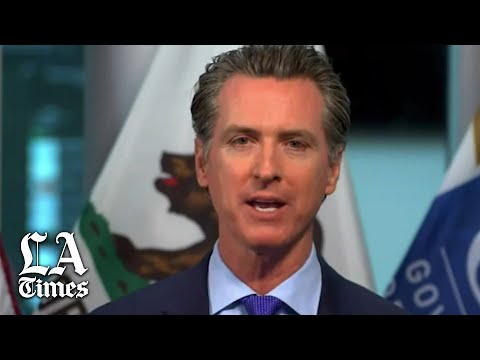 SACRAMENTO —
Gov. Gavin Newsom said the state will soon launch a far-reaching program to provide three meals a day to California seniors in need during the COVID-19 pandemic, partnering with local officials to employ out-of-work restaurant workers with funding largely provided by the federal government.
"This partnership will allow for the ability for restaurants to start rehiring people, or keep people currently employed, and start preparing meals — three meals a day, seven days a week — and have those meals delivered to our seniors, all throughout the state of California," Newsom said Friday.
The program, which the governor said is the first of its kind in the nation, was hinted at earlier this month when he announced that the Federal Emergency Management Agency had agreed to reimburse costs related to helping provide seniors with food. Newsom said the program could help as many as 1.2 million older Californians who live alone. And he said the effort will also ensure that those seniors have someone they can turn to on a regular basis for any other needs that might arise.
"It's not just about the meals," he said during his midday news briefing. "It's about a human connection, about someone just checking in as they're delivering those meals and making sure people are OK."
Jot Condie, president of the California Restaurant Assn., said the program could provide a major boost for restaurants that have either closed or scaled back their operations during the pandemic to take-out and curbside service. He said he hopes owners of dining establishments will be able to enlist for the program in as little as a few days' time.
"There is not going to be a shortage of restaurants that will apply," Condie said. "The supply is there."
Newsom said the program will provide each senior $66 a day for the meals and that it will be focused on those who are at "high risk for exposure" to COVID-19 or have an income of no more than 600% of the federal poverty level, or about $76,500 a year.
It will be up to county and city officials across California to set up the details of the program, a Newsom administration official said Friday. Those local governments are expected to pay restaurants for the meals, later to be reimbursed for most costs by the state and by FEMA. The governor touted a separate benefit of the program Friday: The food sales are subject to sales tax, a portion of which returns to local government coffers.
"We're just very excited about this partnership," Newsom said.
The program provides specific daily spending limits for the meals — $16 per breakfast, $17 per lunch, $28 per dinner and another $5 for incidental costs. Newsom said seniors who wish to participate can get more information from the 211 phone system in their area or the state's COVID-19 website.
There will be state-required nutritional guidelines for the meals, a mandate that Condie said wouldn't be difficult to meet.
"Any restaurateur with a good cook in the kitchen can do that. They are great at adapting menus," he said.
The announcement comes as California passes the six-week mark of the statewide stay-at-home order in hopes of slowing the spread of the novel coronavirus. On Friday, Newsom again insisted that the effort is working and urged the state's residents to continue to practice physical distancing — especially this weekend, as warm weather is expected to draw many outdoors.
The program is expected to remain in place even after the broad stay-at-home orders are lifted, as state officials believe vulnerable seniors will still be required to remain in their homes as much as possible.
"We know we can't tolerate hunger," said Kim McCoy Wade, director of the California Department of Aging. "That's why we're so excited today by the partnership with our restaurants."
Sign up for Essential California for news, features and recommendations from the L.A. Times and beyond in your inbox six days a week.
You may occasionally receive promotional content from the Los Angeles Times.