Since the COVID-19 pandemic forced Magic Mountain, Disneyland, Universal Studios and other major theme parks to close in mid-March, these giant expanses of whiplash and wonderland have become ghost towns. The parks have grown eerily silent, and wildlife has come out to enjoy these empty metallic forests of Southern California. At Magic Mountain, a hawk has taken over the Dive Devil ride.
No one knows when the theme parks will reopen, but industry experts have already been discussing what new procedures will be added to protect guests and workers from spreading the virus once that happens. Theme park operators have been tight-lipped about what the future holds, but they have clearly been discussing plans for opening day. For now we can just glimpse the empty roller coasters and dizzying heights and hope one day they will reopen.
— Hugo Martin
SUPERMAN
REVOULTION AND TATSU
UNIVERSAL STUDIOS
UNIVERSAL STUDIOS
SCREAM
FLIGHT OF THE HIPPOGRIFF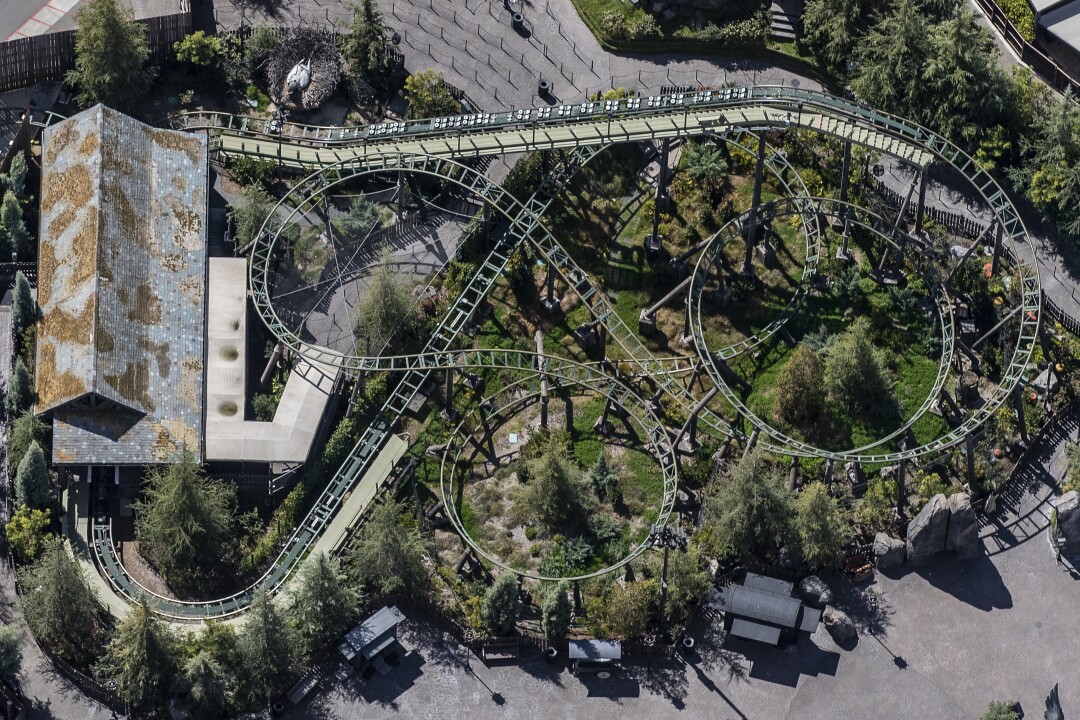 X2
GOLDEN BEAR THEATER
SUPERMAN TOWERS OVER GOLIATH
MAGIC MOUNTAIN
Theme parks like Disneyland may not reopen until 2021. Expect parks to limit attendance, take temperatures, space out lines and sanitize, sanitize, sanitize.
These are some of the unusual new scenes across the Southland during the coronavirus outbreak.
Video and photos show an algae bloom in the South Bay producing a neon-blue light along the shoreline at night in Hermosa Beach.
Masks, gloves and protective clothing all help protect photographers out on the streets.
---
The perils of parenting through a pandemic
What's going on with school? What do kids need? Get 8 to 3, a newsletter dedicated to the questions that keep California families up at night.
You may occasionally receive promotional content from the Los Angeles Times.