California recorded 132 new coronavirus-related fatalities Tuesday — the most in a single day since the pandemic began — as counties across the state continue cementing plans to reopen their economies.
The highest number of deaths previously reported in a single day statewide was 117 in late April. Tuesday's rise, which comes on a day when data from the previous weekend is typically released, pushed the state's death toll past 3,400. The number of confirmed cases statewide has climbed to 83,864, according to data compiled by The Times.
While the death count continues to rise, other metrics show significant progress, enough that even some of the most cautious local health officials have agreed to begin slowly reopening businesses and public spaces.
The number of newly identified coronavirus cases across California declined from the previous week, and hospitalizations have dropped more than 15% from a peak six weeks ago, according to a Times analysis.
In Los Angeles County, which has become the epicenter of the coronavirus outbreak in California, officials have cautioned that reopening the economy will be more difficult than in other parts of the state.
Destiny VanSciner is tested for COVID-19 with an oral swab by family nurse practitioner Anniesatu Newland at a walk-in site at St. John's Well Child and Family Center in South Los Angeles.
(Al Seib / Los Angeles Times)
Melissa Gomes fixes the tassel on the mortarboard of Sarah Anggraini as the new graduate gets ready for a photo at Chaffey College, which held a drive-through graduation, in Rancho Cucamonga.
(Irfan Khan / Los Angeles Times)
Maricela Moreno, manager at El Tarasco in Marina del Rey, disinfects cash at the restaurant.
(Myung J. Chun / Los Angeles Times)
Mildred "Millie" Stratton waves to a caravan of cars led by Alhambra police officers and firefighters. The parade past her home celebrated Stratton's 102nd birthday.
(Allen J. Schaben / Los Angeles Times)
Eric Larkin hands an order to Brittany Wright as she fastens her face covering outside the Last Bookstore in downtown Los Angeles.
(Dania Maxwell / Los Angeles Times)
"I would rather fend for myself than rely on the government for shelter," says Kenny Welch, standing beneath a 110 Freeway overpass in Los Angeles.
(Jason Armond / Los Angeles Times)
Ed Hassan, the owner of Mr. Frost Ice Cream truck, makes his rounds in Tustin. Hassan had been on lockdown for about six weeks and took the time to repaint and reorganize his cargo van. "I thought they wanted me at home so I was at home. But there are huge demands," he says.
(Gabriella Angotti-Jones / Los Angeles Times)
A jogger passes Evergreen Cemetery in Los Angeles as local stay-at-home orders are increasingly relaxed months into the coronavirus outbreak.
(Robert Gauthier / Los Angeles Times)
Hikers and bikers traverse the Santa Fe Dam trail as county parks officially reopen to the public.
(Robert Gauthier / Los Angeles Times)
A woman, masked against COVID-19, walks past a building that features the image of Britney Spears at a shopping center in the Fairfax District of Los Angeles.
(Genaro Molina / Los Angeles Times)
Manon Guijarro, a new graduate of Pierce College, has her photo taken by friend Paige Johnson at Chris Burden's outdoor work "Urban Light" at the Los Angeles County Museum of Art in Los Angeles.
(Genaro Molina / Los Angeles Times)
Mary Perez, a salesperson at High Class Jewels on Broadway in downtown Los Angeles, helps a customer as he tries on a gold rope chain inside the recently reopened store.
(Mel Melcon/Los Angeles Times)
Professional dog walker Lindsay Rojas takes golden retrievers Gomez, left, and Nikki for a stroll along Le Bourget Avenue in Culver City.
(Mel Melcon / Los Angeles Times)
The Air Force Thunderbirds precision flying team banks over downtown Los Angeles in formation to salute healthcare workers and first responders on May 15.
(Brian van der Brug / Los Angeles Times)
Maria Morales, center, a member of the USC class of 2020, participates in virtual graduation via Zoom with her brother Manny Morales, left, mom Pilar Morales and stepdad Victor Ramos from her home in Orange.
(Brian van der Brug / Los Angeles Times)
On a recent day, there's not a face mask in sight as a roller skater and others share the reopened walking path on the Strand in Manhattan Beach.
(Jay L. Clendenin / Los Angeles Times)
Lorena Jimenez joins coworkers, family and friends at a candlelight vigil for Rosa Luna outside Riverside Community Hospital. Luna, 68, was a housekeeper at the hospital for 25 years before she died recently of COVID-19.
(Gary Coronado / Los Angeles Times)
Old friends who share Iranian heritage and the Assyrian language play backgammon while enjoying one another's company at Reseda Park.
(Brian van der Brug / Los Angeles Times)
Ross Curtis, right, says, "You gotta make it fun," as he and Saul Osorio place food in vehicles at the Banc of California Stadium. The Salvation Army was distributing 2,000 boxes of food to pre-registered local Angelenos struggling due to the pandemic.
(Al Seib / Los Angeles Times)
Bell Vasquez takes her son Israel, 4, for a spin while visiting the boardwalk in Venice Beach.
(Mel Melcon / Los Angeles Times)
Olivia Craig, left, Rani Mathew, Kathy Trigueiro and Christina Moore, members of the healthcare staff of the Los Robles Health System, applaud as one of two C-130s flies over Los Robles Regional Medical Center in Thousand Oaks in honor of healthcare providers and first responders throughout Ventura County.
(Al Seib / Los Angeles Times)
The Pasadena City Council opened the Rose Bowl Loop, allowing visitors to enjoy the popular 3-mile trail around the stadium.
(Myung J. Chun / Los Angeles Times)
Crew members of a Hainan Airlines flight walk through the Tom Bradley International Terminal at Los Angeles International Airport.
(Al Seib/Los Angeles Times)
A woman wearing a protective mask walks past a shuttered business in Long Beach.
(Luis Sinco/Los Angeles Times)
Thousands of rental cars are stored at Dodger Stadium as the coronavirus crisis has caused rentals to nosedive.
(Robert Gauthier/Los Angeles Times)
Salt women's clothing store owner Holly Boies looks out her front door at an empty Abbott Kinney Boulevard in Venice. Boies was planning to open her store for curbside pickup.
(Genaro Molina/Los Angeles Times)
Ben, left, Julia, Luke and Ethan Brenier help their mom prepare to open the Wishing Well store in Whittier after being closed due to health restrictions.
(Dania Maxwell/Los Angeles Times)
A security guard gets some exercise while keeping watch on the Apple Store at the Third Street Promenade in Santa Monica.
(Luis Sinco/Los Angeles Times)
Boats pass through a channel on a hot day in Lake Havasu City, Ariz. The city was crowded by an influx of Californians amid the pandemic.
(Wally Skalij/Los Angeles Times)
Some beachgoers actively use the beach while others relax on the sand, despite Gov. Gavin Newsom's active-use-only order, in Huntington Beach.
(Allen J. Schaben/Los Angeles Times)
Christine Gamez of Fullerton returns her fostered dog, Tyson, to the South L.A. animal shelter. Gamez was emotional because she could no longer continue to foster Tyson due to her current living situation.
(Jason Armond/Los Angeles Times)
Customers defy social distancing and the wearing of masks to stand in line at the recently opened Nomads Canteen in San Clemente. The restaurant opened its doors to dine-in services in defiance of California's stay-at-home order.
(Gina Ferazzi/Los Angeles Times)
After making a finger prick to draw blood from a patient, Hannah Veal places the blood on an antibody testing device at a drive-through testing site behind the Westside Walk-in Clinic in Los Angeles.
(Marcus Yam/Los Angeles Times)
Fiona Sellers, 16, makes a stew for herself and her mom at Elysian Park in Los Angeles. Sellers and her mom, who live in an RV, were using the outdoor grills to cook. She brought her laptop with her to the cooking area so that she could do online schoolwork.
(Gabriella Angotti-Jones/Los Angeles Times)
Traveling nurse Gail Cunningham waves thanks outside the emergency room entrance to Riverside University Health System in Moreno Valley as residents pay tribute to her and other medical personnel with a drive-by rally.
(Gina Ferazzi/Los Angeles Times)
Jaime Miranda creates an arrangement at Lupita's Flowers in downtown Los Angeles ahead of Mother's Day weekend.
(Christina House/Los Angeles Times)
From left, Calabasas residents and friends Diana Villena, with her dog, Muca; Jason Tiba; Tali Nadjar; Justin Siegal; and Hanson Dickman practice social distancing while spending time together at a park in Calabasas. They are all graduates of Calabasas High School.
(Mel Melcon/Los Angeles Times)
Scene from the Donut Hole, the historic drive-through doughnut shop in La Puente.
(Jay L. Clendenin/Los Angeles Times)
A scene from "Knives Out," with actor Don Johnson, seen at the Mission Tiki Drive-in Theatre in Montclair. Opened with one screen in 1956, the Mission Tiki expanded to four screens in 1975 and began renovation in 2006, updating to FM transmitters and digital projectors.
(Jay L. Clendenin/Los Angeles Times)
County health officials on Wednesday reported 1,324 new cases of coronavirus, bringing the infection total to 40,857. Officials also reported 57 additional fatalities, bringing the death toll to 1,970.
Nearly 6,000 of those who have tested positive for the virus have been hospitalized at some point during their illness. Currently, 1,531 patients who are positive for COVID-19 are being hospitalized, said L.A. County Public Health Director Barbara Ferrer.
"Each day we continue to see a slight decrease in the number of people who are hospitalized," Ferrer said. "This is good news."
As the number of cases continues to tick upward, county officials on Wednesday reemphasized their goal of reopening more of the economy by July 4. The mission is to reopen retail businesses, restaurants and malls at a steady pace while trying to avoid additional outbreaks, Supervisor Kathryn Barger said.
"When we first put in place 'Safer at Home,' there was a lot we didn't know about COVID-19, and we've learned a lot since then," she said. "The goal was not to kill business, the goal was to slow the infections, and as we have been able to lift restrictions, we are doing that, and the goal is to do it in a safe and responsible manner."
The proposed timeline was first unveiled Tuesday during a meeting of the county's Economic Resiliency Task Force, which has been charged with developing plans for helping restore the region's battered economy.
There have been more than 1 million unemployment claims filed in Los Angeles County to date, and more than 75% of the projected job losses are in positions that pay $50,000 a year or less. Restaurants and retail businesses are among the hardest hit, according to data presented to the task force.
Three months into California's battle with the coronavirus, there are growing signs that the outbreak is ebbing even as the state death toll continues to climb past 3,400.
"The longer we stay closed in certain sectors, particularly small businesses and restaurants, the odds are that they will not be able to come back," Supervisor Janice Hahn said. "I feel that we have to get to the point that we learn to live with the virus. We cannot stay locked down forever."
Currently, most retail stores and restaurants are allowed to provide curbside pickup, while hiking trails and parks have reopened and active recreation is allowed at beaches. Face coverings are still required, and gatherings are not permitted in the county.
On Wednesday, neighboring Ventura County became the largest county in Southern California to resume dine-in service at restaurants and in-store shopping. San Luis Obispo, Kings and Kern also joined the growing list of California counties that have been given permission to enter phase two of reopening.
But officials say L.A. County is not yet ready to take that step.
Still, some communities in the county are looking at alternatives. Leaders in Long Beach moved forward this week with an "open streets initiative" that would repurpose some roads in the city to accommodate recreation and outdoor dining. Long Beach's restaurant dining rooms remain closed under state and local orders, and the city's hospitality industry is struggling.
New rules will allow restaurant dining rooms and shopping malls to open in counties that meet new criteria.
"Even though they've been allowed to continue serving customers through pickup and delivery, that hasn't provided enough revenue for many establishments and some restaurants just aren't set up for that model," Mayor Robert Garcia wrote in a community message. "We want to do everything we can to help restaurants get open and stay open."
Speaking outside Caveman Vintage Music in Lincoln Heights on Wednesday afternoon, Los Angeles Mayor Eric Garcetti said that the city would expand its emergency micro-loan program for local businesses that had been hurt by the shutdown, reviewing applications it had previously denied and adding staffing to expedite those still in its queue.
The mayor also said any business inside city limits would be able to get a temporary pick-up zone from the department of transportation, making it easier for customers to buy locally while in-store shopping remains prohibited.
"Every week we're opening more up, but we're doing it responsibly," Garcetti said.
L.A. County leaders have noted that loosening restrictions depends on the public's willingness to practice social distancing, wear face coverings and take other precautions to prevent a spike in cases. Health officials say the county is still a long way off from achieving herd immunity to the virus.
A new study by USC and Los Angeles County scientists released Wednesday found that only 2.1% of adults in the county showed evidence of having been infected with COVID-19 — a startling finding, since a test conducted a month earlier estimated nearly 5% of L.A. County residents showed signs of past infection.
The findings raise the possibility that people are losing antibodies to the coronavirus in the months after infection. It's also possible the differing results could be caused by random variation, testing at different sites in L.A. County or efforts to increase testing among people of color.
During the first study conducted in the second week of April, scientists tested 863 people and found that 4.1% tested positive for having coronavirus antibodies. After making adjustments for test sensitivity and specificity, scientists boosted that number, estimating that 4.65% of L.A. County residents had some level of immunity to the virus. The second survey, which was conducted over four days in May, found that only 2.1% of the 1,014 adults tested were positive for antibodies.
Neeraj Sood, the study's leader and a professor at USC's Sol Price School of Public Policy, said the idea that coronavirus antibodies might be waning among people months after they get infected is completely speculative at this point. But he said it's possible the test used by the researchers is not able to detect a lower level of antibodies to the virus that might occur months after infection.
"So I just want to emphasize that this is right now just a potential explanation. It doesn't mean that we think this is a likely explanation," Sood said.
Ferrer also noted the tests didn't include people from some of the highest risk groups, like people living in nursing homes, homeless shelters and jails. Officials plan to do follow-up testing in the coming months.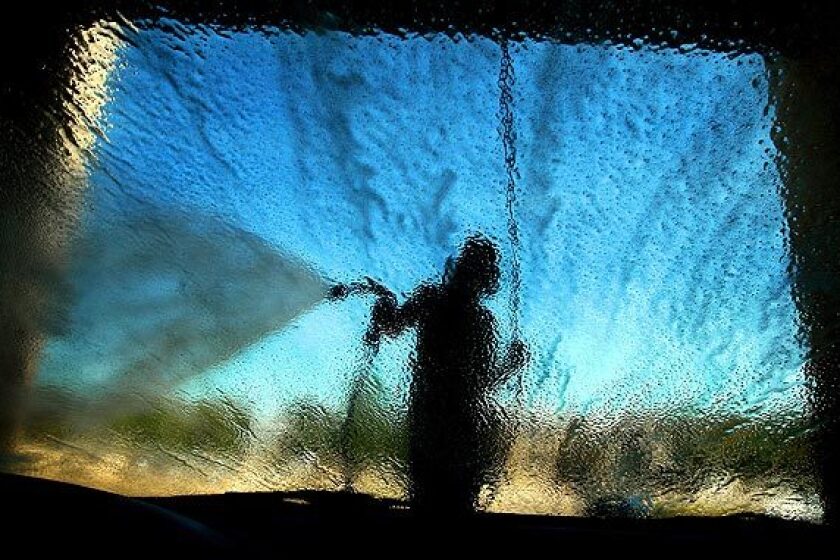 L.A. pet grooming services, car washes can reopen, Garcetti says
L.A. County's coronavirus transmission rate has fallen significantly since the stay-at-home orders were imposed in late March. As the crisis took hold, every person who tested positive for the virus in the county was infecting an average of 3½ other people, which scientists call, "R," or the Effective Transmission Number.
Last week, officials released data showing remarkable progress: The Effective Transmission Number had dropped to just 1, meaning for every one person infected, that person only infected one other person on average.
On Wednesday, officials had more good news: the Effective Transmission Number has now fallen slightly below 1.
L.A. County officials now estimate that if the economy is reopened without a worsening of the coronavirus transmission rate, they will expect 8% of L.A. County residents will be infected by Dec. 1. But if the Effective Transmission Number rises to to 1.5 — meaning each infected person will infect 1.5 others on average — then 44% of L.A. County residents will be infected by Dec. 1.
"Vigilance is still our most important weapon and it is the steps that you've heard us describe again and again of those basic core public health measures that will make all the difference," said said Dr. Christina Ghaly, director of health services for L.A. County. "These very simple practices are what allows all of us the chance to stay healthy, get back to work and restore the normalcy of our lives."
Gov. Gavin Newsom this week loosened rules linking coronavirus infection rates and deaths to permitted activities, a move that is expected to allow many parts of the state to reopen more quickly.
However, leaders in some regions contend that their economies should be able to reopen ahead of the state's schedule.
The Tulare County Board of Supervisors voted Tuesday to move the county all the way through Phase 3 of Newsom's reopening road map, which would allow movie theaters, shopping malls, salons, gyms and dine-in restaurants to reopen. In-person religious services also would be able to resume.
The decision came as the county reported a spike of 103 new cases of COVID-19 and four more deaths. Board members acknowledged the county doesn't meet all the latest criteria for a more rapid reopening, falling short in the areas of new case and positive test rates, as well as contact tracing staff.
Mark Ghilarducci, director of the governor's Office of Emergency Services, sent a letter to Tulare County officials this week warning them that the county could lose disaster funding if it continues down its current path.
"If Tulare County believes there is no emergency, such that it can ignore the governor's executive orders or the state public health officer's directives, the county would not be able to demonstrate that it was extraordinarily and disproportionately impacted by COVID-19," Ghilarducci wrote.
Times staff writer Sean Greene and Colleen Shalby contributed to this report.
---