California beaches back in business: People 'don't want to be trapped at home'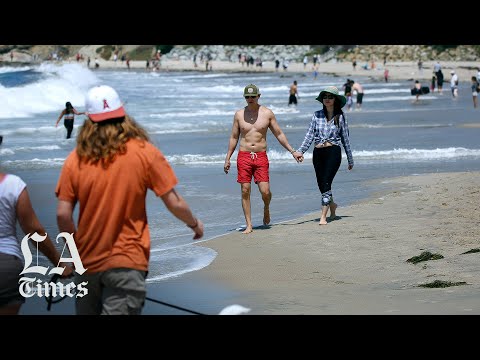 Memorial Day weekend brought crowds to beaches, trails and parks, but officials said that for the most part there were no major problems and that most people appeared to be following social distancing rules.
Health officials have said this holiday weekend will be a big test of whether California can ease stay-at-home restrictions while continuing to slow the spread of the coronavirus.
Overall, officials said there were no major problems are beaches, though some places like the Venice Boardwalk saw dense crowds with some not wearing masks.
Officials closed Eaton Canyon Natural Areas & Trails for the rest of the Memorial Day weekend amid concerns that crowded conditions could pose health risks. The Los Angeles County Department of Parks and Recreation said the area was shuttered "due to overwhelming crowds that were not following the COVID-19 public health requirements."
State officials have now cleared 47 counties to resume in-restaurant dining and in-store shopping. Among the latest were Orange and Riverside, two of California's largest population centers.
Newport Beach Lifeguard Battalion Chief Brian O'Rourke described the numbers at the city's beaches on Saturday as moderate and in keeping with expectations for Memorial Day weekend.
O'Rourke added that active use was encouraged, which includes reinforcement with signage. With beachgoers heading for the water, lifeguards' attention was required there — O'Rourke said there were about 50 ocean rescues on Friday.
Laguna Beach Marine Safety Capt. Kai Bond, interviewed Saturday, said there were "some summer-like crowds" and that the public was generally following the rules.
Beachgoers found sand and surf in Huntington Beach, although the pier remained gated off, but they still had plenty to do.
Zack's, on the west side of the pier, was offering nearly all of its services except surfing lessons.
Joseph Ali, 32, of Huntington Beach, a manager at Zack's, said Saturday that "procedure and safety" remained top priority for the business and that surfing lessons were "too hands-on" to provide while the coronavirus pandemic continued to be a concern.
Zack's, which also serves food and provides bike rentals, was operating in those capacities, two weeks removed from its own reopening. Ali, watching over a grill full of hot dogs, said customers were grateful it was open again.
"They want to enjoy the beach," Ali said. "They want to feel like they're normal again. They don't want to be trapped at home again. ... It's good for business, it's good for the community, it brings revenue to the city. We're here feeding the people, renting bikes; everything's going great so far."
Main Street enjoyed improved foot traffic in the second stage of reopening, allowing some businesses to open their doors with alterations to continue to fight the spread of the coronavirus.
Ali is pleased that more establishments have been able to open.
"We are happy that everyone is open," he said. "Main Street, the beach, the lifeguards, the police, the enforcement, we are all working together to, No. 1, keep our beaches safe [and], No. 2, have convenience for the beachgoers."
Jason Schriner of Riverside enjoyed a bite to eat on Saturday with his wife, Stacy, and young daughter on a low wall near the beachside bike path in Huntington Beach. He said he was concerned about restaurants that still couldn't offer dine-in service.
"How many people are actually going to go and pay retail prices and not enjoy sitting down and having a meal?" he said. "That's the big problem. You go out to eat to sit, not to go out, pick the food up and go somewhere else."
In San Diego County, couples and families stayed active and moving for the most part on the sands of Pacific Beach and Ocean Beach, with a few stopping here and there to wade in the water. Surfers caught waves and children played catch as police officers zoomed around on all-terrain vehicles to make sure nobody stayed in one place for too long, per county public health orders.
Jonathan Leday and his wife, Ciera, with their toddlers Cailee and Caliyah in tow, drove to Pacific Beach from El Cajon to get some fresh air and put their feet in the sand.
"We hadn't left the house in so long," Jonathan Leday said as the family walked along the shore. "We've been quarantined indoors for a while now, and we figured we'd be fine with the beaches open. In this big of an area we would have a lot of space to be on our own — and we brought our masks."
Not allowed to stretch out in the sand, Cameron Kazmar, a 17-year-old surfer and temporarily furloughed pizza busboy from North Park, lounged in the back of his SUV in a parking lot near the pier in Pacific Beach. He scrolled through his cellphone, waiting for the wind to die down so he could catch some more waves.
"I'm looking forward to getting back to work here pretty soon. I don't want to sit on the unemployment cushion," Kazmar said. "We all need to get out and socialize with the crowd again. But for now, I want to keep the surfing going and enjoy the time here."
San Diego police Sgt. Matt Novak said for the most part people were complying and moving along.
More officers than normal were on duty Saturday, patrolling the area from La Jolla Shores to South Mission Beach, as well as the bays. Ninety percent of their efforts were focused on educating the public on safety requirements, he said.
Meanwhile, in Los Angeles County, lifeguards said beachgoers were largely following the rules over the Memorial Day weekend. Some beaches were more crowded than others. Hermosa Beach Police Sgt. Jonathan Sibbald told KTLA that officers had to advise some beachgoers against drinking on Saturday and ask them to maintain spatial awareness. Overall, he said, people behaved fine.
Karen Pearlman and Morgan Cook of the San Diego Union-Tribune and Times staff writer Kevin Baxter contributed to this report.
Sign up for Essential California for news, features and recommendations from the L.A. Times and beyond in your inbox six days a week.
You may occasionally receive promotional content from the Los Angeles Times.