Shooting at party house leaves one dead, one injured in Beverly Crest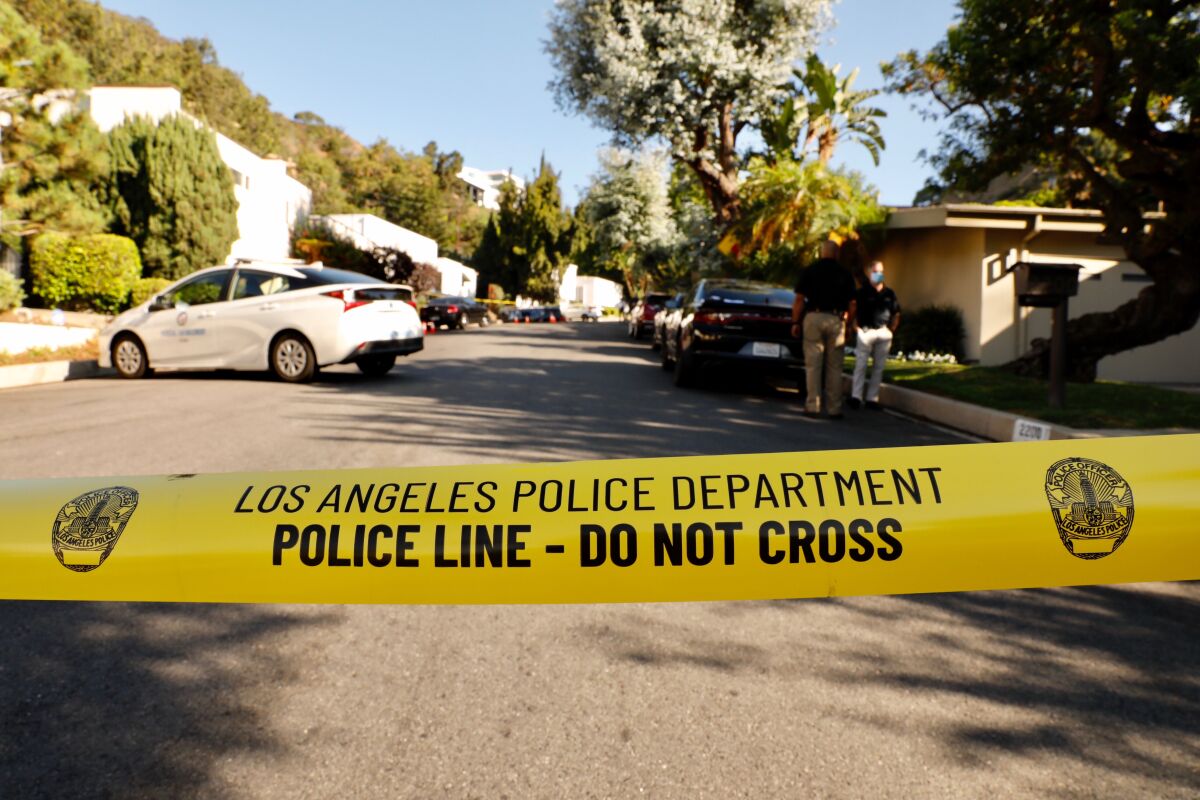 A shooting at a party house in the upscale Beverly Crest neighborhood left one person dead and sent another to a hospital early Wednesday morning, authorities said.
Los Angeles police responded to reports of a shooting in the the 2200 block of San Ysidro Drive about 2:30 a.m.
Two people were found with gunshot wounds, one of them fatal, police said.
The injured victim was taken to a hospital, according to Los Angeles Fire Department spokeswoman Margaret Stewart. Additional details were not immediately available Wednesday morning.
The shooting took place in front of the home, which had been rented out for a party, according to police.
LAPD Det. Meghan Aguilar said that prior to the gunfire, 25 to 30 people were at the gathering, which was held in a short-term rental home known for parties. The house was rented through a third-party company to gang members, authorities said.
Police said the person who died — a man in his 40s — had a possible gang dispute with another partygoer.
"The shooter was at the party and starting arguing with the now-deceased man," Aguilar said. "He then pulled out a gun and opened fire, hitting two men."
As LAPD officers drove up the curvy road to the hilltop home after reports of the shooting, they noticed multiple vehicles driving away, Aguilar said. When they arrived, they found the two men who had been shot and a handful of partygoers.
Authorities said that because the home was rented through a third-party vendor, the owners may not have been aware of the occupants. The home has hosted prior parties that have brought neighborhood complaints, but the late-night event generated no reports until gunshots echoed through the canyon-top community.
A motive in the shooting, beyond the argument, is unclear, police said.
The shooting is the latest in a string of house-party altercations. Earlier this month, one woman was killed and four people were injured during a party at a Beverly Crest mansion in the 13200 block of Mulholland Drive.
That party, which took place in defiance of coronavirus-related health orders, was one of a number that have been held in upscale neighborhoods since the onset of the COVID-19 pandemic forced bars, nightclubs and other typical nightlife spots to close.
Health officials have warned that such gatherings heighten the risk of transmitting the coronavirus, which causes COVID-19.
In response, Los Angeles Mayor Eric Garcetti announced he would authorize the city to shut off water and power services at residences where such gatherings are held.
Last week, Garcetti ordered the power cut at a swanky residence on Appian Way in the Hollywood Hills that police say held parties in violation of public health orders.
---
The stories shaping California
Get up to speed with our Essential California newsletter, sent six days a week.
You may occasionally receive promotional content from the Los Angeles Times.