A wild party at Mulholland Drive mansion, a deadly shooting and fears of COVID-19 spread
Three people were shot, one fatally, at a party at a home on Mulholland Drive where police had investigated a disturbance hours earlier.
What started as a massive, boisterous party held in defiance of coronavirus-related health orders ended in gunfire early Tuesday, leaving one woman dead, four other people injured and raising new concerns about private gatherings as a way of spreading COVID-19.
The shooting was reported about 12:45 a.m., hours after Los Angeles police were first called to the home in the 13200 block of Mulholland Drive following numerous complaints from neighbors about the size of the gathering after buses were seen dropping off partygoers.

For the record:
9:44 a.m. Aug. 4, 2020An earlier version of this article misidentified the location where officers were called to a house party on Mulholland Drive. Police were called to a home in the 13200 block of Mulholland Drive, not the 1300 block.
LAPD Lt. Chris Ramirez said officers found two women and a man suffering from gunshot wounds.
With bars and nightclubs closed because of the COVID-19 pandemic, health officials have expressed concern about private parties being held in upscale neighborhoods. The LAPD has reported receiving an increase in calls about large, illicit parties in the Hollywood Hills in particular.
When asked about the incident during a briefing Tuesday, California Health and Human Services Secretary Dr. Mark Ghaly said the party sounded "like a high-risk experience for those who were there and, frankly, for the loved ones that they go home to."
He added that the state depends on its local partners to help ensure compliance with coronavirus-related health orders and that any issues need to be addressed head-on.
"I hope that we continue to have our local partners not just saying and reminding people of the message, but enforcing public health orders — not just the state public health orders, but the orders at the local level that I know, in L.A. County, are strong as well," Ghaly said.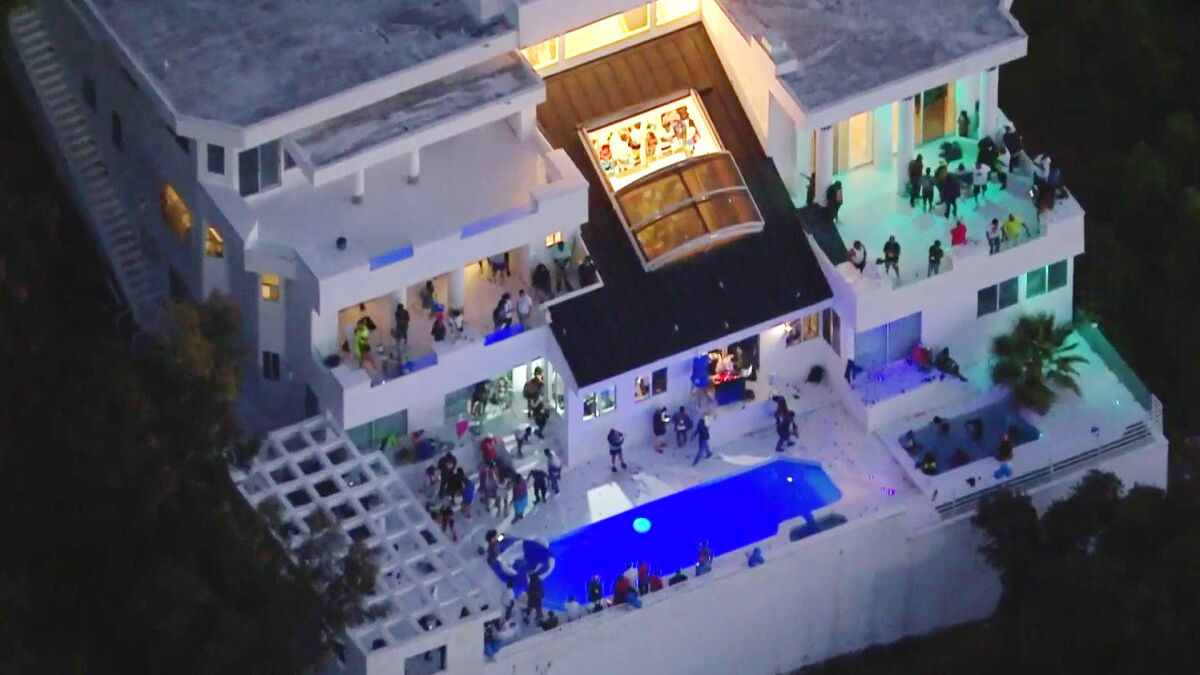 Three of the victims were hit by gunfire, according to the Los Angeles Fire Department. All the victims were taken to hospitals in critical or grave condition. A 35-year-old woman later died, police said. The other two were stable, officials said.
Two more people were injured in the incident, authorities said, but it was unclear how. One woman went to a hospital on her own, and a man was taken to a hospital from nearby, according to Ramirez. Both have since been discharged.
Ramirez said the shooting is considered a gang-related homicide. Social media activity, in part, led detectives to tie the shooting to gang activity, he added.
No arrests have been made.
Videos from the mansion posted on social media appear to capture bursts of gunfire.
About 200 people were at the party in the Beverly Crest mansion when police first entered about 7 p.m. Although officers cited and impounded some vehicles that were illegally parked, they did not break up the party — even though gatherings of any size are prohibited under Los Angeles County's coronavirus health order.
"When the officers arrived, they did notice large amounts of people on the roadway and vehicles kind of blocking, double-parked and stuff, stacked on the roadway," Ramirez said during a morning media briefing.
"At that point, the officers met with the responsible party and security officers at that location. They were able to get their compliance, to help get the people back into the private party, and at the same time, did some enforcement."
Despite the coronavirus, there was a raucous house party in the Hollywood Hills. It ended when a man shot himself in the groin, police say.
Video broadcast by KCAL-TV showed dozens of people on the mansion's terrace. Some danced, while others socialized in a swimming pool.
The L.A. city attorney and LAPD are warning homeowners they can be held accountable for renters' parties during the coronavirus restrictions.
In May, officers went to a raging house party with more than 100 people that ended when a partygoer accidentally shot himself in the groin.
Rapper Megan Thee Stallion said she suffered "gunshot wounds" outside a Hollywood Hills mansion in July — though an LAPD account of the incident made no mention of her being struck by gunfire and referred only to her suffering a foot injury. The department is continuing to investigate that incident.
Sheila Irani, a member of the Hollywood United Neighborhood Council, said police are constantly responding to calls for noise violations in the hills since coronavirus restrictions were put in place.
"Since COVID, they've moved all the parties to the hills," she said. "The kids are going stir crazy."
She said fines, threats by the city and other sanctions don't seem to deter some property owners. In her neighborhood, residents have taken to bombarding property management companies with complaints and trying to pressure short-term rental firms into delisting properties.
As the coronavirus crisis rages on, the Calabasas mayor calls out YouTube personality Jake Paul for throwing a massive house party as she issued new COVID restrictions.
In 2018, the Los Angeles City Council approved an ordinance proposed by Councilman David Ryu, who represents Hollywood Hills, that imposed fines on both party hosts and homeowners.
After the May shooting, Ryu said he was looking at expanding the ordinance to crack down on those who continue to flout the law and put others at risk.
"This has always been dangerous, but during a pandemic, it is especially selfish and stupid," he said. "This is no longer a standard-of-life issue; it's a standard-of-health issue. Whether it's by expanding the party-house law or stronger enforcement of physical distancing rules, we must crack down on these parties and hold party hosts and homeowners accountable."
The Los Angeles city attorney's office has said homeowners with a history of renting to partygoers will face more than a slap on the wrist.
"The consequences can range from a citation up to criminal prosecution and six months in jail. Those consequences don't just apply to the person throwing the party; it can apply to ... the homeowner," said Ethan Weaver, the office's Hollywood-area prosecutor.
"If your house has been cited for a party violation in the past, you as a property owner can be held responsible, even if you are not present."
---
Life is stressful. Our weekly mental wellness newsletter can help.
You may occasionally receive promotional content from the Los Angeles Times.