Raymond Chan, former L.A. deputy mayor, charged in federal City Hall corruption case
A former senior aide to Los Angeles Mayor Eric Garcetti has been charged with conspiracy, bribery, fraud and lying to FBI agents in the ongoing federal probe into corruption at City Hall, according to court records made public Monday.
Raymond Chan, a deputy mayor who oversaw economic development for Garcetti in 2016 and 2017, is the latest figure to be accused of playing a part in a sprawling scheme allegedly run by ousted Councilman Jose Huizar. Prosecutors say both men were involved in shaking down developers who sought help pushing downtown real estate projects through the city's approval process.
In a statement, U.S. Atty. Nick Hanna said Huizar, Chan and their network of associates "repeatedly violated the public trust by soliciting and accepting numerous cash bribes and other financial benefits, turning Huizar's city council seat into a money-making criminal enterprise."
In addition to Chan, prosecutors announced corruption charges Monday against Wei Huang, chairman of a Chinese real estate company that proposed a 77-story skyscraper on Figueroa Street, and Dae Yong Lee, a Bel-Air developer who in 2017 won approval for a new 20-story residential tower on Hill Street. Companies operated by the two men were also named as defendants.
The charges against the three men and the companies were detailed in an indictment issued earlier this month by a grand jury and unsealed Monday. The 138-page document, a superseding indictment, added the new allegations to those already filed against Huizar in July, signaling the government's intention to prosecute Chan, Huizar and the two developers as a group.
Chan is accused of an array of illegal activities, including arranging "indirect bribe payments" to key city officials by securing employment contracts for the officials' relatives.
In August 2017, according to the indictment, Chan spoke with the aide to an unnamed City Council member about his client's plan for redeveloping the Luxe City Center Hotel in downtown Los Angeles. Chan asked the aide — referred to in court papers as "City Staffer D" — to contact Garcetti's office about applying pressure on the planning commission to approve the project.
Later that month, Chan's company offered a relative of City Staffer D a four-month consulting deal, the indictment said. The relative ultimately received $2,000 from Chan's company, prosecutors allege.
Chan's attorney, Harland Braun, denied that Chan had broken any laws, describing him as an honest public servant who was "caught in the middle" of a messy political ecosystem populated by politicians seeking campaign contributions, developers desperate to get projects approved and lobbyists working as middlemen.
"Ray was just doing his job, and all of a sudden, along comes the U.S. attorney, who thinks he's a criminal," Braun added. "Where do you see Ray getting any money in all of this?"
A spokesman for Garcetti, Alex Comisar, said the mayor was not aware of any wrongdoing by Chan during his time in the mayor's office.
"The behavior outlined in this indictment is reprehensible, and Mayor Garcetti is disgusted to learn that Mr. Chan and the others charged were allegedly involved in this effort to defraud the people of our city," Comisar said in a statement. "Abhorrent conduct like this severely damages the public's trust in government, and there can be absolutely no place for it."
So far, the corruption case has resulted in guilty pleas from former City Councilman Mitchell Englander, former Huizar aide George Esparza, one longtime City Hall lobbyist and a pair of real estate consultants. Huizar, who was stripped of his pay and his duties earlier this year, has pleaded not guilty to an array of charges, including racketeering, bribery and money laundering.
Chan worked for the city for 33 years, serving at one point as the top executive overseeing the Department of Building and Safety, which reviews building plans and inspects construction projects. While working in that agency, he built a reputation as someone who cut red tape and smoothed the way for new development.
Critics argued that under his leadership, the department treated developers, not the broader public, as its customers.
When Chan retired in 2017, he was praised by Garcetti as a "true public servant" who had played a role creating "unprecedented growth" across the city.
Shortly after leaving City Hall, Chan created a firm called CCC Investment Group with George Chiang, a real estate broker who represented developers with projects downtown and elsewhere.
Chan came under scrutiny from FBI agents investigating alleged pay-to-play activities involving Huizar and a series of real estate developments in Huizar's district. Chan was named in a 2018 federal search warrant seeking evidence of possible crimes involving more than a dozen people.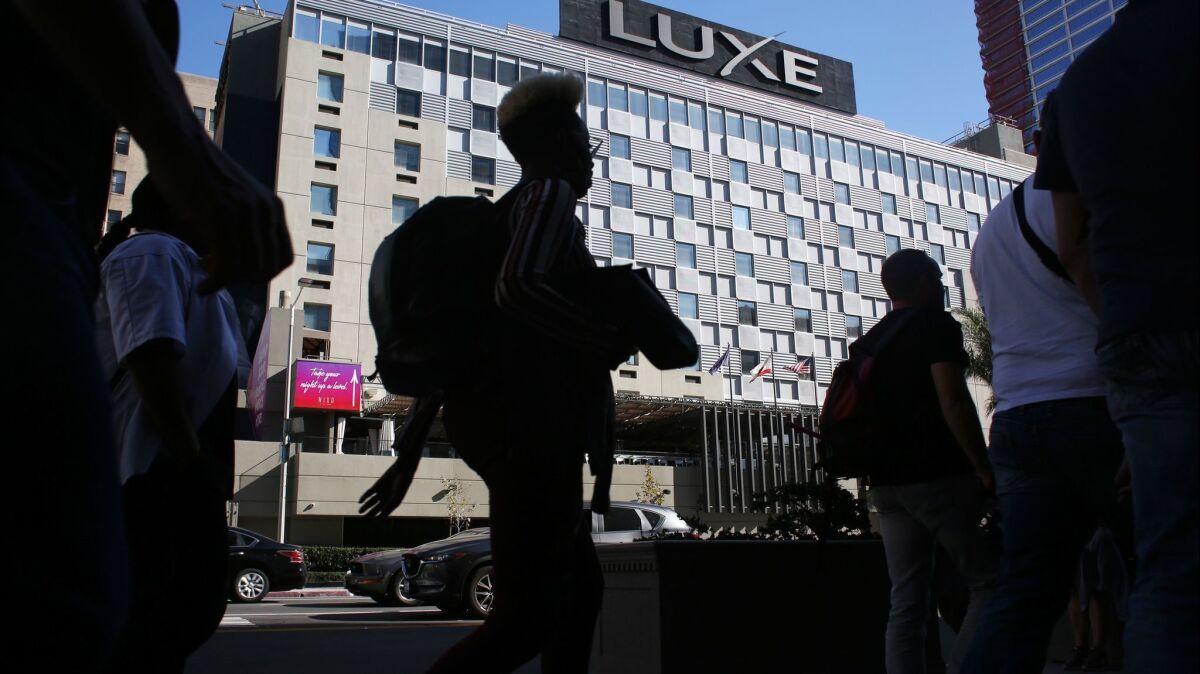 Chiang agreed to plead guilty earlier this year, admitting to participating in a scheme in which a Chinese real estate company bribed Huizar in exchange for help with the redevelopment of the Luxe City Center Hotel.
Huang, one of the new defendants charged Monday, is the executive of Shenzhen New World, a China-based development company that is seeking to redevelop the L.A. Grand Hotel at West Third and South Figueroa streets by adding a skyscraper to the property.
A billionaire and a Chinese national, Huang provided Huizar with $600,000 in financial backing to help him settle a sexual harassment lawsuit filed by one of his former aides, the indictment said. The funds allowed Huizar to obtain a loan and secretly resolve the case without his accuser's claims being made public. After Huizar failed to make interest payments on the loan, the bank seized Huang's funds as collateral, the federal filing said.
Also added to the case Monday was Lee, known widely as David Lee. He received city approval three years ago to build a residential tower at the intersection of Hill Street and Olympic Boulevard downtown. Prosecutors have accused Lee of providing a cash bribe to campaign fundraiser Justin Jangwoo Kim; a portion of the bribe was allegedly intended for Huizar.
Kim pleaded guilty in June, admitting he helped arrange the bribe for Huizar. The payoff, much of it delivered in a paper bag, was meant to smooth the way for Lee's 20-story project, which faced a challenge from an L.A.-based labor organization, prosecutors alleged.
Ariel Neuman, Lee's lawyer, said in an email that the case against his client is "built on falsehoods and distortions coming from a single person who the government concedes is a liar and thief."
"It is disappointing that the government has decided to move forward with charges against my client, but we will now look forward to answering the charges in court," he said.
Chan and Lee were expected to turn themselves in to federal authorities and are scheduled to be arraigned Tuesday afternoon in U.S. District Court in downtown Los Angeles.
Times staff writer Emily Alpert Reyes contributed to this report.
The stories shaping California
Get up to speed with our Essential California newsletter, sent six days a week.
You may occasionally receive promotional content from the Los Angeles Times.