Suspect arrested in BB gun shootings on 91 Freeway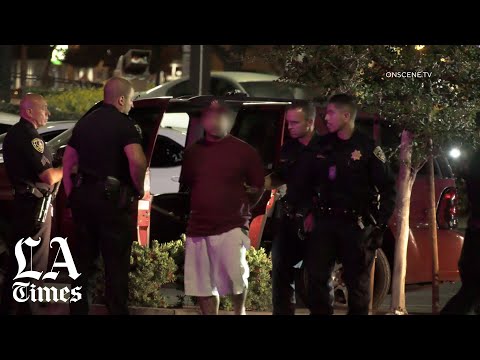 CHP arrests man in connection with at least two BB gun shootings on the 91 Freeway.
A man suspected of shooting BB guns at cars on the 91 Freeway on Tuesday has been arrested amid a rash of such incidents in the area.
California Highway Patrol Assistant Chief Donald Goodbrand, who is overseeing an investigation into about 100 such shootings across Southern California, said the man was arrested Wednesday morning after motorists in the Riverside area reported being shot at the night before.
Authorities identified him as Jesse Leal Rodriguez, 34, of Anaheim. He was booked into the Robert Presley Detention Center in Riverside on charges of assault with a deadly weapon and is being held on $750,000 bail, according to the CHP.
Goodbrand said the agency is still working to determine whether the suspect is also responsible for the series of attacks that shattered windows and left commuters frightened.
"Further investigation is actively being conducted to confirm if this individual is the suspect associated with the recent BB gun incidents that have been occurring in Riverside, Orange and Los Angeles counties," he said.
On Tuesday evening, CHP officers received reports of a white car on the freeway that had its side window shot out.
The driver of that vehicle told officers the shots had been fired from a red sport utility vehicle with no license plates.
Later Tuesday, a second motorist reported coming under fire from a similar red SUV. With the assistance of Riverside police, CHP officers apprehended the driver of the SUV at Magnolia Place Shopping Center.
The suspect was apprehended without incident and his red Chevrolet Trailblazer impounded.
Last week, as the reports of such shootings became a tidal wave, the CHP began a widespread, coordinated investigation across three counties and revealed the suspect or suspects were firing from a vehicle. The assailants had taken dozens of shots at vehicles on the 91 Freeway in Orange and Riverside counties.
Officer Dan Olivas of the CHP's Inland Empire Division said the agency has dealt with such shootings with BB and pellet guns but not with such high frequency or with so many hot spots.
The rear window of a CHP patrol car was shattered after being struck May 14 in Anaheim on the eastbound shoulder of the 91.
Sign up for Essential California for news, features and recommendations from the L.A. Times and beyond in your inbox six days a week.
You may occasionally receive promotional content from the Los Angeles Times.