Dixie fire, now the second-largest in California history, has burned more than 400 structures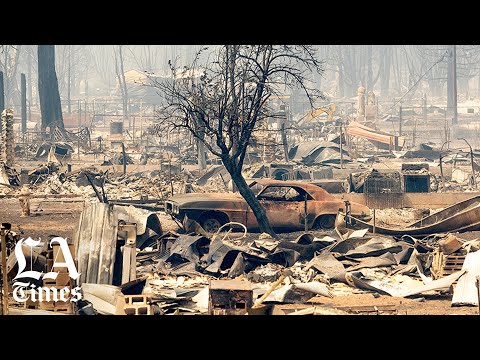 The Dixie fire, now the second-largest blaze in state history, has burned more than 463,000 acres and destroyed more than 400 buildings.
The Dixie fire is now the second-largest wildfire in California history, burning more than 463,000 acres through a large swath of Northern California and destroying more than 400 homes and commercial buildings as firefighters on Sunday struggled to get the upper hand.
More favorable weather conditions slowed the spread of the fire over the weekend, but it remained a dangerous monster, burning across four counties — Plumas, Butte, Lassen and Tehama. Thousands of residents of small mountain communities remained evacuated and more evacuation orders were issued for Plumas County on Sunday. The fire was 21% contained as of Sunday morning.
Fire officials were concerned a shift in the wind later Sunday could increase fire activity overnight but said it likely wouldn't be as severe as last week, when red-flag conditions helped send flames racing toward populated areas, decimating the town of Greenville.
"It's just something we're hoping goes in our favor," said Jesse Gomez, a public information officer on the fire.
Still, residents were advised to remain vigilant in case they were told to evacuate.
Although a heavy blanket of smoke covering the area resulted in dismal air quality across the region, it was helping to suppress fire activity by keeping temperatures down, humidity slightly higher and wind speeds a bit lower.
At the same time, it also forced the grounding of some firefighting aircraft, Gomez said.
One challenge for fire crews in Plumas County is residents who won't leave their property, forcing firefighters to take risks on their behalf.
That was expected to change later Sunday afternoon, when a dry cold front was forecast to pass through and clear out the smoke, allowing the sun to once again heat up and dry out the vegetation.
"'Cold' is obviously relative, because it certainly doesn't mean the weather's going to be cold," said Rick Carhart, a public information officer with the California Department of Forestry and Fire Protection.
"There's a chance we'll see more fire behavior today than we saw for the last two days," he added.
Early in the week, the Dixie fire continued to grow and the River fire burned homes north of Sacramento.
The winds were expected to shift direction overnight, potentially pushing the fire to the south and west rather than to the north and east, where it's been progressing for the past few days, he said.
"It's definitely a concern and something we're watching, but it's not something that we think we're not going to be able to handle," Carhart said.
The fire ignited July 13 near a Pacific Gas and Electric Co. power station in Feather River Canyon and might have been caused by a Douglas fir falling onto a power line, PG&E said. The utility has said its equipment may also be to blame for sparking the Fly fire, which started nine days later and eventually merged with the Dixie fire, as well as a separate wildfire in Magalia that was extinguished July 14 at a quarter of an acre.
Despite the improved weather conditions, crews fighting the Dixie fire remained vigilant. Given the fire's size and the historically dry conditions — exacerbated by temperatures rising as a result of human-caused climate change — fire officials feared that embers could at any time cross containment lines and ignite spot fires.
The fire was burning through all kinds of terrain — steep, thickly timbered areas as well as flatter brush and grasslands — with its sheer size posing logistical hurdles. The fire on Friday surpassed the Bootleg fire in Oregon to become the largest in the United States this year. On Sunday, it leapfrogged the 2018 Mendocino Complex fire to become the second-largest in California history, behind only last year's massive August Complex fire, which burned more than 1 million acres.
"It's just a massive wildfire," Carhart said, adding that he grew up in the area and has lived there on and off for 40 years, yet it's difficult even for him to describe just how large the fire has become.
"I've camped at Bucks Lake, and we go up to Lassen National Park all the time, but I would never do those two things the same day — they're a fairly long way apart," he said. "And yet they're both affected by this fire, so that just goes to show you the size and the scope of it."
The fire destroyed the national park's historic Mount Harkness Fire Lookout, which had been a popular destination for visitors since it was built in 1930, and was threatening other structures inside the park, authorities confirmed.
As of Sunday, four people remained missing, all of them from Greenville, according to the Plumas County Sheriff's Office.
The Dixie fire was one of 11 large fires or complexes burning in California that were together being fought by 8,574 firefighters, according to Cal Fire. Across the U.S., 107 large fires or complexes have burned a combined total of nearly 2.3 million acres in 15 states, according to the National Interagency Fire Center.
The Monument fire prompted new evacuation orders in Trinity County on Sunday, with the county sheriff telling residents in Junction City and surrounding communities to leave.
The stubborn, lightning-sparked fire that started in the Shasta-Trinity National Forest on July 30 had burned 49,068 acres and was 0% contained.
The fire was progressing steadily to the east and threatening populated areas, where crews were positioned to prepare for its potential arrival, said Tyson Widegren, public information officer on the fire.
It was burning in steep, rugged terrain where it was difficult to get boots on the ground, as well as in a mix of burn scars, including from the 2008 Cedar fire, that are clogged with dead vegetation, Widegren said.
"The weather is so hot and dry," he said. "The fuels didn't receive much precipitation this last winter, so all the fuel moistures are extremely dry."
That has combined with the remote location to make this fire difficult for firefighters to suppress, he said.
"Fire burns uphill, so when drainages and canyons align with the wind and sun, the fire can spread very rapidly up those steep canyons," he said. "So there's a lot of different factors. It's the aligning of the moons that's making this a hard one."
About 30 miles southeast, below the town of Wildwood, another lightning-sparked fire, which ignited in the Shasta-Trinity National Forest on July 29, had burned 31,185 acres and was 21% contained. The McFarland fire continued to threaten about 1,540 single-family homes, and Wildwood remained under an evacuation order, according to authorities.
The fire was moving to the southeast, although winds from the west and south — blowing up from the Bay Area and over from the ocean — were swirling over the fire and complicating firefighting efforts, said Kate Kramer, public information officer.
The steep, gorge-filled terrain also posed a challenge, she said.
"It's pretty tough country," she said. "In some areas there's a lot of rock. They can't use dozers, so it's a lot of hand line and hand work."
An inversion layer over the area helped moderate fire behavior somewhat over the past couple days but also precluded the use of water-dropping helicopters and firefighting airplanes, she said.
The fire was bumping up against the burn scar of the August Complex fire to the south, which was helping the firefight there, and crews were working to build line to another recent burn scar to the west, which they don't expect the fire to move through, she said.
Conditions have been hot and dry, with temperatures expected to rise even higher this week, Kramer noted. Authorities have also faced resource limitations due to the intensity of this year's fire season, she said.
"Things are thin all across the region, and the country," Kramer said.
And while crews have made good progress, they're being careful not to let people back into their homes until it's safe, she said.
"We don't want what happened to Greenville to happen here, in which they thought everything was good, they let people back in, and then the fire really kicked up again and people didn't get out," she said. "And firefighters were focused on helping to get people out and the town burned down."
Sign up for Essential California for news, features and recommendations from the L.A. Times and beyond in your inbox six days a week.
You may occasionally receive promotional content from the Los Angeles Times.