Chemical leak from Riverside County rail car poses 'critical' explosion risk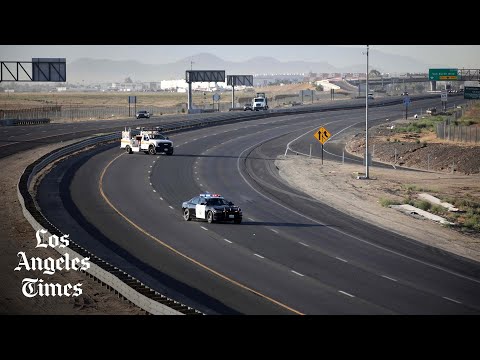 A chemical leak from a rail car has shut down the 215 Freeway in both directions in Riverside County and prompted the evacuation of more than 100 homes.
A highly volatile chemical leaked from an overheated rail car Friday in Riverside County, posing an explosion risk and leading to major road closures and evacuations.
At least 170 residents had been ordered to leave the area near Harvill and Oleander avenues in Perris, where a rail car that was parked on the tracks and carrying a chemical substance overheated, leading to a hazardous spill. Authorities from the Riverside County Fire Department, one of the agencies leading the response effort, issued an evacuation warning to an expanded area Friday afternoon.
Parts of Interstate 215 remained shut down through Friday, and the area's Metrolink trains were also closed, disrupting daily commutes. A spokesperson for Cal Fire Riverside County said the closures would remain until further notice.
The situation could continue for several days, John Crater, Cal Fire Riverside County division chief, warned during a news conference Friday morning.
The train car was "red hot" and too dangerous for officials to approach, Crater said.
By Friday afternoon, crews were using drones with infrared technology to monitor the tank's temperature and ensure it did not reach hazardous levels, Cal Fire Riverside County Battalion Chief Mark Scoville said.
"Currently what we have going on is a very dynamic situation," Scoville said at a news briefing Friday evening. "The tank car in question off-gassed last night. We have not had any further off-gasses from it."
Oscar Torres, a fire captain working on the incident, said the temperature readings were "trending in a positive direction" but had not dropped enough to allow further action.
The Riverside County Fire Department responded to reports of large plumes of smoke coming from a rail car parked on the tracks in Perris around 7:40 p.m. Thursday, Crater said. A hazmat team was sent to the scene.
Officials discovered that a rail car had dangerously overheated and spilled a substance called styrene, a highly volatile liquid typically used in plastic and rubber products. The train was stopped at the time of the reported incident.
Residents and businesses within about a half-mile of the affected area were ordered to evacuate, and parts of the 215 were shut down.
Styrene typically stays at about 85 degrees; the chemical in the rail car had reached at least 323 degrees. The situation could have serious implications on the area's infrastructure, Crater said.
Officials throughout the day monitored outside temperatures, which could affect the chemical activity within the rail car.
The South Coast Air Quality Management District was on the scene to assist with the investigation and conduct air monitoring efforts.
Crater spoke with experts across the country who said it could take up to three days for the situation to cool down.
"It could get worse before it gets better," he said, adding that if heat and pressure build in the car, it could lead to some "sort of violent explosion."
"We are still in a pretty critical situation," Crater said.
According to the Riverside County Fire Department's website, evacuation orders were in place for the areas north of Markham Street, east of Donna Lane, south of Nandina Avenue and west of Patterson Avenue. By Friday afternoon, an evacuation warning was expanded to include the areas south of Avenue A, east of Day Street, north of Cajalco Road and west of Heacock Street.
A shelter was set up at Pinacate Middle School for those evacuated from the immediate area.
At least one Riverside County school, Mead Valley Elementary, evacuated its students and staff out of "an abundance of caution" and transferred them Citrus Hill High School for pickup, the Val Verde Unified School District Police Department announced on Twitter.
Sign up for Essential California for news, features and recommendations from the L.A. Times and beyond in your inbox six days a week.
You may occasionally receive promotional content from the Los Angeles Times.