Route fire near Castaic explodes to 5,100 acres; 8 firefighters suffer heat-related injuries
A wildfire near Castaic quickly exploded in size prompting mandatory evacuations and temporarily closing all lanes of the 5 Freeway as Southern California sweltered under triple-digit temperatures.
The Route fire, which was first reported just after noon along the freeway near Lake Hughes Road, had grown to 5,100 acres by Thursday and was 0% contained.
About 250 county firefighters were assigned to the blaze along with 115 U.S. Forest Service firefighters, eight air tankers and seven helicopters, said L.A. County Fire Inspector Craig Little.
California officials have extended a Flex Alert into Friday, and triple-digit heat at a fire near Castaic forced officials to pull back some firefighters on the front lines.
No structures were threatened Wednesday night, L.A. County Fire Capt. Sheila Kelliher said.
The intense blaze spurred evacuations as crews contended with hot, dry and windy conditions on the first day of what's expected to be a brutal weeklong heat wave.
By Wednesday night, evacuations south of Northlake Hills Elementary School were lifted, according to the L.A. County Sheriff's Department. Evacuation orders remained in place north of the school, south of Templin Highway — including the Paradise Ranch Estates mobile home park — east of the 5 and west of Castaic Lagoon.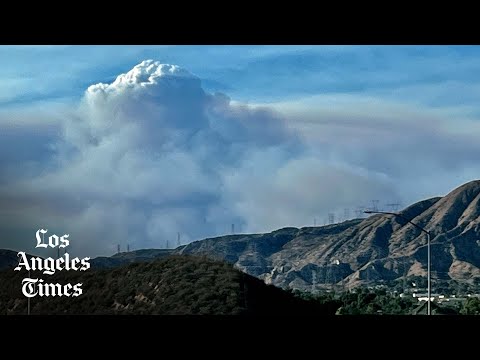 The Route fire has prompted evacuations for a mobile home park, school and other structures amid triple-digit heat.
Northlake Hills Elementary School, located between the 5 and Ridge Route Road, was evacuated earlier Wednesday; the Sheriff's Department said all Northlake Hills staff and students were safe. In a message posted to Twitter, the school's principal said the campus would be closed Thursday.
Between 100 and 200 homes have been evacuated so far, said Sheriff's Lt. Brandon Barclay.
Eight firefighters, six of whom were transported to a hospital, suffered minor to moderate heat-related injuries, Little said.
The blaze was being driven by fuels parched by years of drought, he said.
Temperatures in the area reached nearly 110 degrees by midday with 12% humidity, according to the National Weather Service.
Footage from KTLA-TV Channel 5 showed flames on both sides of the southbound lanes with smoke rising from rolling, dry hills. The southbound and northbound lanes are separated by a large hill.
State officials are asking Californians to voluntarily limit electricity use Wednesday from 4 to 9 p.m. as the year's worst heat wave begins. Temperatures in the 100s are expected across large swaths of the state through Tuesday.
A large tanker could be seen dropping fire retardant along the fire line.
About two hours after the Route fire broke out, a fast-moving blaze was reported near the U.S.-Mexico border in east San Diego County.
By Wednesday night, the fire had grown to more than 4,200 acres, destroyed at least four structures, including at least one home, and was threatening others.
Two people suffered burns and were taken to hospitals. California Department of Forestry and Fire Protection San Diego Capt. Thomas Shoots said there were "multiple close calls" as residents rushed to evacuate their homes.
"We had multiple 911 calls from folks unable to evacuate" because their homes were surrounded by the fire, Shoots said.
Evacuations have been ordered for Paradise Mobile Home Park as firefighters work to build a containment line.
More than 200 firefighters were battling the blaze as of 5:30 p.m., and "many more" were en route, Shoots said. Six air tankers, seven helicopters and several fixed-wing aircraft had been deployed, though none of the aircraft was equipped to fly at night.
"We've requested every wildland engine from Cal Fire in San Diego County," Shoots said.
The fire led authorities to close the U.S.-Mexico border crossing in Tecate, and State Route 94 was closed essentially from Campo to Dulzura. The blaze was 5% contained late Wednesday as firefighters continued to battle to protect homes.
San Diego Union-Tribune staff writer Alex Riggins contributed to this report.
Sign up for Essential California for news, features and recommendations from the L.A. Times and beyond in your inbox six days a week.
You may occasionally receive promotional content from the Los Angeles Times.