High surf, tidal surge closes stretch of Pacific Coast Highway in Huntington Beach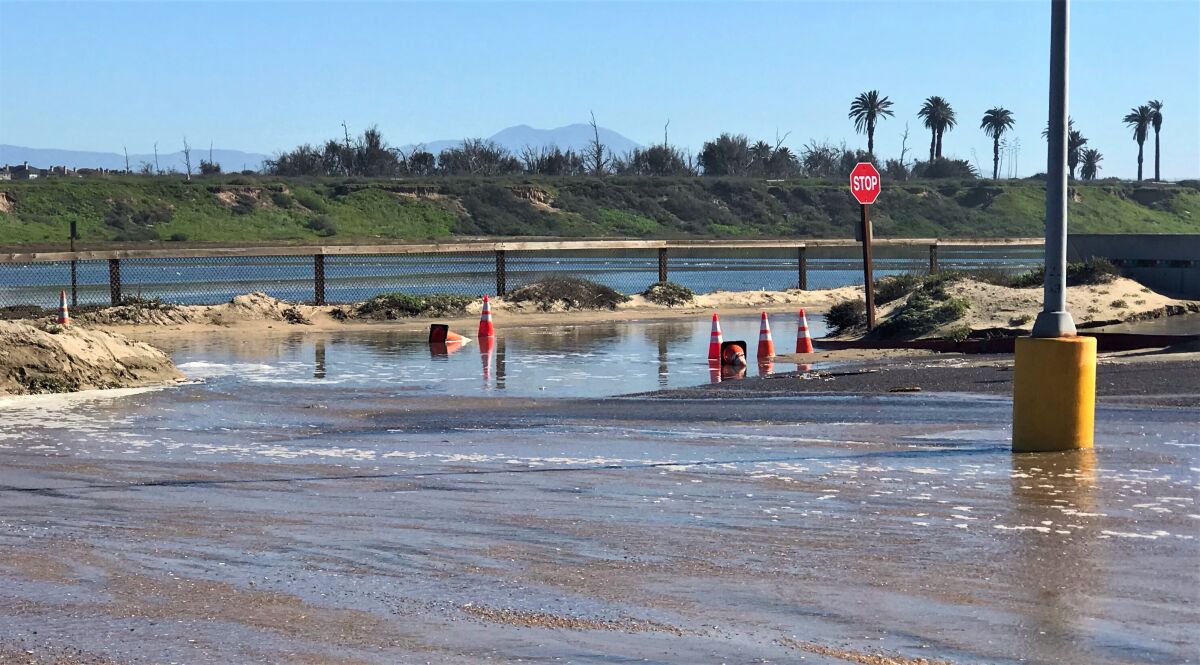 A combination of tidal surge and high surf conditions Tuesday morning caused Caltrans to close a stretch of Pacific Coast Highway in Huntington Beach that has already been closed four times so far this month.
Motorists were alerted of the closure — from Warner Avenue to Seapoint Street — shortly before 11 a.m., after water crossed over Huntington State Beach and flooded a parking lot before infiltrating both northbound and southbound lanes.
Angela Madison, a spokeswoman for Caltrans District 12, said that while cleanup crews were working to remove debris, a full reopening of lanes would not be likely before the evening drive time.
"We're working around the clock to make sure we can get the highway opened as soon as possible," Madison said. "If Mother Nature doesn't exacerbate the circumstances, tomorrow afternoon is our worst-case scenario."
Huntington Beach public affairs manager Jennifer Carey said city officials received notification of the closure at around 10:45 a.m. Local water levels were recorded at 5.9 feet above mean tide.
"It went over the beach, through a parking lot and pushed water down onto PCH," she said, indicating the situation was ongoing. "When a set comes in, it doesn't happen all at once — it maintains those surges for sometimes an hour."
The high tide, combined with high surf, created conditions that did not bode well for that section of the PCH, Madison and Carey said.
"No one anticipated the perfect storm, no pun intended, that there would be a high tide along with a storm surge," Madison said.
The same stretch of road from Warner Avenue south to Seapoint Street was closed on Jan. 5 due to unusually high rain, Carey confirmed Tuesday. Although the highway was reopened the morning of Jan. 6, it was closed again later that day, that time due to a similar tidal event.
Two more closures were announced Jan. 10 and 14, prior to Tuesday's surge.
"It's always the same area," Carey said of the problem spot well known by locals.
The city's Main Beach, which has a wider stretch of sand than Huntington State Beach, withstood Tuesday's tides and did not see water encroachment. Carey said a portion of Pacific Coast Highway near Sunset Beach saw some incursion but added the bulk of the surge was held back by a berm.
Cars traveling north on Pacific Coast Highway Tuesday afternoon were being turned away at Seapoint and redirected eastward to northbound lanes of Edwards Street and then back onto Warner Avenue. Madison urged motorists to heed all warnings.
"Slow down, obey our signs and do not drive beyond our detour signs and boundaries," she advised.
---
The stories shaping California
Get up to speed with our Essential California newsletter, sent six days a week.
You may occasionally receive promotional content from the Los Angeles Times.