'What drove a madman to do this?' Domestic violence probed in Monterey Park shooting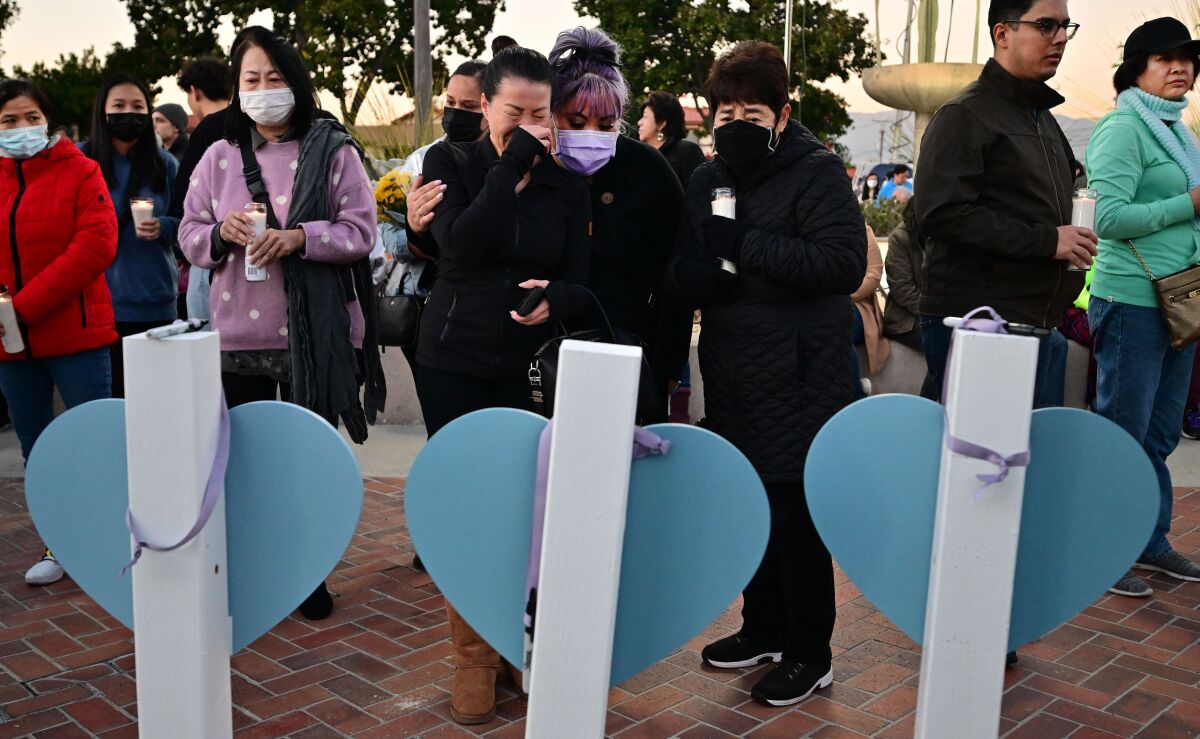 Hours before Monterey Park shooter Huu Can Tran was found slumped over the steering wheel of his white cargo van, before his name was released or his victims identified, rumors swirled about his motive.
Was it jealousy that drove the 72-year-old Tran to storm Star Ballroom Dance Studio on the eve of Lunar New Year, killing 11 and injuring nine more? Had he been hunting his ex-wife when he was disarmed at Lai Lai Ballroom & Studio in Alhambra?
"What drove a madman to do this?" Los Angeles County Sheriff Robert Luna said at a news conference Monday afternoon. "We don't know. But we intend to find out."
On Tuesday, Monterey Park Police Chief Scott Wiese admitted they might never know.
"The biggest question that our community has is motive — everybody wants to know why," Wiese said at a news conference outside Star Ballroom on Tuesday. "I want to know why, I know our City Council and elected officials want to know why. The public wants to know why. I just don't know if we'll get that answer."
A clear answer may never emerge. But as mass shootings grow increasingly common, data show that an overwhelming majority have a connection to domestic violence.
That's because "individuals who are willing to hurt those closest to them are more likely to hurt other people in the future," said Lisa Geller, director of state affairs at the Johns Hopkins Center for Gun Violence Solutions and a scholar of mass shootings.
Geller's 2021 study showed that almost 60% of mass shooters targeted a current or former partner in their attacks — women who shared their surnames, their house keys, their kids. Still more had a history of domestic abuse. On average, such assailants killed more people and were more likely to take their own lives than other mass shooters.
"In my mind, domestic violence is just the gateway to everything," said Orchid Pusey, executive director of the Asian Women's Shelter in San Francisco. "It's the gateway to all the other forms of private and public violence."
Reports of domestic violence surged in 2020, and have been on the rise in Los Angeles and across California ever since. Yet domestic violence reporting among Asian Angelenos remains far lower than for other groups, data show. Those who work with survivors and perpetrators in California's Asian American Pacific Islander communities say those figures belie the struggle they see behind closed doors.
"If you say we run a domestic violence hotline, no one's going to call, because no one thinks they're a domestic violence survivor," said Debra Suh, executive director of the Center for the Pacific Asian Family. "There's a very different standard of thinking who a domestic violence survivor is."
Dr. Sun H. Lui, program director at Win-Win Relationship Learning Center in Arcadia, agreed. Survivors and perpetrators say, "this is my family issue," said the psychologist, who runs a court-mandated intervention program for abusers, one of the few Chinese-language options in the state. "They don't take it seriously until the neighbors call the police."
Cultural barriers can make it hard for some survivors to acknowledge abuse, or to seek help when they need it, advocates said.
To be sure, "Asian" is a broad umbrella encompassing many distinct ethnic groups, faith traditions, languages and cultures. Even Lui's linguistically and ethnically homogeneous Mandarin-speaking clients are split between highly educated engineers on one side, and restaurant workers and truck drivers on the other.
Yet practical barriers prevent many survivors from reporting abuse.
"There's a concept in white communities that leaving your spouse is the only answer, but for many in our community, it's not," said Manjusha P. Kulkarni, executive director at the AAPI Equity Alliance. "They don't want physical violence, but having to leave or having him jailed or deported does not make their lives better. If he gets deported, what happens to the family?"
Leaving an abuser can also trigger deadly violence, data show.
Even when it doesn't, it can upend lives in ways both obvious and subtle, universal and specific.
"To think that our communities will be reached by mainstream efforts is stupid," said Pusey, of the Asian Women's Shelter. "It's not because those efforts are bad, they're just also culturally specific. It doesn't match."
Divorce and single parenthood are both far rarer among Asian Americans than for other groups, increasing the stigma, she said.
"They want to keep their families together and they're not financially independent," said Candy Chou, who teaches classes in English and Mandarin at Win-Win, and works with survivors at Saddleback Church. "They don't want the stigma of coming from a broken family, so they try to stay in a relationship that really hurts them."
And while mothers of all backgrounds may agonize over leaving their children's abusive father, many of Suh's clients also fret over leaving their good school district.
"We've had a lot of folks who prefer to stay in a good school ... than to go into a shelter and move their kids," Suh said. "If [the kids] are younger, they're more likely to leave. But if they're in middle school, high school, preparing to go to college, it's harder."
Because reporting abuse to authorities is rarer among Asian Americans, advocates have devised innovative ways to reach women in danger, pulling them aside in women-only spaces at churches and temples, camping out at children's story hour at the library, and staffing tables at bridal fairs.
But outside advocacy circles, few appreciate the danger, they say.
"I've worked in this field over half my life. It's many, many small things that, if not stopped, can cause homicide." Lui said.
About half of women who die by violence in the U.S. are killed by the men they loved, data show. A 2022 analysis showed pregnant women are more likely to be shot to death by their baby's father than to die from sepsis, hemorrhage or hypertension.
While mass shootings are still a small fraction of gun deaths, the danger of domestic violence can quickly spill over onto first responders, neighbors and extended family.
"The responding officers will tell you, they hate going to domestic violence calls because they are very dangerous," Suh said.
Abusers who have a gun are five times more likely to kill their partners than those who do not, data show.
Suh said when she worked on the domestic violence hotline, about a quarter of the women who called were in homes with a gun. Now, she believes the percentage is higher.
"I would encourage folks who are in an unhealthy relationship and have a gun in the home to call and make a safety plan," she said. "There are ways to get safer, there are ways to get rid of a gun in a safer way, there are restraining orders to get rid of a gun, too."
A safety plan is a list of strategic and practical steps to help survivors predict, avoid and escape future violence. California is one of 19 states where a judge can issue a "gun violence restraining order" to temporarily take firearms from an alleged abuser, though L.A. lags behind some other counties in enforcing the rule.
Both tools can save lives, data show.
Although batterer intervention programs have been mandated by California courts for decades, the data supporting them are slimmer, and more mixed.
Lui and her colleagues don't know what happens to their clients after they leave the 52-week court-ordered program. But they say they see the effects of their work every day, as their clients learn to identify and express their emotions, and to reconnect with their partners and children.
"When [long-haul truckers] used to call home, they'll be like, 'What did you eat today?' 'Did you do your homework?' 'Did you listen to your mother?' And that was the end of conversation," Chou said.
"But today I've seen some of the truck drivers call home, they would tell their daughter, 'I miss you so much. You're beautiful.' 'Hey, I love it that you help your mother, I'm so proud of you.' Even just small talk to them is life-changing. They've never had that before."
Lui said she's seen a marked increase in referrals of Mandarin-speaking clients, who now make up the majority of their court-ordered domestic violence classes.
That's the result of more women calling for help sooner, she said. For younger generations, the tipping point may be a broken iPhone instead of a broken nose.
"Now women know that verbal and mental [abuse] is also domestic violence," she said. "They're more ready to call the police, and they know there is an interpreter, so they can call."
Acknowledging domestic abuse is one thing. Preventing it — and the potential for violence that spills from the home into the community at large — is another.
"We work with Alhambra Unified, working with high school students on healthy relationships, to try to prevent violence," Suh said. "We want to go upstream and prevent these things from happening."
For Pusey, the San Francisco advocate, prevention begins even younger.
"Your 'no' [as a mother] is the start of everything," Pusey said. "The most feminist thing you can do is teach your son to accept your no."
Watch L.A. Times Today at 7 p.m. on Spectrum News 1 on Channel 1 or live stream on the Spectrum News App. Palos Verdes Peninsula and Orange County viewers can watch on Cox Systems on channel 99.
The stories shaping California
Get up to speed with our Essential California newsletter, sent six days a week.
You may occasionally receive promotional content from the Los Angeles Times.