AT&T names John Stankey CEO as Randall Stephenson retires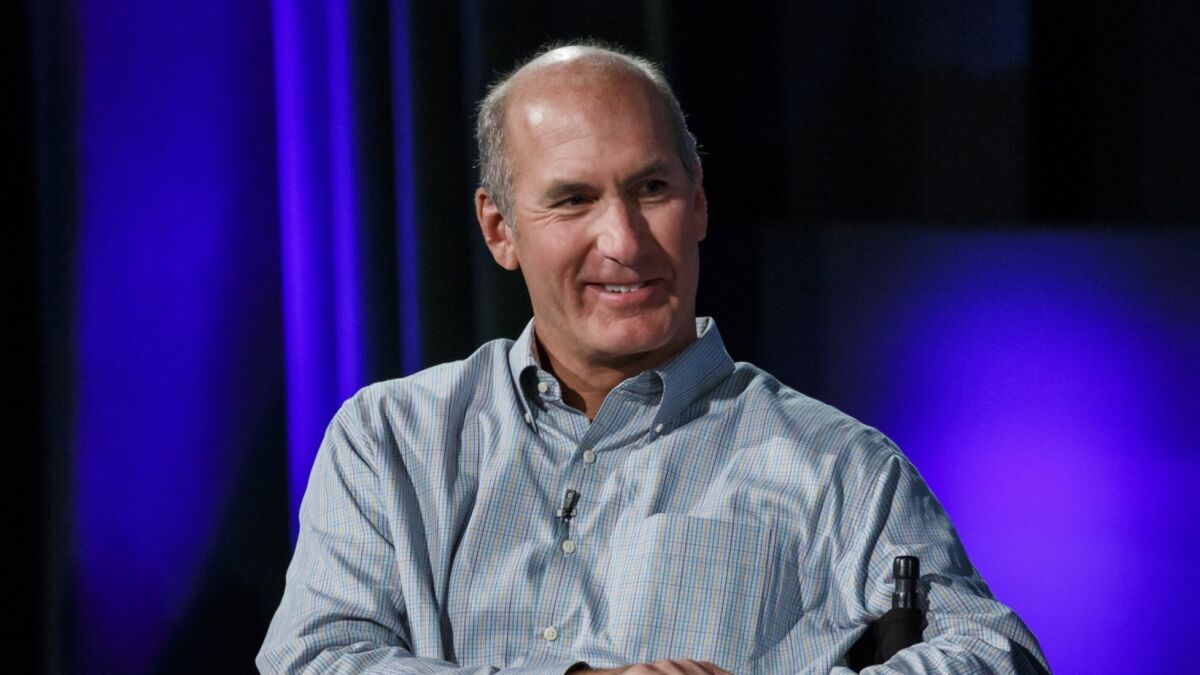 AT&T on Friday named John Stankey its next chief executive, replacing Randall Stephenson, who retires this summer.
Stankey, 57, has worked at the telecommunications company since 1985 and served as chief operating officer since October.
He will assume the top job July 1 and immediately face enormous challenges, including navigating through the coronavirus outbreak and economic downturn, strengthening AT&T's wireless phone offerings and making sure that AT&T's big bet on entertainment pays off.
The 6-foot-5 Los Angeles native already had an outsize presence at the company.
Stankey was the architect of AT&T's ill-fated $49-billion purchase of satellite TV service DirecTV in 2015 and the $85-billion takeover in 2018 of Time Warner Inc., which was renamed WarnerMedia. That deal brought CNN, HBO, TBS and the Warner Bros. movie and film studio into the fold but added to the mountain of AT&T debt, which topped $150 billion. Investors have demanded AT&T pay down debt while maintaining its rich dividend.
Stankey also has led the company's digital efforts, including its highly anticipated launch of the HBO Max streaming service May 27. The Dallas-based company is under pressure to compete with Netflix, Amazon Prime Video, Hulu and Disney+, which have had a head start in the streaming wars.
For HBO Max to succeed, Stankey must exploit AT&T's advantage: its relationships with more than 100 million mobile customers in the U.S.
"I've worked very closely with John for well over 20 years," Stephenson said in a video message Friday to AT&T's 240,000 employees. "I've asked him to take on some of our biggest challenges, and each time he's delivered."
Stephenson, 60, will stay on as executive chairman of the board until January to "ensure a smooth leadership transition," the company said in a statement.
The Oklahoma native has run the company for 13 years. He was unable to move AT&T's share price, which closed up 21 cents Friday to $29.71. Its shares are down 23% from when he took over in 2007.
Stephenson's tenure has been defined by the acquisitions in entertainment and one costly miss. In 2011, AT&T attempted a $39-billion takeover of competitor T-Mobile, but the Department of Justice, then under President Obama, sued to block it. The failed pursuit left AT&T with a hefty breakup fee of $6 billion.
AT&T also ran into static with the Justice Department in its effort to acquire Time Warner Inc.
Even as a candidate in October 2016, President Trump made clear his opposition to the merger due to his ire over CNN's coverage of him.
After he took office, the Justice Department sued AT&T to block the Time Warner deal, a salvo that led to a protracted legal process. Although a federal judge allowed the merger to go through in June 2018, AT&T wasn't allowed to fully consolidate the entertainment properties until last year.
In a Twitter message, Trump celebrated Stephenson's departure: "Anyone who lets a garbage 'network' do and say the things that CNN does, should leave ASAP. Hopefully replacement will be much better!"
AT&T declined to comment. Stankey has been responsible for CNN in his role as chief of WarnerMedia since AT&T acquired the New York company. He has long viewed CNN as an important part of AT&T's portfolio because consumers read much of their news on their cellphones. But he has entrusted CNN and its coverage to WarnerMedia News and Sports Chairman Jeff Zucker.
While Stankey ran WarnerMedia, he rebuilt the management team. All of the senior executives under Time Warner Chief Jeff Bewkes departed within a year of AT&T's takeover.
AT&T has been involved in a multiyear succession planning process to replace Stephenson, but the issue became more pressing last fall when an activist shareholder delivered a stinging letter demanding changes to boost AT&T's stagnant share price.
The activist shareholder, Elliott Management, took aim at Stephenson, who last year said he planned to stay on through 2020.
The two sides reached a truce in October, which included AT&T making a commitment to accelerate its succession planning and tapping a media executive to run WarnerMedia.
This month, AT&T appointed Jason Kilar, the architect of Hulu, to lead WarnerMedia beginning May 1.
"Elliott supports John Stankey as AT&T's next CEO," Elliott Management said Friday. "We have been engaged with the company throughout the search process, which was a robust one, including a range of highly qualified outside candidates and overseen by independent directors. We look forward to working with John as he begins his term as CEO."
AT&T's DirecTV has lost 4 million customers in two years. Cost-cutting and big decisions loom, including whether to pay to keep exclusive rights to NFL Sunday Ticket.
Stankey was raised in Los Angeles. His father was an insurance underwriter and his mother stayed home to care for their three children. He attended Loyola Marymount University in the early 1980s, finishing with a degree in finance. He earned spending money by stringing tennis rackets at a now-defunct Oshman's Sporting Goods near Pico and Sepulveda boulevards.
He will join AT&T's board in June. In a statement, he thanked Stephenson for his "vision and outstanding leadership during a period of tremendous change."
"I couldn't be more excited about tackling the challenges with you at one of the most dynamic and exciting times in our company's history," Stankey told AT&T employees in the video message. "What we do as a company … what we provide to society … has never been more important."
---
Inside the business of entertainment
The Wide Shot brings you news, analysis and insights on everything from streaming wars to production — and what it all means for the future.
You may occasionally receive promotional content from the Los Angeles Times.