The White House says Fox's pre-Super Bowl interview with President Biden is off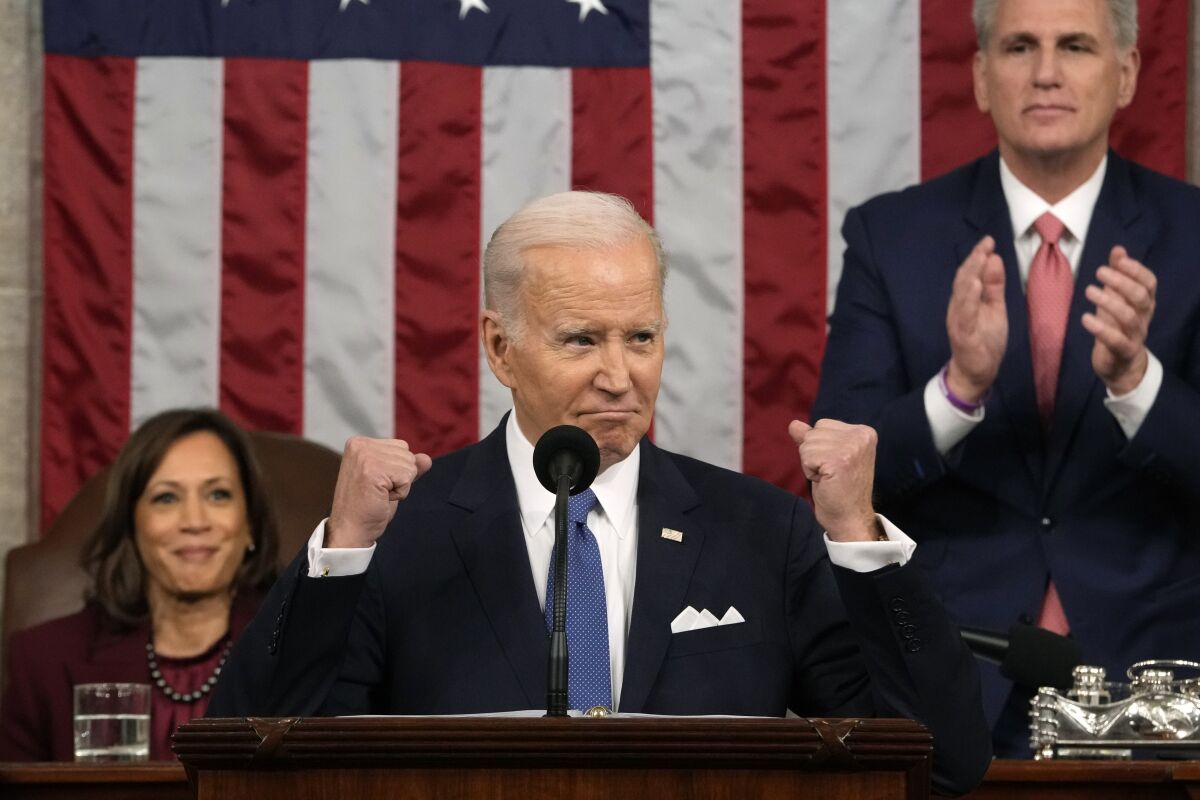 President Biden will not be sitting down with Fox for a pre-Super Bowl interview.
Fox Corp. said Friday that Biden would have a sit-down with personalities from Fox Soul, its streaming service aimed at Black viewers. The interview was offered as an alternative to a chat with an anchor from the conservative-leaning Fox News, which had its request rejected.
But the White House said earlier in the day that after it reached out to Fox Soul to arrange the interview, Fox Corp. decided to cancel it. Fox executives said privately that was not the case and that they sent the Fox Soul team of Mike Hill and Vivica A. Fox to Washington with the intent of meeting with Biden.
But a statement from the White House released late Friday said the meeting will not happen and reiterated the earlier claim that Fox Corp. had canceled the interview.
"As we said earlier, we had arranged an interview with Fox Sports host Mike Hill and Vivica A. Fox with the president ahead of the Super Bowl, and Fox Corp. had the interview canceled," the White House said in a statement. "Fox has since put out a statement indicating the interview was rescheduled, which is inaccurate."
Fox Corp. did not comment on the White House statement late Friday. But a person familiar with the discussions who was not authorized to comment confirmed the White House was not making Biden available.
For this year's game, airing Sunday on the Fox broadcast network, that assignment would normally have gone to Fox News, which is less than hospitable to Biden during most of its daytime coverage and downright hostile in prime time when its conservative opinion hosts pound away at his administration.
Fox Sports expects Sunday's Kansas City Chiefs-Philadelphia Eagles matchup will top the previous viewing record of 114 million viewers.
Nevertheless, the top-rated cable news network does reach a substantial number of viewers who identify as Democrats and political independents, according to Nielsen data.
The White House rejected a request from Fox News, which would have assigned "Fox News Sunday" anchor Shannon Bream or Bret Baier of "Special Report" to handle the interview, according to a network representative. On Thursday, the administration reached out to Fox Soul, a streaming service for Black viewers, which presumably would have offered a friendlier setting.
Launched in 2020, Fox Soul is a free, ad-supported service that can be watched on any internet-connected device.
Melugin has been a constant presence on Fox News with his frequent reports on migrant crossing on the southern border.
A presidential interview during the pregame show has become a recent tradition for the network that carries the Super Bowl. The setting provided the rare circumstance where Barack Obama sat down with Fox News when the parent company's broadcast network carried the game.
But former President Donald Trump skipped the opportunity to sit with NBC News in 2018, the season in which the NFL was in turmoil over players' on-field social justice protests. He appeared with Fox News host Sean Hannity, who was a staunch advocate for his administration, in 2020, and Bill O'Reilly in 2017. Trump also sat with CBS News anchor Margaret Brennan in 2019.
Inside the business of entertainment
The Wide Shot brings you news, analysis and insights on everything from streaming wars to production — and what it all means for the future.
You may occasionally receive promotional content from the Los Angeles Times.