Witherspoon, McConaughey mourn Jean-Marc Vallée: 'Love stories were everywhere in his eye'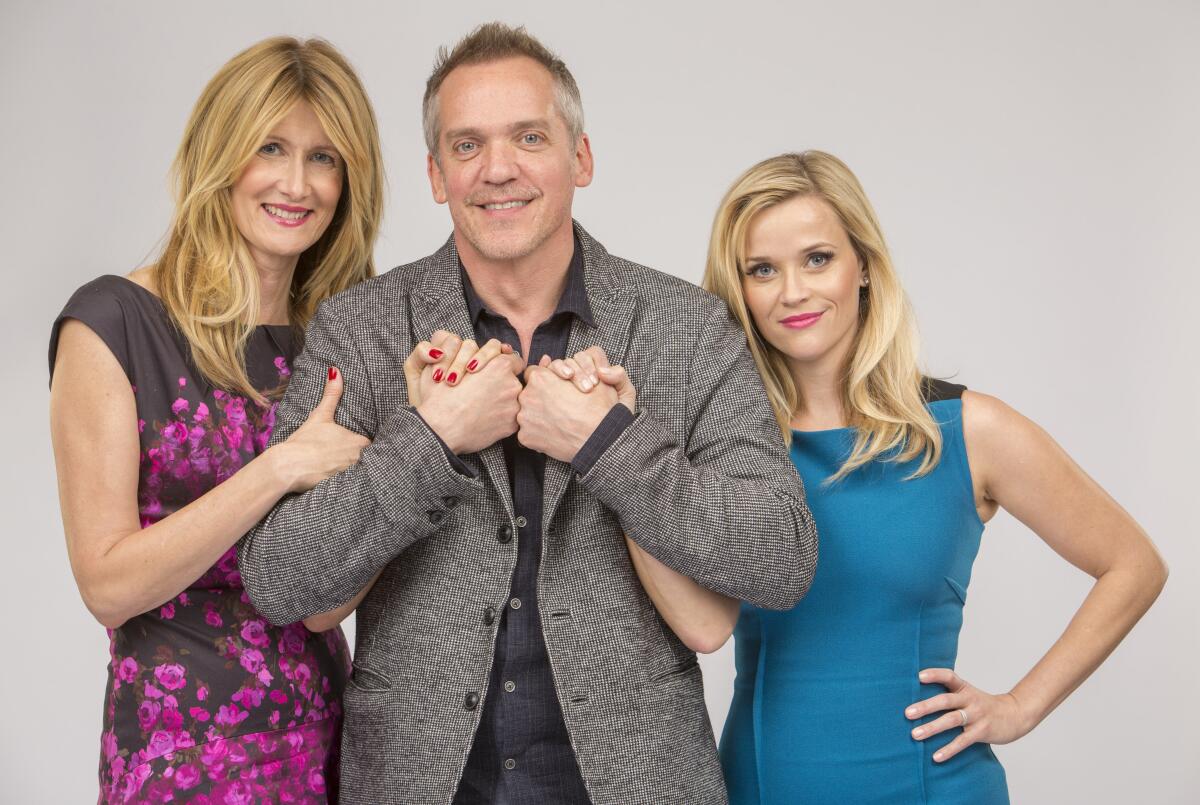 Reese Witherspoon, Laura Dern, Matthew McConaughey and Nicole Kidman are among the actors who have taken to social media to mourn the loss of filmmaker Jean-Marc Vallée.
The Canadian director, known for his work on acclaimed film and TV projects such as "Big Little Lies," "Wild" and "Dallas Buyers Club," died unexpectedly over the weekend at age 58.
Dern and Witherspoon both received 2015 Oscar nominations for playing mother and daughter, respectively, in "Wild," before reuniting with Vallée on "Big Little Lies."
"My heart is broken," tweeted Witherspoon, who also collaborated with Vallée as a producer on "Wild" and an executive producer on "Big Little Lies." "My friend. I love you." Later, she posted additional thoughts along with a production photo on Instagram. "I will always remember you as the sun goes down. Chasing the light. On a mountain in Oregon. On a beach in Monterey. Making sure we all caught a little magic in this lifetime."
Emmy-winning director Jean-Marc Vallée, whose work included 'Big Little Lies' and 'Dallas Buyers Club,' died from a heart attack, his publicist said.
"Beautiful Jean-Marc Vallee," Dern tweeted. "The world has lost one of our great and purest artists and dreamers. And we lost our beloved friend. Our hearts are broken."
McConaughey, who won an Oscar for his lead performance as Ron Woodroof in "Dallas Buyers Club," shared a photo of himself and Vallée on Twitter. Jennifer Garner, who starred opposite McConaughey as Eve, called Vallée's death an "unimaginable loss."
"With a gentle hand and heart Jean-Marc was a true receiver — he didn't romanticize life so much as he saw life romantic — from the struggle to the pain to the wink and the whisper, love stories were everywhere in his eye," McConaughey wrote.
Jared Leto, who won an Oscar for his supporting performance as Rayon in "Dallas Buyers Club," praised Vallée as "a filmmaking force and a true artist who changed my life with a beautiful movie."
"Much love to everyone who knew him," he added. "Life is precious."
Director and producer Jean-Marc Vallée, who won an Emmy for directing the hit HBO series "Big Little Lies" and whose 2013 drama "Dallas Buyers Club" earned six Oscar nominations, has died.
Among the first to respond to the news was actor Shailene Woodley, who shared a photo of Vallée on her Instagram story late Sunday night in a state of "complete and utter shock."
"God, death is the worst," she wrote.
"But I guess somehow I know you will turn it into a grand adventure ... one for the books, one I cant wait to read & to watch when my time comes. It doesn't make sense though dude. It doesn't make sense."
In "Big Little Lies," Woodley played young single mom Jane Chapman alongside Witherspoon's alpha mom Madeline Martha Mackenzie and Dern's snowplow mom Renata Klein. The first season of the HBO drama — helmed in its entirety by Vallée — won eight Emmy Awards, including limited series and directing for a limited series.
"Maybe when we wake up tomorrow you'll be there laughing saying it was just a satirical short film you made," Woodley continued. "That it's not real."
Nicole Kidman reveals that author Liane Moriarty will be writing a "Big Little Lies" follow-up, making a third season pretty much inevitable.
A "shattered" Kidman, who won an Emmy for her portrayal of lawyer mom Celeste Wright in "Big Little Lies," hailed Vallée on Instagram as an "extraordinary human" who was "responsible for some of the most rewarding professional experiences of my career."
"It's hard to imagine someone as vital, energetic and present as Jean-Marc being gone," she wrote.
"He was at the center of my creative universe and I can't overstate his significance to me. ... [H]is friendship, kindness and love were an inspiring force I will carry with me. I will always cherish those nights filming above the crashing waves of Big Sur… It doesn't get better than that."
Canadian Prime Minister Justin Trudeau offered his condolences in English and French to Vallée's "family, friends and fans as they mourn his sudden passing." Vallée was born in Montreal and died in his cabin outside Quebec City.
"Jean-Marc Vallée's passion for filmmaking and storytelling was unmatched — so too was his talent," Trudeau tweeted. "Through his work and with his art, he left a mark in Quebec, across Canada, and around the world."
Cameron Bailey, chief executive of the Toronto International Film Festival, also saluted Vallée for his contributions to Canadian filmmaking. Vallée's "C.R.A.Z.Y." — a semi-autobiographical film about a young gay man growing up in a conservative, French Canadian family in Quebec — screened at TIFF in 2005.
"Can't believe it," Bailey tweeted. "Jean-Marc Vallée was a prodigious talent, and the only filmmaker to both open (DEMOLITION) and close (THE YOUNG VICTORIA) the Toronto International Film Festival. I'll miss his fire."
This post contains spoilers from Episode 6 of "Big Little Lies," Season 2.
Tanya Lapointe, director and wife of Canadian filmmaker Denis Villeneuve, shared a message from her husband "to his late friend" on Instagram in French.
"Hey old man, what made you leave so early?" the English translation reads. "How must I forget these lonely tears in my eyes? Like you told me before: go out there and shine, crazy diamond! I love you."
Another of Vallée's directing peers, Paul Feig, honored the filmmaker on Twitter with the hashtag #RIPJeanMarc.
"My god, this is so unbelievably sad," Feig wrote. "What a huge loss. He was an incredibly talented filmmaker."
The Associated Press contributed to this report.
Get our L.A. Goes Out newsletter, with the week's best events, to help you explore and experience our city.
You may occasionally receive promotional content from the Los Angeles Times.