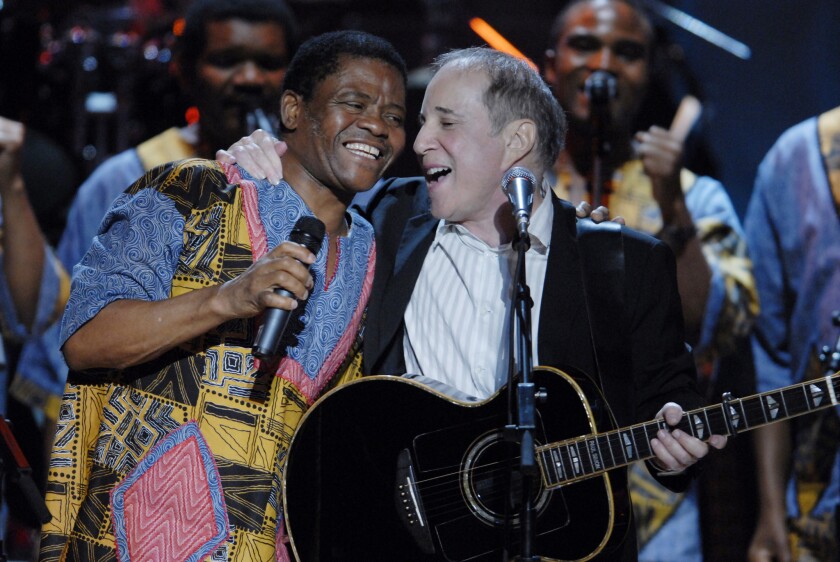 Joseph Shabalala, founder of the South African a cappella vocal group Ladysmith Black Mambazo, whose breathtakingly complex and scintillating harmonies shot the group to global fame in the 1980s when the members were featured prominently on Paul Simon's blockbuster album "Graceland," has died in Pretoria. He was 78.
No cause of death was cited in an announcement posted Tuesday on the group's social media accounts. "Bhekizizwe Joseph Shabalala, Our Founder, our Teacher and most importantly, our Father left us today for eternal peace. We celebrate and honor your kind heart and your extraordinary life. Through your music and the millions who you came in contact with, you shall live forever. From the stage after every show, you shared your heart...'Go with Peace, with Love and with Harmony'."
Shabalala created the ensemble that would eventually be known as Ladysmith Black Mambazo ("the black axe of Mambazo") in 1958, focusing on the sound indigenous to the region around Durban, outside which Shabalala was born and grew up in the district of Ladysmith, Emnambithi.
"The music is called Cothoza Mfana or Isicathamiya," according to press materials for the group's 1988 Grammy-winning album "Shaka Zulu." "The words have no direct English translation, referring instead to a kind of dance, a walking on one's toes, softly, as if not to be heard. It is a sharp contrast to the fierce and aggressive stomping dances traditionally associated with the Zulus." The phrase "Cothoza Mfana," however, loosely translates as "tiptoe guys," a concise description of the footwork that accompanies their vocal acrobatics.
The Isicathamiya sound traditionally was an all-male endeavor that emanated from dormitories in South Africa where men traveled, often hundreds of miles from their homes, to find work in that country's gold and diamond mines.
At night, they would sing together, and a rich harmonic vocal tradition developed in songs of yearning for those they left behind, and of their struggles to earn a living in harsh conditions in the mines, amid the institutionalized system of racism that was apartheid.
Born Bhekizizwe Joseph Siphatimandla Mxoveni Mshengu Bigboy Shabalala on Aug. 28, 1941, in Ladysmith township, Shabalala initially started singing with a popular group called the Highlanders in the late 1950s when, in search of work, he migrated to Durban, about 200 miles from Emnambithi. After returning home in 1958, he started his own group, which he called the Durban Choir, and consisted of siblings and cousins from three families in and around Ladysmith.
Starting out entertaining at family gatherings in Emnambithi, Shabalala's group soon found itself in demand for performances at area radio stations, and, after adopting the name Ladysmith Black Mambazo, ultimately released its debut album, "Amabutho," in 1972, the first of more than 60 the group has made.
Ladysmith became a favorite of South African activist, political prisoner and later President Nelson Mandela, and he invited the collective to sing at his inauguration in 1994, after traveling with him to Norway when he was awarded the Nobel Peace Prize.
The group's multilayered sound, expressed in everything from harmonized whispers to piercing, goose-bump-inducing falsetto flutters — a geographically distant cousin to the street-corner doo-wop sound African American singers popularized in the 1950s. An equally distinctive hallmark of the group's performances — along with Shabalala's mile-wide smile — have been its invigorating choreography, entailing athletic footwork and fluid full-body swoops and bends, all while the singers matched voices flawlessly.
Ladysmith caught Simon's ear in the early '80s as he delved deeper into his explorations of different strands of world music, captivating him sufficiently to invite Shabalala to contribute to the album for which he traveled to Africa in the mid-1980s to collaborate with various musicians.
"The music captured the soulfulness and vitality of the South African experience, and indeed, the sound was built upon traditional Zulu vocal elements that had been embraced for years by the country's mineworkers," former L. A. Times pop music critic Robert Hilburn wrote in his 2018 biography "Paul Simon — The Life."
"Ladysmith had considerable success in South Africa in the 1960s — the first black South African group to earn a gold album for 25,000 sales — but it was still largely unknown outside of its native land when Simon arrived in the country."
Nevertheless, so enamored of the group's music was Simon that he initially "was too intimidated to approach Ladysmith." Still, someone at one of the recording sessions that were underway arranged for an introduction between Simon and Shabalala.
"The rapport was instant," Hilburn wrote. "Shabalala was warm and gracious, and Simon was charmed when the singer gave him a bagful of Ladysmith tapes. Finally, Paul worked up enough courage to ask if it would be OK if he would write a song for Ladysmith when he got back to the States and send Shabalala a tape of it. The offer came with no strings attached: Shabalala would change it any way he wanted, or he could throw it away.
"Of course, Shabalala told him, 'Please send a song,' and the two men embraced," according to Hilburn. "It was, Shabalala said later, the first time he had ever hugged a white man."
For his part, Shabalala said of that game-changing meeting, "First of all, when I heard that one of the greatest American musicians of all time wanted to meet with the leader of Ladysmith Black Mambazo, I was shocked and surprised.
"Secondly, when I finally met him and learned from him that he was a fan of Black Mamabazo, and wanted to know if I could record with him, this was a dream come true," Shabalala wrote in the notes for the 1988 album Simon produced for the group, "Shaka Zulu." "Much has happened to Black Mambazo since that time and we are honored that this project has given our music an opportunity to be heard all over the world. ... As we say in the Zulu language, 'Unculo uthokozisa abadababukileyo," meaning, 'Singing makes all the sad people happy because it is the voice of happiness."
The tape Simon sent originally became the song "Homeless," which he invited Ladysmith to record with him in London, at the famed Abbey Road Studios used by the Beatles. "Simon didn't want to return to Johannnesburg," Hilburn noted, because "he couldn't tolerate any more of the harsh apartheid regime."
With the cross-continental music that emerged in songs such as "Homeless" and "Diamonds on the Soles of Her Shoes" on Simon's album, the group was invited to perform in the U.S., notably in high-profile spots on NBC's "Saturday Night Live" that helped turn Shabalala and his compatriots — most of whom were family members — into global superstars.
They were signed to the same major U.S. label Simon was on at the time — Warner Bros. — and released a string of albums of their own. Those albums focused mostly on Shabalala's own songs but also included an arrangement of the American gospel standard "Amazing Grace" that Simon created for the group.
In the liner notes of one of those releases, "Journey of Dreams" in 1988, Shabalala wrote, "This Journey of Dreams began a long time ago on the farm and children would come to my dreams and sing to me. Now that we have made this record working with [producer] Russ Titelman and blessed by Paul Simon's guidance, I feel the dreams are now living inside the music as never before.
"For the first time I have made the music on record exactly as my dreams would tell me and for this sound I am grateful. Because the world listens now and that means the Journey of Dreams goes on and on."
The group's newfound fame manifested in many ways. In 1988 Ladysmiyth was invited to perform in Michael Jackson's film "Moonwalker," they appeared on "Sesame Street" and sang the South African pop song "Mbube" (which evolved into "The Lion Sleeps Tonight") for the opening of Eddie Murphy's 1988 film "Coming to America."
The ensemble went on to earn 17 Grammy Award nominations and five wins for its own recordings, in addition to sharing in the spotlight from the five Grammy nominations and two wins — including album of the year — heaped on the "Graceland" album.
Kobe Bryant, Kirk Douglas, Mary Higgins Clark and more.
(Los Angeles Times)
Country singer Kenny Rogers
racked up an impressive string of hits — initially as a member of The First Edition starting in the late 1960s and later as a solo artist and duet partner with Dolly Parton — and earned three Grammy Awards, 19 nominations and a slew of accolades from country-music awards shows. Country purists balked at his syrupy ballads, but his fans packed arenas that only the titans of rock could fill. He was 81.
(Suzanne Mapes / Associated Press)
Swedish actor
Max von Sydow
starred in several Ingmar Bergman movies, including "The Seventh Seal" (above, at left) and "The Virgin Spring," then built a varied body of U.S. work that included the 1973 horror blockbuster "The Exorcist." In a career that began in 1949, his rich repertory included Jesus Christ, clergymen, pontiffs, knights, conquerors, villains and the devil incarnate. He was 90.
(File photo)
Former Egyptian
President Hosni Mubarak
crushed dissent for decades until the 2011 Arab Spring movement drove him from power. During his presidency, which spanned nearly 30 years, he protected Egypt's stability as intifadas roiled Israel and the Palestinian territories, the U.S. led two wars against Iraq, Iran fomented militant Shiite Islam across the region and global terrorism complicated the divide between East and West. He was 91.
(Sameh Sherif / AFP/Getty Images)
Xerox researcher Larry Tesler
pioneered concepts that made computers more user-friendly, including moving text through cut, copy and paste. In 1980, he joined Apple, where he worked on the Lisa computer, the Newton personal digital assistant and the Macintosh. He was 74.
(AP)
Mathematician
Katherine Johnson
calculated rocket trajectories for NASA's early space missions, including Alan Shepard's Freedom 7 Mission, the first to carry an American into space, and John Glenn's orbits around the planet. In 2015, Johnson was awarded the Presidential Medal of Freedom by President Obama, and the next year was portrayed in the film "Hidden Figures." She was 101.
(NASA/Bill Ingalls )
Ski industry pioneer Dave McCoy transformed a remote Sierra peak into the storied Mammoth Mountain Ski Area. Over six decades, it grew from a downhill depot for friends to a profitable operation of 3,000 workers and 4,000 acres of ski trails and lifts, a mecca for generations of skiers and boarders. He was 104.
(Genaro Molina / Los Angeles Times)
Veteran TV personality Orson Bean brought his wit to "What's My Line?" and "To Tell the Truth," guest-starred on variety shows and bantered with talk show hosts such as Johnny Carson and Mike Douglas. Later in his career, he starred in "Dr. Quinn, Medicine Woman" and "Desperate Housewives" while becoming a mainstay of Los Angeles' small theater scene. He was 91.
( Sean Smith)
Screen icon
Kirk Douglas
brought a clenched-jawed intensity to an array of heroes and heels, receiving Oscar nominations for his performances as an opportunistic movie mogul in the 1952 drama "The Bad and the Beautiful" and as Vincent van Gogh in the 1956 drama "Lust for Life." As executive producer of "Spartacus," Douglas helped end the Hollywood blacklist by giving writer Dalton Trumbo screen credit under his own name. He was 103.
(Annie Wells / Los Angeles Times)
"Queen of Suspense"
Mary Higgins Clark
became a perennial best-seller, writing or co-writing "A Stranger Is Watching," "Daddy's Little Girl" and more than 50 other favorites. Her sales topped 100 million copies, and many of her books, including "A Stranger is Watching" and "Lucky Day," were adapted for movies and television. She was 92.
(Associated Press)
Fred Silverman
was the head of programming at CBS, where he championed a string of hits including "The Mary Tyler Moore Show," "All in the Family," "MASH" and "The Jeffersons." Later at ABC, he programmed "Laverne & Shirley," "The Love Boat," "Happy Days" and the 12-hour epic saga "Roots." He was 82.
(Associated Press)
Kobe Bryant
was just 18 when he started playing for the Lakers, but by the end of his 20-year career — all of it as a Laker — the Black Mamba was a five-time world champion, two-time Olympic gold medalist and 18-time All-Star. His post-basketball career included an Oscar for the animated short "Dear Basketball" and a series of children's books that became New York Times bestsellers. He was 41.
(Andrew D. Bernstein / NBAE / Getty Images)
Former California
Rep. Fortney "Pete" Stark Jr.
represented the East Bay in Congress for 40 years. The influential Democrat helped craft the Affordable Care Act, the signature healthcare achievement of the Obama administration, and also created the 1986 law best known as COBRA, which allows workers to stay on their employer's health insurance plan after they leave a job. He was 88.
(Associated Press)
News anchor
Jim Lehrer
appeared 12 times as a presidential debate moderator and helped build "PBS NewsHour" into an authoritative voice of public broadcasting. The program, first called "The Robert MacNeil Report" and then "The MacNeil-Lehrer Report," became the nation's first one-hour TV news broadcast in 1983. Lehrer was 85.
(David McNew / Getty Images)
Terry Jones
was a founding member of the Monty Python troupe who wrote and performed for their early '70s TV series and films including "Monty Python and the Holy Grail" in 1975 and "Monty Python's Life of Brian" in 1979. After the Pythons largely disbanded in the 1980s, Jones wrote books on medieval and ancient history, presented documentaries, wrote poetry and directed films. He was 77.
(Associated Press)
Rush drummer
Neil Peart
was one of the most accomplished instrumentalists in rock history. Peart often cited swing-era drummers Gene Krupa and Buddy Rich among his primary inspirations, although he also credited Keith Moon, Ginger Baker and John Bonham as major influences. He was 67.
(Andrew MacNaughtan)
In addition to the validation represented by the Grammys, Ladysmith did residencies in the 1990s at Chicago's Steppenwolf Theater Co., helping create a production, "The Song of Jacob Zulu," for which their score was nominated for a Tony Award and won a Drama Desk Award.
The same year Ladysmith sang for Mandela's inauguration, Shabalala established an academy to teach traditional South African culture to young people to help keep those traditions alive in the aftermath of the dismantling of apartheid.
A 2000 documentary about the group "On Tiptoe: Gentle Steps to Freedom," was nominated both for Academy and Emmy awards.
Tragedy struck the group in 2002 when Shabalala's wife of 30 years, Nellie, was killed by a masked gunman, and Shabalala was injured attempting to protect her. One of his sons, and Nellie's stepson, was charged with hiring a hitman to carry out the slaying ; he later testified that police offered him a reduced sentence if he would implicate Shabalala. Shabalala also lost a brother, Ben, in 2004 when he was killed in a suburb of Durban, echoing the shooting death of another brother and Ladysmith member, Headman Shabalala, by on off-duty white police officer in 1991.
Ladysmith has continued to tour internationally without Shabalala and is scheduled to perform in June. No services have been announced.
---