Inside the new 'Secret Garden' revival: shorter, more 'haunting and culturally correct'
Welcome to yet another edition of the Essential Arts newsletter — although, it's actually my first time taking over this esteemed mailing. I'm entertainment and arts reporter Ashley Lee, filling in this week for Carolina Miranda. I spent the last few days inside "The Secret Garden" at the Ahmanson Theatre and got a rundown of the many changes that have been made to the buzzy revival of the beloved Broadway musical. It opens this weekend in Los Angeles.
Inside a new 'Secret Garden'
The creators of "The Secret Garden" had long agreed that debuting their musical on Broadway was a race against the clock.
"Once you are up there with the set and the costumes and especially the orchestra, it's not so easy to make changes," book writer and lyricist Marsha Norman told The Times in 1992. "Changes involving music have to get orchestrated and rehearsed, and that can take 48 hours. Working with an orchestra is like trying to maneuver quick with an 18-wheeler. And we were running out of time."
Composer Lucy Simon added that they "had wanted to make changes from the day the show opened" in 1991. For its national tour, songs and scenes were rearranged, trimmed and expanded; numerous regional and international productions have similarly reworked the material to make it leaner and easier for audiences to follow.
A Center Theatre Group staging, opening Sunday at the Ahmanson in downtown Los Angeles and playing through March 26, is going one step further. "I want it to be cinematic and move at a fast clip," says director-choreographer Warren Carlyle of the new production, strategically tweaked over the last five years with Norman and Simon's approvals. "I want it to be beautiful, haunting and culturally correct."
Carlyle's latter aspiration is referring to the brief but unignorable parts of the musical that allude to India, as Frances Hodgson Burnett's 1911 novel — about Mary Lennox, a newly orphaned girl who is sent to live with her estranged uncle and finds refuge in the dreary Yorkshire manor's neglected garden — begins in the British Raj. The original version presents two Indian characters as stereotypical figures or in negative situations and features Hindi chants with incorrect translations, pronunciations and phrasings.
"This is not an Indian story, but it has things in it that represent India and are a little bit problematic," says Vishal Vaidya, who plays the Fakir in the Ahmanson production and previously in two other regional stagings, with some frustrations. "There are Hindi words that are strung together that don't make sense but have been in this script this whole time and, as an Indian actor, it just didn't feel right to perform.
"The goal with this production is, going forward, this will be the version that gets licensed by other theaters," he continues. "So in making changes, it's not just about me getting it right for myself. It's really about what can be done so that when people do this show, they're doing a version that represents India better and that an Indian actor can feel comfortable doing on stage every night."
CTG's "Secret Garden" enlisted language coach Perviz Sawoski and dialect coach Joel Goldes to redraft these sections in the script, which now includes more precise phonetic spellings of the Hindi pronunciation as well as its English-language translations or interpretations. For example, the previously nonsensical Hindi that opens the musical now has a more logical distribution of syllables across the score and equates to, "Come magic weather, Come hot days. Come our Earth, drive away their illness."
Your essential guide to the arts in L.A.
Get Carolina A. Miranda's weekly newsletter for what's happening, plus openings, critics' picks and more.
You may occasionally receive promotional content from the Los Angeles Times.
"India is not a homogeneous entity by any means — there are 300 languages, there are regions that are drastically different from each other," Sawoski says. "But I think the final result of this iteration is much more tasteful and accurate."
Lines that Vaidya describes as "having nothing to do with the action of the story" — a mention of snake charming, Hindi words that Mary screams mid-tantrum — have been cut. And "Come Spirit, Come Charm," the musical number in which Mary recalls Hindi to inspire a bedridden boy to learn to walk, has been rewritten, reorchestrated and essentially reframed from casting an exotic spell to sharing a devout prayer.
"That moment, to me, is not about magic from somewhere else," Carlyle says of the scene, "but faith and belief and hope, which we all understand on some level."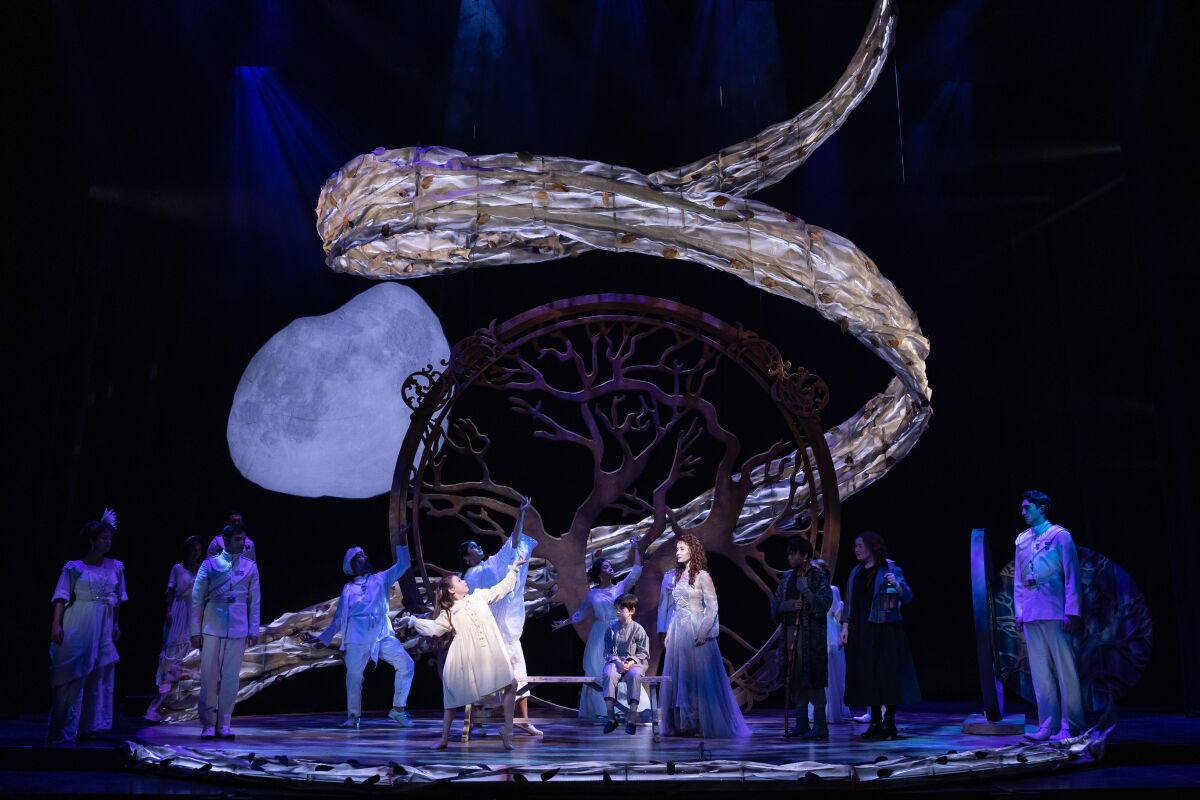 Additionally, music supervisor Rob Berman ensured that the new "Secret Garden" is more mindful of the score's inclusion of Indian, folk and Celtic music. And a total of 20 minutes of material has been trimmed because "19 minutes of that were transitions, like scenic changes where you wait for things to come on or playoffs of a character," Carlyle says.
Instead of echoing Heidi Landesman's Tony-winning, paper toy-inspired scenic design, the Ahmanson houses a decidedly open and impressionistic set, anchored by abstract elements like an oversize, cylindrical structure. Sometimes, it resembles the manor's grand staircase or the garden's dead vine; other times, it acts as a canvas for lightning or sunbeams.
"This story, with how delicate the characters are and how quiet it can be at times, doesn't sort of beg for your attention the way many other musicals do, and Warren and I felt that rendering its locations naturalistically would just bog it down," says scenic designer Jason Sherwood.
"It's called 'The Secret Garden,' so it needs to have a certain beauty to it. But I think we've approached it in a way that feels less about the vanity of scenery and more about the very specific nature of what this young girl and her new family are going through."
The emotional journeys of young Mary (Emily Jewel Hoder) and her uncle Archibald (Derrick Davis) are why many theaters continue to revisit and refine this piece throughout the past 30-plus years. Its songs — ranging from plucky, charming encouragements to lush yet sorrowful expressions — are often performed amid the "ghosts" of the characters who've passed away and now watch over their living loved ones.
In particular, Sierra Boggess, who plays Archibald's late wife, Lily, "has very few words in the play, and yet she's appearing in 10 or 15 more scenes than Lily has ever been in," Carlyle says. "Ninety percent of what you see Sierra do onstage is not in the script, but I want to maintain her presence in the story, like the way Archie has never stopped missing her for 10 years."
Since the passing of composer Simon last October, alterations have been okayed by her daughter and estate representative Julie Simon. "Julie has been very present in this process," Carlyle says. "She was with us in casting and rehearsals, and she's been at every single preview. She's very eager to make something that can be for this generation and forwards."
For the record:
10:03 a.m. Feb. 27, 2023A previous version of this newsletter said that Indian characters in the original Broadway production of "The Secret Garden" were played by white actors. They were not of Indian descent.
Upon wrapping this L.A. engagement, Carlyle and the producers hope to bring this "Secret Garden" to Broadway, where the piece's Indian characters were originated by actors not of Indian descent. A new cast recording, complete with the improved Hindi lyrics, is also part of the plan, as the original has an actor "singing gibberish, and it's wrong," Vaidya laments.
"Hopefully we can preserve what we've done for other theaters who are interested in putting on the show," he continues. "They'll have something to look to, that they can even imitate, that speaks to the language and the characters in a way that feels more authentic."
On and off the stage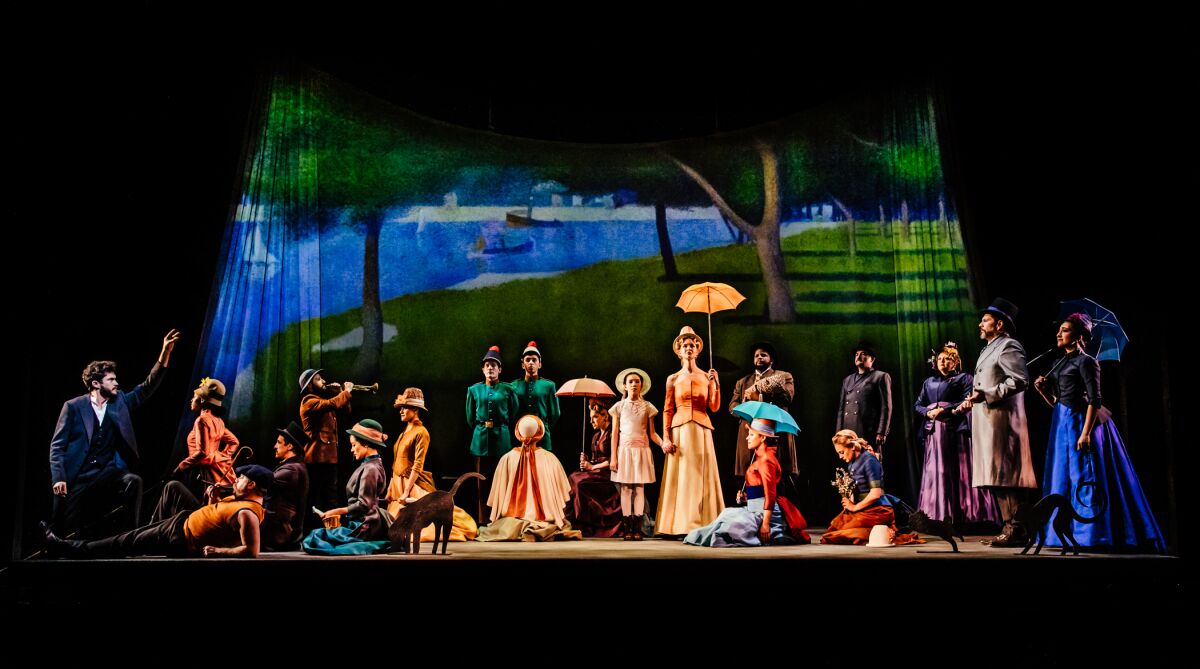 Theater critic Charles McNulty reviewed a revival of "Sunday in the Park With George" at the Pasadena Playhouse, which is in the midst of a six-month-long celebration of the late Stephen Sondheim. McNulty calls the production "majestic" and "sumptuous," and salutes the design team as much as its onstage performers and the members of its full orchestra: "This musical meditation on the mad, miraculous quest of a visionary artist is brought to life with stunning visual ingenuity."
And 6-year-old Henri Boo Biller, daughter of arts writer Jessica Gelt, reviewed "Bluey's Big Play" for the paper. I hope producers read it and heed the young critic's plea: If your show has balloons and bubbles, make sure every single seat in your venues gets showered with them.
Additionally, I reported on the announcement of the 2023-24 season of Hollywood's Pantages Theatre: "MJ," "The Wiz," "Chicago," "Girl From the North Country," "Mrs. Doubtfire" and "Company." The lineup also includes a new production of "Peter Pan," with an updated book by L.A. playwright Larissa FastHorse that revises the classic show's long-criticized depiction of Native Americans.
In the galleries and at the art fairs
In light of the numerous GOP-led state legislatures that are currently angling to restrict or even criminalize drag shows, art critic Christopher Knight penned a commentary piece that analyzes the aesthetics of drag in order to identify what it is about the art form that "drives the bigots mad," as he puts it.
"Sometimes mistakenly derided as making fun of women, drag is in reality a joke on straight men. Beneath all the face paint, padding, duct tape and wigs, weaponization of caricature, sarcasm and ridicule is elemental," he writes. "Drag is satire. Its nucleus is a magnificent burlesque of heterosexual male desire."
Knight also reviewed "Bridget Riley Drawings: From the Artist's Studio" at the UCLA Hammer Museum, which features 24 little-seen figurative and landscape works in pencil, crayon, oil and pastel from the 1940s and '50s, plus 65 mostly geometric abstractions from 1961 and after, for which she is today well known. Knight called it "engrossing" and "a show not to miss."
Arts writer Deborah Vankin interviewed digital artist Refik Anadol, who recently opened his first major solo gallery exhibition in L.A. The show features hypnotic, AI-generated "living paintings," which transform publicly available data and images into vibrant, abstract digital works swirling and whooshing within their frames.
Enjoying this newsletter? Consider subscribing to the Los Angeles Times
Your support helps us deliver the news that matters most. Become a subscriber.
"For a show that's heavily tech-driven, the exhibition feels counterintuitively organic, collectively depicting AI reinterpretations of California's natural environments," Vankin writes. The conversation covers Anadol's unique artmaking process, his experience creating a piece for the Grammys stage, and his response to those who worry that AI art technology will devalue artists' livelihoods.
And arts writer Steven Vargas was on the scene at last week's Frieze Los Angeles protest that called attention to the death of Black people at traffic stops. The demonstration was held at Santa Monica Airport, just minutes from where Keenan Anderson died after L.A. police officers repeatedly stunned him with a Taser.
"This performance disruption is about making them pay attention to what's happening around them outside of the expensive gallery walls," said Patrisse Cullors, an artist and co-founder of Black Lives Matter. She said she was motivated by Frieze's lack of response to its proximity — physically and temporally — to Anderson's death: "If they were paying attention, they would have said something."
Classical notes
Classical music critic Mark Swed took in "The Romance of the Rose" in its world premiere at the Long Beach Opera. Swed wrote that composer Kate Soper's "ending point, in her own brilliantly literary libretto set to her brilliantly head-spinning mix of musical elements, is a flabbergasting commentary about a protagonist who falls head-over-heels in love with a rose." He deemed it a double operatic triumph for both Soper and LBO, the latter recently plagued by troubling allegations: "LBO is back, not only reinventing opera but also itself."
UCLA Herb Alpert School of Music is debuting a series of events titled Music and Justice at Royce Hall in Westwood, which kicks off with a free concert on Sunday afternoon. The program includes works by contemporary composers addressing social justice and includes a performance of the landmark 1969 cantata "The Gates of Justice" by Dave Brubeck, plus world premieres for Diane White-Clayton and Arturo O'Farrill. RSVP details and more are in reporter Steven Vargas' latest L.A. Goes Out newsletter, which features the best-of everything arts-related to do each week.
Moves
The Los Angeles Drama Critics Circle announced the nominees for its annual awards, as well as a few special awards honorees. That includes the Ted Schmitt award for the world premiere of an outstanding new play, which is being presented to both Dave Harris' "Tambo & Bones" and Christine Quintana's "Clean/Espejos."
The Orange County Theatre Guild also announced nominees for its annual honors, led by Chance Theater's "Green Day's American Idiot," the Wayward Artist's "The Toxic Avenger" and Costa Mesa Playhouse's "The Whale." The ceremony will be held at the Segerstrom Center's Samueli Theater on April 17.
The Berkeley Art Museum and Pacific Film Archive has added to its curatorial team. Margot Norton joins the museum as chief curator, and Victoria Sung and Anthony Graham join as senior curators.
In other news
The first performance of Broadway's "Parade" revival was plagued by "neo-Nazi protesters … bothering some of our patrons on their way in and saying antisemitic things about Leo Frank, who the show is about," said star Ben Platt. The show's composer-lyricist Jason Robert Brown wrote a lengthy response: "The Conversation was brought right to the stage door last night. That's where we are now."
Remember that Jeff Koons sculpture that was shattered in Miami? People are now hoping to purchase its shards. "I find value in it even when it's broken," said artist and collector Stephen Gamson. "To me, it's the story. It makes the art even more interesting."
And on that fake "Captain America" musical that briefly appeared in the Disney+ series "Hawkeye" and reenacted Marvel fight scenes: It's becoming a stage show debuting at Disney's California Adventure Park in Anaheim this summer.
As always, Matt Cooper has arts events galore in his roundup of cultural offerings this weekend in Los Angeles.
And last but not least ...
Lizzo has joined the chorus of those cementing "Angela Bassett did the thing" as pop culture canon. Thank you, Ariana DeBose!
Get our L.A. Goes Out newsletter, with the week's best events, to help you explore and experience our city.
You may occasionally receive promotional content from the Los Angeles Times.