UNREPD gallery hopes bringing marginalized artists to Grand Ave. will 'make people feel seen'
I've had Basquiat on the brain lately while reporting this story about an exhibition the late artist's sisters brought to L.A. — it opened last week at the Frank Gehry-designed the Grand LA, downtown. Now, another exhibition opens there tonight.
Hi, I'm arts writer Deborah Vankin, filling in for Carolina A. Miranda this week.
Giving visibility to marginalized artists
In touring the Basquiat show, I also got a chance to tour the Grand LA — albeit in the rain and with a bad cold. But I digress. I'd been curious about the new mixed-use compound, from Related Companies, for a while. The residential and hotel towers there, directly across the street from Walt Disney Concert Hall, have been open since July 2022. But the gallery spaces around the public plaza — for retail, restaurants and events — had been vacant until the Basquiat show moved into four of them.
Filling another of the plaza galleries, "Elevation: Abstract Meditations on Iconic Black Discipline" opens Saturday night. The show — presented by UNREPD gallery — is L.A. artist Edwin Marcelin's debut solo exhibition. The gallery is based on Western Avenue in East Hollywood, but it's kicking off a nine-month residency at the Grand LA, during which time it will swap out exhibitions every two months or so, presenting four shows in all, while still showing art at its flagship gallery.
I ran into gallery co-owners Sarah Mantilla Griffin and Tricia Benitez Beanum at the opening of the Basquiat show. As DJ Peanut Butter Wolf got the party going and guests, including LL Cool J, sipped cocktails with Basquiat "King Pleasure"-etched ice cubes floating in their drinks, Mantilla Griffin, Benitez Beanum and I slipped away for a few minutes for a sneak peek of the Marcelin exhibition, which was still being installed in the gallery at the time.
Fifteen of Marcelin's large-scale oil paintings will be on view in the exhibition. They are, at first glance, bold geometric abstracts. But take a step back and they're figurative action scenes featuring basketball players. They foreground an iconic player who's sometimes referred to as Black Jesus. The artist prefers not to name the player so that visitors remain "in the experience of the paintings," Benitez Beanum says, and come to their own conclusions.
The show, Mantilla Griffin says, "is about the making of a Black icon and what it means to be a Black person who could become iconic. And using abstraction as a tool to really think that through."
"It's really a thesis on Black excellence and taking the body out of it," Benitez Beanum adds.
The works — all created in the last year — are paired with a video installation the artist made more than 20 years ago, "The Only N— in the Room" (2001). The gallery describes it as an interactive self-portrait — the video skips several frames each time someone enters the room. It's meant to make viewers aware of how they may be affecting others in the gallery space.
"There's a specific experience of being the only Black person, or person of color, in an all-white space," Mantilla Griffin says. "Whether that's the art world or the corporate world or any number of spaces, there's something that happens bodily in that situation."
Mantilla Griffin and Benitez Beanum met on Instagram in 2019 and marveled at their similarities: Both were Ivy League-educated Angelenos of Puerto Rican descent. Both were moms — and of sons named Miles. Both were creative-minded entrepreneurs, Mantilla Griffin, owner of the private art consultancy firm Art House Market, and Benitez Beanum, owner of the East Hollywood vintage designer interiors showroom Pop Up Home.
They launched UNREPD in the Pop Up Home space in summer 2020. The art is mixed in with the furniture and décor for sale at the store. The mission, as the gallery's name suggests: to give visibility to marginalized emerging and mid-career artists. The gallery features artists of color as well as women artists and LGBTQIA+ artists.
"We believed that there were so many artists doing incredible work that deserved to be seen and just didn't have a platform," Mantilla Griffin says.
The location of the UNREPD residency is key, the owners say. "From the beginning we said we wanted to find and promote museum quality artists who just hadn't been seen," Mantilla Griffin says. "So being on museum row is huge, but also being part of the Grand, being part of a Frank Gehry-designed project, being across the courtyard from Basquiat — one of the most important Black artists of all time — it really validates our mission."
Next up: UNREPD will present solo exhibitions by mixed-media artist and glass blower Corey Pemberton and painter-muralist Moncho 1929 (a.k.a. Dan Monteavaro), both L.A.-based. It will also exhibit Brooklyn-based mixed-media artist and sculptor Valincy-Jean Patelli.
Mantilla Griffin says she hopes all four exhibitions spark dialogue.
"I hope they make people feel seen and that they bring curiosity," she says. "I hope they leave people wanting to know more about emerging art."
Your essential guide to the arts in L.A.
Get Carolina A. Miranda's weekly newsletter for what's happening, plus openings, critics' picks and more.
You may occasionally receive promotional content from the Los Angeles Times.
Visual art
A new public mural on the side of an Altadena coffee shop is stirring controversy, reports the Times' Grace Toohey. The work, by artist Cleon Peterson and which went up in February at Unincorporated Coffee Roasters, is part of a rotating mural project. The artist intended the image to spark healthy conversation. But several neighbors are outraged and want the mural removed. "They say the violent image of broad-shouldered figures engaged in conflict, some using weapons, is triggering and offensive — especially for an area that for decades dealt with dangerous gang wars and violence," Toohey writes.
The celebratory joint acquisition by L.A.'s J. Paul Getty Museum and London's National Portrait Gallery of Sir Joshua Reynolds' 18th century "Portrait of Mai (Omai)," isn't actually a sure thing, Times art critic Christopher Knight points out. The painting, many scholars say, is the artist's greatest. But the acquisition, Knight writes, looks more like "a last-ditch fundraising pitch."
Eva Recinos spoke with Gajin Fujita about his new exhibition, "True Colors," at L.A. Louver gallery. The works in the show, the artist says, are "a pictorial diary of the pandemic in isolation."
Take a tour of Jean-Michel Basquiat's favorite L.A. haunts — from Venice Beach to Mullholland Drive.
Classical notes
Story ballet is bigger than ever, says Times classical music critic Mark Swed. "Like Water for Chocolate," a co-production between the Royal Ballet and American Ballet Theatre, had its U.S. premiere last week at Costa Mesa's Segerstrom Center for the Arts. The production, from choreographer Christopher Wheeldon and composer Joby Talbot, is likely one of the most elaborate the company has ever staged in its 84 years, Swed says.
"The dancing bedazzles. The choreography is full of spectacle, and the production is effects-rich," Swed writes. "The familiar narrative from Mexican novelist Laura Esquivel's 1989 bestseller and the 1992 film serves up sentiment without embarrassment. Talbot's orchestral score tells you how to feel and suggests movement possibilities for the dancers. The sheer scale of theatrical engineering is astonishing."
Swed also reviews the Brad Lubman-conducted L.A. Phil New Music Group, which dedicated a Green Umbrella concert to Steve Reich at Walt Disney Concert Hall last week. His conclusion: "Steve Reich's music always, and often spectacularly so, knows where it's going."
L.A. Metro, together with law enforcement, has been blasting classical music and using floodlights at the Westlake/MacArthur Park Metro station as a way to drive away unhoused people who seek refuge there, reports The Times' Jessica Gelt, who took a decibel meter to the station to measure how loud the music was playing. It's all part of a pilot program, aiming to reduce crime, that's been in place since January. "But the use of music is divisive," Gelt writes, "with online commentators calling it an inhumane torture tactic. Critics also argue that it does nothing to address the root causes of the problems plaguing the station."
On the stage
The best theater in L.A. right now? It's in Pasadena, says Times critic Charles McNulty.
"These are tough times for artistic directors of nonprofit theaters, which are struggling to rebound after the pandemic. Venerable performing arts venues, bereft of purpose and patrons, are in danger of becoming ghost malls," McNulty writes.
But with one notable exception: "Against seemingly impossible odds," McNulty says, Producing Artistic Director Danny Feldman "has revitalized Pasadena Playhouse, which is finally living up to its official designation as the state theater of California."
McNulty also reviews the revival of "Kiss of the Spider Woman" at A Noise Within in — yes, you guessed it — Pasadena. The production "doesn't shoot many sparks early on," he writes. "But the production, directed by Michael Michetti, builds in potency, ultimately ensnaring its audience in the time-tested tale."
And among the week's must-reads — and must-views — is McNulty's conversation with Trump nemesis Randy Rainbow, who released the video "Grumpy Trumpy Felon From Jamaica in Queens!"
"Conducting another of his faux interviews with the 45th president," McNulty writes, "Rainbow retorts that he'd rather go skiing with Gwyneth Paltrow when Trump asks for his endorsement." Like we said: must read/watch.
Dance
Elaborate dance scenes on screen are more visible than ever — think Season 1 of "Euphoria" and the films "La La Land" and "Don't Worry Darling." But the choreographers who bring these scenes to life aren't getting their due, reports The Times' Steven Vargas. The recently formed Choreographers Guild is addressing that.
"The goal of the guild," Vargas writes, "is to represent choreographers, assistant choreographers, associate choreographers and movement coaches working in music videos, film, television, tours, commercials and social media."
Enjoying this newsletter? Consider subscribing to the Los Angeles Times
Your support helps us deliver the news that matters most. Become a subscriber.
Art on screen
The PBS series "Art21" debuted its 11th season Friday night. But my colleague Carolina A. Miranda got a sneak peek of the new season long before that and has this to say: "The first episode features a crew of favorites, including painter Amy Sherald, who painted Michelle Obama's portrait, as well as Rose B. Simpson, Daniel Lind-Ramos and Alex Da Corte — all talking about the subtleties of process, materials and ideas. I've always appreciated the fact that 'Art21' is blessedly free of talking heads, simply observing artists as works come together in their studios. In SoCal, find the program on affiliate station KOCE. For more information, peep their website at art21.org." Here's a teaser.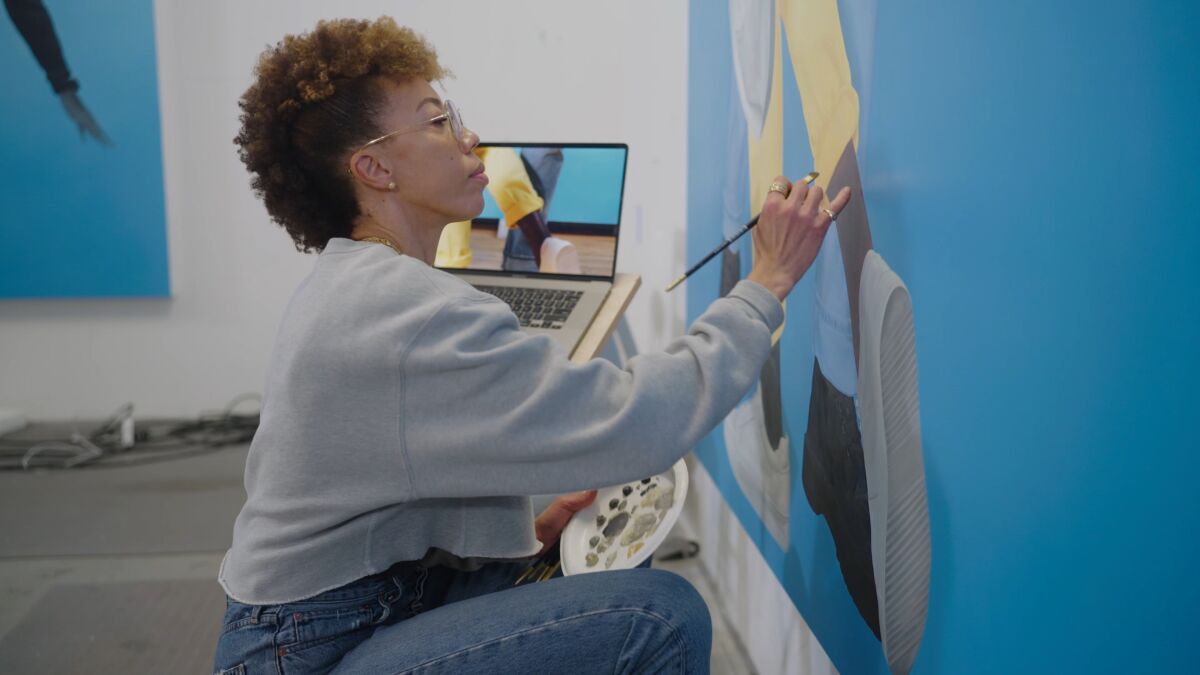 Essential happenings
Matt Cooper has mapped out your holiday weekend, with information on a gender-bending staging of the musical "1776" at the Ahmanson, the TCM Classic Film Festival and, of course, zombies! Specifically: "Zombie Joe's F—Up Easter Egg Hunt." And more.
And nothing says Easter like John Waters' "Pink Flamingos" at the Madonna Inn. Don't even attempt to navigate the holiday weekend without Steven Vargas' L.A. Goes Out, which also includes info on a live reading of the 2009 cult classic "Jennifer's Body," presented by the Wallis Annenberg Center for the Performing Arts and Film Independent.
Passages
Davood Roostaei, an Iranian American artist based in L.A., passed away in mid-March. He was 63. The artist spent two years imprisoned in Iran in the early '80s for creating "subversive" art. He later went on to create a painting technique he called Cryptorealism, which he described as "an expression of hidden meaning revealed through layered imagery, which requires active participation by the observer."
Leonard Abrams was only 24 years old when he started the legendary East Village Eye in 1979, covering downtown New York's culture scene. The pioneering editor and publisher died earlier this month. He had recently announced, in February, that the publication's complete archives — every issue from 1979 to 1987 — would go to the New York Public Library.
Architect and environmentalist Elsa Leviseur, who taught architecture and landscape design at UCLA and SCI-ARC, died March 23. Leviseur — at one time married to former longtime L.A. Philharmonic leader Ernest Fleischmann — also created and taught the graduate course "art in the environment" at Manchester Metropolitan University in the U.K.
Moves
The Mike Kelley Foundation for the Arts announced the recipients of its 2023 Organizational Support Grants. The 16 L.A. grantees include five first-timers. Collectively, the organizations will receive a total of $400,000 to address "pressing needs."
"The 2023 grantees reflect the Mike Kelley Foundation for the Arts' core values of risk taking and provocation in the arts, and each one has managed to do their critical work in the face of tremendous challenges," foundation Executive Director Mary Clare Stevens said in the announcement. Read the full list of grantees here.
The 2023 Windham-Campbell Prizes at Yale University — for literary achievement across fiction, nonfiction, poetry and drama — awarded eight recipients $175,000 each this week, $1.4 million in all. Two of the recipients are L.A.-based: author and 2021 Pulitzer Prize finalist Percival Everett, along with playwright and 2018 MacArthur fellow Dominique Morisseau.
The 2023 Guggenheim fellows were announced this week. And among the 171 scientists, writers, scholars and artists being honored, several are based in L.A. They include writer and former Los Angeles Times critic Héctor Tobar, dramatist Kristina Wong, filmmakers Martine Syms and Maris Curran and artist Madison Brookshire. The 171 fellows, who range in age from 31 to 85, were chosen "on the basis of prior achievement and exceptional promise." Here's the full list of honorees.
College students, listen up: The L.A. County Arts Internship Program — for paid positions — is now taking applications. The program is the largest paid summer arts internship in the country, placing 228 students from universities and community colleges at more than 150 arts nonprofits. Apply here.
And last but not least ...
A few ideas for your Spring holiday feast. Happy Easter, Passover and Ramadan, everyone.
Get our L.A. Goes Out newsletter, with the week's best events, to help you explore and experience our city.
You may occasionally receive promotional content from the Los Angeles Times.