L.A. Phil's 2023-24 season lineup celebrates the 20th anniversary of Walt Disney Concert Hall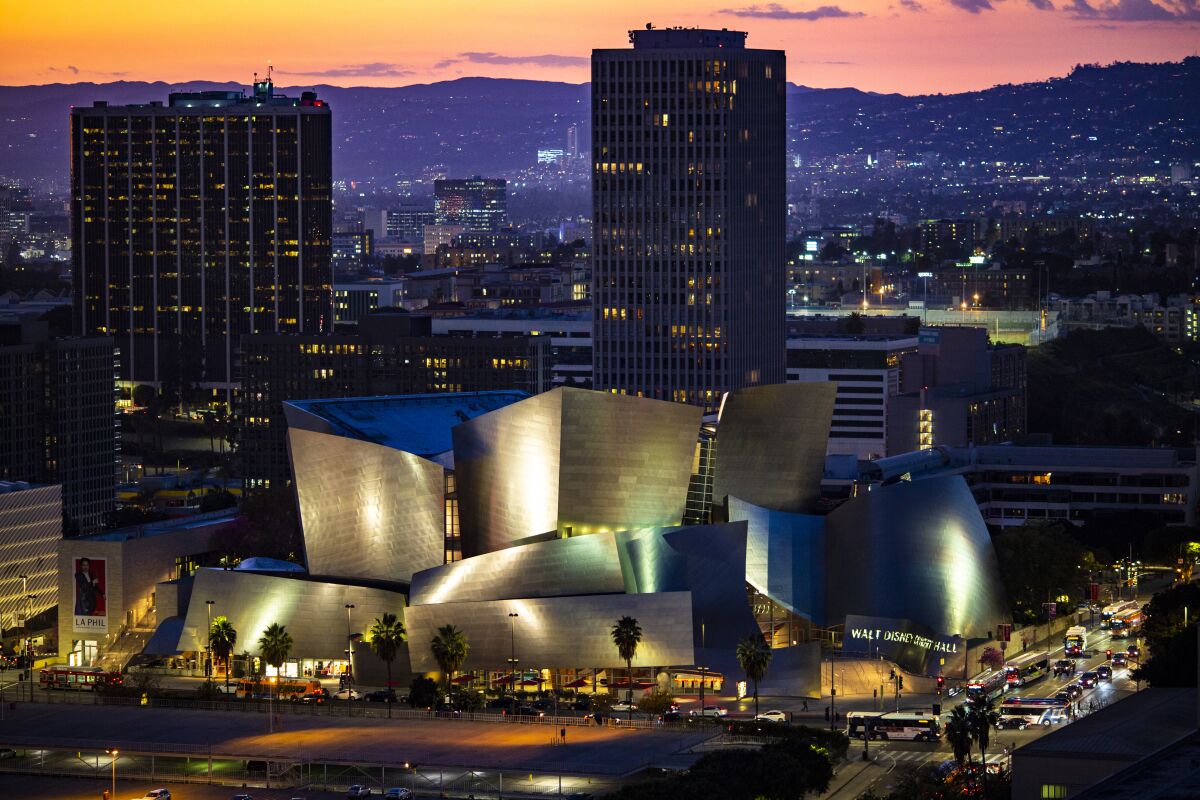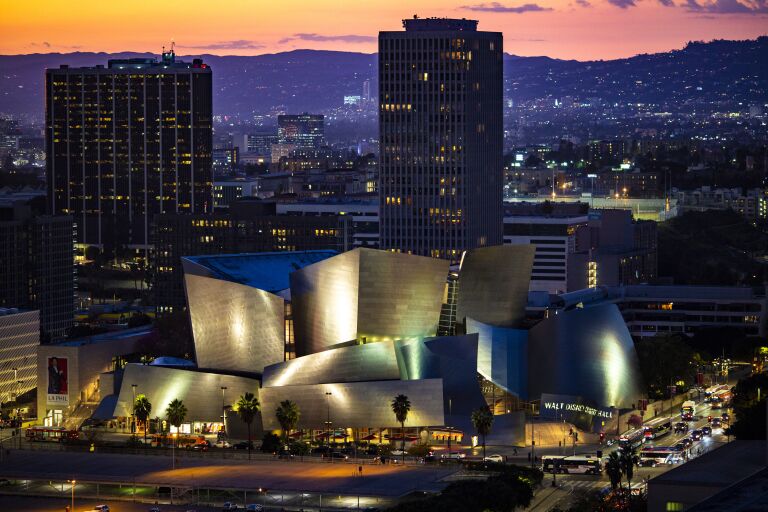 Walt Disney Concert Hall, the Frank Gehry-designed home of the Los Angeles Philharmonic, celebrates its 20th anniversary this year with a 2023-24 season that will pay tribute to the hall and its architect, the orchestra is expected to announce Tuesday — on Gehry's 94th birthday.
This fall's Disney Hall lineup will call back to Oct. 24, 2003, when a Times article titled "Disney Hall opens to fanfare" began: "With a parade of stretch limos and the sort of celebrity buzz that Los Angeles usually reserves for Oscar night, a black-tie crowd of the powerful and socially prominent threw a Thursday night coming-out party for the city's most highly anticipated debutante in decades: the new Walt Disney Concert Hall."
The $274-million edifice will once again be the belle of the ball with a 20th anniversary season dedicated to its acoustic charms and the man who made it possible. An early-October gala for Gehry will help kick off a season that includes the statewide California Festival featuring more than 50 partnering institutions; a two-year tribute to the film music of John Williams; the continuation of Gustavo Dudamel's Pan-American Music Initiative; a revival of the critically lauded "Fidelio" opera in collaboration with Deaf West Theatre; more than 12 world premieres of L.A. Phil commissions; guest conductors including Michael Tilson Thomas, Esa-Pekka Salonen, Zubin Mehta and Simone Young; and guest artists including Yuja Wang, Yo-Yo Ma, Itzhak Perlman, Marisa Monte and Herbie Hancock.
The season announcement comes after the Feb. 7 news that Dudamel intends to leave his post as music and artistic director of the L.A. Phil to conduct the New York Philharmonic at the conclusion of his contract in 2026. The headlines landed with hard edges on L.A. fans who had come to assume their hometown hero would never desert them. Nonetheless, L.A. Phil Chief Executive Chad Smith said, three years is a long time, and the love that Angelenos feel for Dudamel is being reciprocated through the programming announced Tuesday.
The way the news ricocheted around the world underscores the work that Dudamel has done to capture the imagination of audiences in classical circles and beyond.
"So we think this next season continues that commitment to being the orchestra at the bleeding edge of what a relevant, progressive creative arts institution can and should be," Smith said.
Dudamel's Pan-American Music Initiative is certainly part of that, and this third season will be curated by Mexican composer Gabriela Ortiz with a focus on Latina feminism and art as cultural protest. Programming will be featured in the California Festival, including the world premiere of Ortiz's "Revolución diamantina," conducted by Dudamel.
The California Festival was designed to strengthen the L.A. Phil's partnerships with arts organizations across the state in an effort to better understand the new music and trends that are driving conversation in classical music, Smith said.
"We're going to be able to look at all of that contemporary work that these organizations put forth in these two weeks and say, 'OK, what does this say about the state of music in our world today? What are the themes that we see?'" Smith said, adding that the full picture will be much more powerful than if the L.A. Phil curated the festival itself around a single theme.
Diversity in programming and in the audiences that the programming reaches remains the goal in this new season, Smith said.
"The L.A. Phil is a service organization," Smith said. "And we provide opportunities for our audiences to hear great music, in a great space with the greatest musicians — and we do it in a way that provides the warmest possible welcome. That is how we continue to celebrate the city and serve the communities of L.A."
A sampling of highlights from the 2023-24 season:
Japanese Breakfast
Ichiko Aoba
Sept. 28
Natalie Merchant
Sept. 30
L.A. Phil Gala: Celebrating Frank Gehry
Oct. 5
Stravinsky and Shostakovich with Dudamel and Sheku Kanneh-Mason
Oct. 6-8
Halloween Organ, Film & Music: "The Phantom of the Opera"
Oct. 31
John Williams Spotlight: "E.T. the Extra-Terrestrial" in Concert
Nov. 2-3
Dudamel Leads Khachaturian plus the U.S. premiere of Thomas Adès' "Tower for Frank Gehry"
Nov. 4-5
California Festival: A Celebration of New Music
Nov. 9-19
Zubin Mehta Conducts Mahler 1
Dec. 7-10
"Home Alone" in Concert
Dec. 20-22
Dudamel Leads "Das Rheingold" with scenic design by Gehry
Jan. 18-21, 2024
Mälkki Conducts Brahms
Feb. 23-25, 2024
Leila Josefowicz
Feb. 28, 2024
John Adams' "City Noir"
March 22-24, 2024
Michael Tilson Thomas Leads Tchaikovsky
March 28-30, 2024
Yo-Yo Ma
April 3, 2024
Pan-American New Music
April 30, 2024
Dudamel Leads Mozart and Strauss
May 2-5, 2024
Dvorak and Ortiz with Dudamel
May 9-12, 2024
Yuja Wang
May 12, 2024
Beethoven's "Fidelio" with Dudamel and Deaf West Theatre
May 16-17, 2024
Dudamel Conducts "Harry Potter"
May 18-19, 2024
For the full season lineup, go to: laphil.com.
Get our L.A. Goes Out newsletter, with the week's best events, to help you explore and experience our city.
You may occasionally receive promotional content from the Los Angeles Times.