Review: 'Treelogy' is a sublime, classical ode to California's redwoods, sequoias and Joshua trees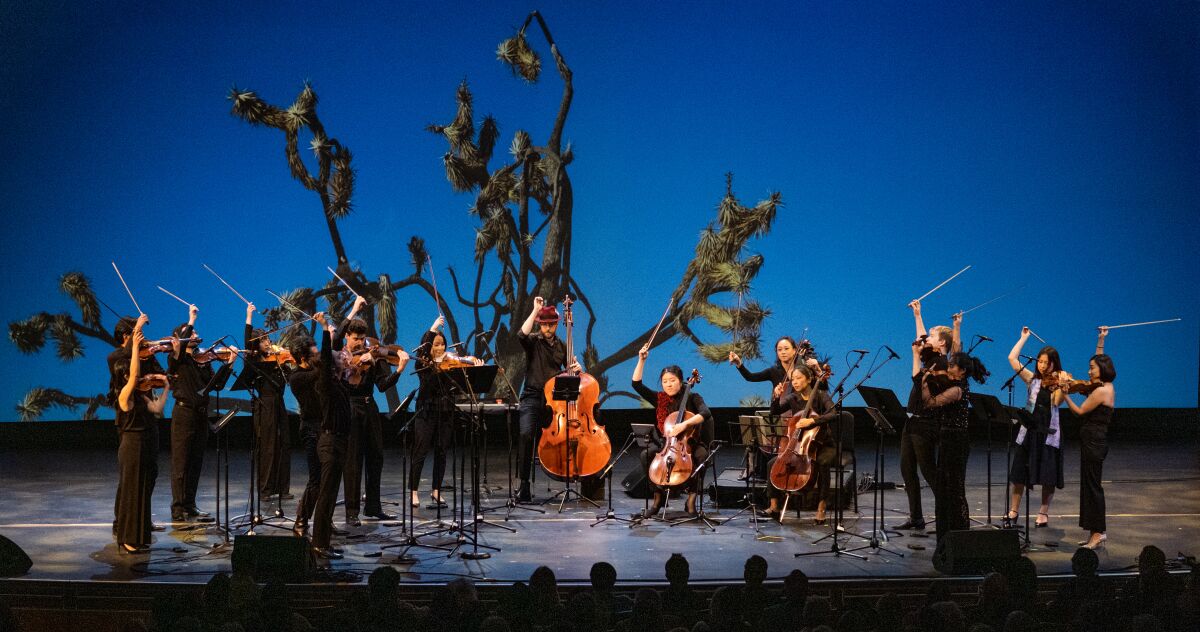 Ask not what trees can do for music. That's much too obvious. Trees have made music, as pretty much most of the world knows it, possible. We bless them for having given us so many of our instruments and listening spaces. Would we have recorded music were it not for the wood that made loudspeaker cabinets?
"Treelogy: A Musical Portrait of California's Redwood, Sequoia and Joshua Trees" features three new "tree" pieces by composers from California. Given their first performances at the Soraya on Thursday night, the works ask, instead, what music can do for trees. They arrive at a crucial moment, as for the first time in their centuries-old lives, a great many of our state's enduring majestic residents face an existential threat from wildfires.
We've changed the climate. Now what? Can three splendid pieces of music, inspired by trees, save our state? Of course not. But the real value of "Treelogy" is subliminal. Trees inspire art. Art serves to enhance awareness. Awareness saves the day.
Trees have always been welcome in classical music. No trees means no leafy springtime branches to start off Vivaldi's eternal "The Four Seasons." Opera without trees as settings is unthinkable. In order to transform a mythological nymph into a tree, Richard Strauss ended his opera "Daphne" with a transcendental musical photosynthesis that mimics the mystical sensation of standing under a redwood. Want to become one with nature? Bond with a tree.
Strauss has a full opera to prepare you for this epiphany. Billy Childs, Gabriella Smith and Steven Mackey, each commissioned by the Soraya to write a 25-minute piece for the string ensemble Delirium Musicum, don't have anything like that opportunity. They didn't even get program notes, only two-minute Vimeo video introductions linked to a physical or digital one page program sheet.
The new scores were played in front of large projected photos of the trees by Max Whittaker, a New York Times freelancer. Otherwise, the pieces were left to speak for themselves. Had they been heard outside the "Treelogy" conceptual umbrella and with different titles, the scores wouldn't exactly scream trees.
But then again, we surround ourselves with the bounty of trees without thinking. And for a couple of hours, we thought trees. That's stayed with me long enough to feel new gratitude for the wooden desk on which I'm typing.
Childs' "My Roots Spread Far and Wide" easily makes the communication between his improvisational jazz trio and his more formal material for the virtuosic and versatile Delirium strings. Listening to it is as gratifying as tree roots reaching out to different plant species in the forest. The piece itself, though, gave the impression of what it felt like to be with a giant sequoia in its own environment. One thing doesn't necessarily have to lead to another in a freewheeling forest.
If the full ensemble's melodies and rich harmonies could be heard as the trunk, then Childs let the leaves fall where they might in his complex and surprising piano improvisations. Root-like, the other members of Childs' trio — Dan Chmielinski on bass and Christian Euman on drums — reached out in their solos, engaging in a contrapuntal sense with various Delirium players.
Gabriella Smith, who will have a major Los Angeles Philharmonic premiere in May, went to Joshua Tree National Park and recorded the sounds of the ecosystem in which the desert's namesake trees have long thrived. Her "Desert Ecology," in five sections, might be likened to 21st century Vivaldi. Like Vivaldi, she is a string player herself and fancies sound effects.
The middle movement, "Sofia," for instance, starts out sounding like a hipster driving too fast on Twentynine Palms Highway. There is a thump, thump, thump in the vibrant strings. A Vivaldi-esque pulse turns into something more in the vein of Michael Nyman doing a Minimalist take on Purcell. Smith uses microtonal runs to do what bushy Joshua trees do to the landscape, namely make it weird. It is as though desert winds and dry heat re-tuned violin strings.
Smith takes not only her trees seriously but also the sound of Delirium's strings. In her delirious desert landscape, she shares a joy of place and aural sensations. This exciting young ensemble is a step ahead, ready for anything. It has a new recording of Vivaldi's "Four Seasons" via Hans Richter and Philip Glass' "The American Seasons" coming out next month.
Steve Mackey's "Red Wood" takes root, so to speak, in the way trees pass life-giving materials underground to sustain the health of the forest. A double concerto for Mackey on electric guitar, violinist and Delirium leader Etienne Gara and strings, it also reflects on the equally impressive phenomenon of fairy rings, the name for the redwoods growing in circles that are sustained by the roots of fallen trees.
In a beautifully conceived score that flows with a kind of natural ease, the guitar electrifies acoustic strings while somehow sharing kinship. Whether or not one hears trees in this, and I didn't, is hardly the point. Mackey celebrates how trees make him feel and makes you want to feel that way too.
A project of California State University, Northridge, home of the Soraya, "Treelogy" travels to the Cal State campuses in Chico on Tuesday and Sonoma on Thursday. The project, though, needs, like our trees, a long life, beginning with a radio broadcast or live stream of one of the performances and then a studio recording. That's the least we can do for our trees.
Get our L.A. Goes Out newsletter, with the week's best events, to help you explore and experience our city.
You may occasionally receive promotional content from the Los Angeles Times.