Review: 'Classical Style' at Ojai Music Festival draws on wit, wisdom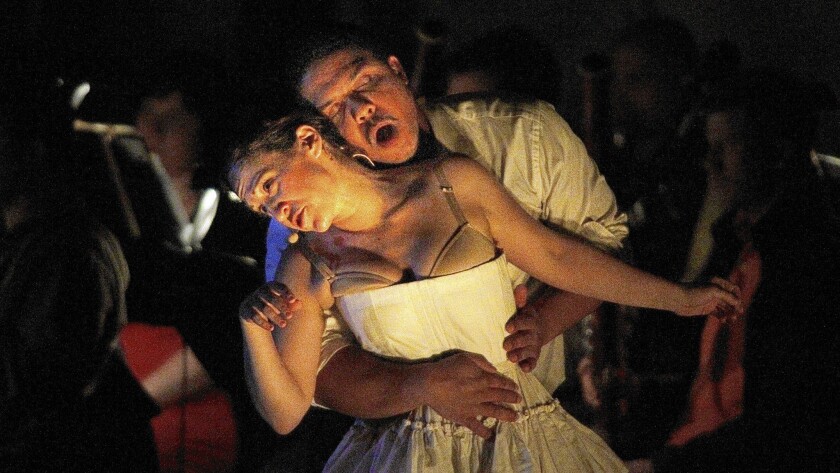 OJAI — Charles Rosen's "The Classical Style" is an illuminating, academic, occasionally combative, close study of the musical style of Mozart, Haydn and Beethoven by a brilliant pianist and scholar who died in 2012. Though a technical tome, it takes on big, universal issues and proved a surprise hit of 1971, winning a National Book Award and reaching a remarkably wide audience.
Rosen's 43-year-old book, never out of print, pulled a bigger surprise Friday as the subject for the first opera commissioned in the 68-year history of the Ojai Music Festival. The rules of musical form attempted a spectacularly absurd leap off the library shelf onto the lyric stage in the form of Steven Stucky's "The Classical Style: An Opera (of Sorts)."
The concept and comic libretto are by another brilliant pianist and writer, Jeremy Denk, this year's Ojai music director.
If this sounds like a somewhat ridiculous centerpiece for festival programming that revolved around issues of reinterpreting the Classical era (and will be reviewed further Tuesday), that of course was the point. The whole thing is so side-splitting that one rehearsal reportedly broke down when conductor Robert Spano had an uncontrollable laughing fit and had to be carried off the stage to recover.
He was entitled. "The Classical Style" is a mash-up of Glenn Gould at his most satirical, PDQ Bach at his sauciest and a distractedly erudite Rosen cooking up a French sauce while pontificating on harmonic structure in his kitchen. But underlying the jokes (good ones and the groaners) and tomfoolery, Stucky's resourceful score and Denk's droll text produce an ingeniously eloquent musing on the meaning of life.
On the surface, "The Classical Style" is a supercilious opera of sorts about death. It opens in heaven, with Haydn, Mozart and Beethoven playing Scrabble and squabbling like sitcom characters. They are dismayed by newspaper reports of the death of classical music and their own apparent irrelevance. They get wind of Rosen's book and go looking for him for advice.
The composers turn up at a bar, where they encounter Tonic, Dominant and Subdominant, personifications of musical chords, carrying on. Tonic, the home key, is a grand narcissist. Dominant, harmonically the closest key, is the needy one in the relationship, always dependent upon resolving on the tonic. Sultry Subdominant is the sexy harmonic diversion. Mozart makes a beeline to her.
We get witty harmony lessons. Sonata form, the most important organizing principle of 18th century music, is sung about at a musicology conference.
A sniveling PhD candidate in the music department at UC Berkeley, Henry Snibblesworth, stumbles into the opening scene of "Don Giovanni." His theorizing deflates the Don, who then loses his desire for Donna Anna and thus has no need to kill her father, the Commendatore. He, then, is stuck needing to figure out what to do with his life. Snibblesworth offers him a job at Cal, but the benefits aren't so attractive these days.
The "Tristan" chord, the unresolvable chord Wagner invented, walks into the bar, a sinister stranger dressed as a cockeyed Wotan. Music of the future, he warns, will require an uncertainty principle.
Rosen can't help. Haydn, Mozart and Beethoven return to heaven unfulfilled. Musical styles, we must accept, can mean something to us only if they function like living processes. But to live, styles must also die.
The opera ends with a visit by Robert Schumann to Rosen. A controversial thesis of Rosen's book is that Beethoven's visionary late music was not ahead of its time but rather the fulfillment of the Classical style, taking its implications to their ultimate conclusion. Schumann represented a new departure.
This is Stucky's first opera. In his two-decade association with the Los Angeles Philharmonic, he proved himself a consummate composer of instrumental music. He has a gift for lyricism, exquisite coloration and supple forms. He sometimes reflects on composers of the past.
All of that is characteristic of Stucky's score to "The Classical Style," but a good deal of the Stucky style here is necessarily a pastiche. He subtly interweaves quotes of Haydn, Mozart and Beethoven with made-up classical riffs and elements of Stucky's own music, adeptly moving us not only back and forth through history but also through reality and fantasy. There are musical jokes aplenty, some intended for a general audience, wonkier ones setting traps for Spano.
In the end Spano led a finely nuanced performance that featured the Knights, the orchestra from New York that is this year's resident band for the festival, and an excellent eight-member cast assuming 18 roles. Among them were Dominic Armstrong (Haydn and the bartender), Jennifer Zetlan (Mozart and Donna Anna), Ashraf Sewailam (Beethoven and the Commendatore), Aubrey Allicock (Tonic and Don Giovanni), Kim Josephson (Rosen and the Tristan Chord), Peabody Southwell (Subdominant and Schumann) and Keith Jameson (Snibblesworth). Making Mozart and Schumann pants roles sung by mezzo-sopranos proved a touching touch.
Unfortunately Mary Birnbaum's production at the Libbey Bowl, while engaging, made silliness an enduring priority. Melissa Trn's costumes had a Halloween flavor. Postmodernism was not invited to the party.
That allowed for little room to follow Denk and Stucky into the deeper regions that the opera unexpectedly reaches at the end. If Haydn, Mozart and Beethoven are inane in death, that is because they are dead. The profundity of "The Classical Style," on page and stage, is that we can, with historical hindsight, understand them in death,
But where does a new style come from?
Birth, not death, is music's — and hence life's — greater mystery. Schumann makes the final entrance, transforming Beethoven, a new life with Beethoven's DNA.
Like all births, there is something new in the room that wasn't there before. For Stucky and Denk, this is a fleeting instant of transcendence, namely a miracle.
Twitter: @markswed
---
The complete guide to home viewing
Get Screen Gab for weekly recommendations, analysis, interviews and irreverent discussion of the TV and streaming movies everyone's talking about.
You may occasionally receive promotional content from the Los Angeles Times.