Review: 'Marriage of Figaro' a wedding of many talents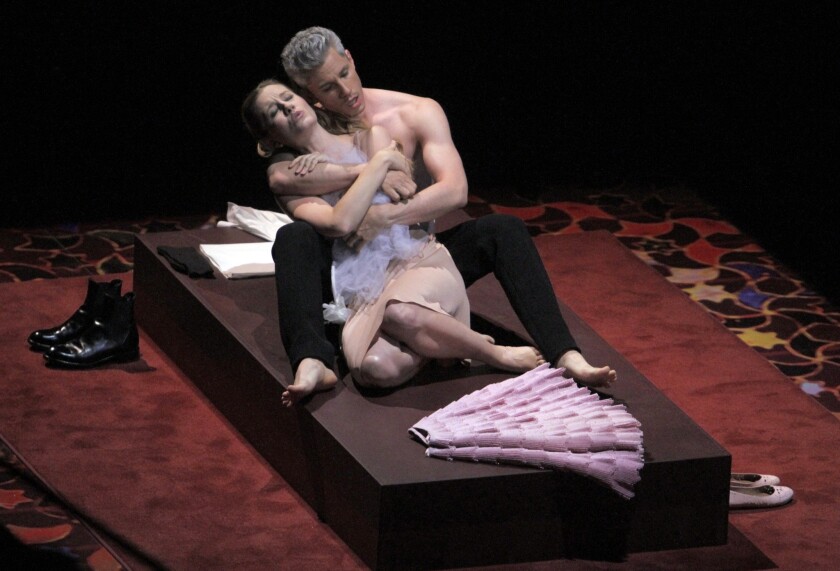 Malin Christensson as Susanna and Edwin Crossley-Mercer as Figaro in opening night of L.A. Philharmonic's production of the opera "Marriage of Figaro" at Walt Disney Concert Hall.
(Lawrence K. Ho, Los Angeles Times)
Gustavo Dudamel, left, conducts the L.A. Phil, with Edwin Crossley-Mercer as Figaro.
(Lawrence K. Ho, Los Angeles Times)
Malin Christensson as Susanna.
(Lawrence K. Ho, Los Angeles Times)
Dorothea Röschmann as Countess Almaviva.
(Lawrence K. Ho, Los Angeles Times)
Christopher Maltman as Count Almaviva and Dorothea Röschmann as Countess Almaviva.
(Lawrence K. Ho, Los Angeles Times)
Simone Osborne, left, as Barbarina and Rachel Frenkel as Cherubino.
(Lawrence K. Ho, Los Angeles Times)
Gustavo Dudamel conducts the L.A. Phil.
(Lawrence K. Ho, Los Angeles Times)
Gustavo Dudamel conducts the L.A. Phil and Edwin Crossley-Mercer, left, is Figaro.
(Lawrence K. Ho, Los Angeles Times)
Dorothea Röschmann, left, as Countess Almaviva and Rachel Frenkel as Cherubino.
(Lawrence K. Ho, Los Angeles Times)
Rachel Frenkel as Cherubino.
(Lawrence K. Ho, Los Angeles Times)
Gustavo Dudamel (conductor), left, Odile Gilbert (hair design), Azzedine Alaia (costume design) and Jean Nouvel (installations design) after the performance. [An earlier version of this post identified Jean Nouvel as Christopher Alden.]
(Lawrence K. Ho, Los Angeles Times)
Los Angeles Times Music Critic
Jean Nouvel, the French architect, is credited with creating "installations" for the Los Angeles Philharmonic production of Mozart's "The Marriage of Figaro," although "transformations" would be more accurate. Azzedine Alaïa designed the striking costumes. The result is a stunningly high style and wonderfully performed French "Figaro" that customized Walt Disney Concert Hall on Friday night in more ways than one.
But since when do the French have a problem with French fries?
The most noticeable thing upon entering Disney on Friday night was that Nouvel has audaciously covered up Gehry's signature sculptural organ pipes, nicknamed French fries.
Exploring new possibilities for a great space, Nouvel radically reimagined the Disney stage into a cathedral-like interior full of surfaces suitable for projecting images. For one of his own sculptural touches, France's leading architect gave his trees on stage the schematic shape of a Paris Métro map.
Alaïa's influence pervaded the hall as well. Women in the opening-night audience showed off outfits from the Paris atelier of the Tunisian-born couturier, and Alaïa went so unexpectedly far as to even supply several ladies in the orchestra with his gowns. The L.A. Phil has never looked so good.
The French connection was not inappropriate, "Figaro" having been based on a play by the 18th century French satirist, spy and rabble-rousing revolutionary Pierre-Augustin Beaumarchais.
But the production also fit into the larger scheme of Gustavo Dudamel's project of conducting Mozart's three late transcendent comic operas set to libretti by Lorenzo da Ponte in full Disney Hall productions. Each opera boasts sets and costumes by a famed architect and couturier from a different city, all directed by Christopher Alden. Rodarte joined Gehry for a fancifully tough production of "Don Giovanni" last year. Next season, Zaha Hadid and Hussein Chalayan will come from London for "Così fan Tutte."
As for "Figaro," it represented an entirely new approach from the "Don Giovanni." That had been performed around Gehry's gorgeous crumpled paper statuary but with the orchestra unsatisfyingly relegated to a platform behind the stage. This time, the ensemble was seated in a slightly sunken oval at the lip of the stage, affording Dudamel direct contact with the singers and allowing for much more orchestral immediacy.
The singers, then, were mostly in the back of the stage and the drama more distanced. But Alden's fluid production took advantage of that situation to create a large-scale choreography of disaffection, disillusionment and big-time alienation.
"Figaro" symbolizes class struggle through sexual intrigue and power struggles between the worlds of a magisterial Count who is regularly outsmarted by wily servants. In contemporary productions "Figaro" is often seen as a feminist opera. Susanna — the Countess' servant and the bride of the Count's servant, Figaro — is also the object of the Count's desire. She must become the wise guide of foolish men. The Count learns a lesson in the unstoppable force of democracy's onrush. The French Revolution was on its way.
That doesn't quite happen here. As Count and Countess, Christopher Maltman and Dorothea Röschmann are tremendous forces. Alaïa has Maltman in the first half wearing tight whites that only a powerful man could get away with, but Maltman is a magnetic baritone scarily uncowed. When outwitted, he still holds all the power, and he sang that way.
In two great arias, Mozart makes it easy for any competent soprano to portray the Countess as a sympathetic wronged woman. Röschmann went deeper. The great Countess of our time, she was here a formidable figure of magnificence. And she was clothed to look the part.
The Figaro and Susanna remained, for all their allure and cleverness, servants and oddly puzzling ones at that. Baritone Edwin Crossley-Mercer was a distant, angry, virile yet, as Alaïa dressed him, metrosexual Figaro. Malin Christensson's Susanna was unusually fragile, a little hot-house even. Her voice is small but attractive. She operated slightly and intriguingly under the radar.
Sexually, this felt sophisticatedly French, which meant it was no beginner's "Figaro." Mezzo-soprano Rachel Frenkel's freshly fervent Cherubino, the hormone-addled boy sung by a girl, presented enough context for a semester of cross-gender studies. Soprano Simone Osborne made the gardener's daughter Barbarina a defect of urbanity, casually pawed over by just about every passing male and all but shut down.
There are all the usual disguises, brilliantly helped by and brilliantly confused by Alaïa's designs. The humor, though, is rarely Mozart's or Da Ponte's. Alden has other surprises, and I won't give them away. But I will say that Dudamel isn't left out.
This is the Dudamel's first "Figaro." His "Don Giovanni" was slow and heavy. Here he is light and, much of the time, swift. He is sensitive to his singers and to Mozart's lyricism. The orchestra, particularly in the solo playing, was exquisite.
There is, in this "Figaro," layer after layer to uncover. Aaron Black's exceptional lighting designs provided the atmosphere. You couldn't miss Odile Gilbert's hair design The performance needed and got fine contributions from others in the versatile cast that included Ann Murray (Marcellina), the clarinet-playing William Ferguson (Don Basilio), Brandon Cedel (Antonio), John Irvin (Don Curzio) and the Los Angeles Master Chorale.
The L.A. Phil prides itself on taking on massive projects. Even so, it is hard to believe that so elaborate and original a production could have been put together in two weeks for only four performances that run through Saturday.
But if the orchestra would like to have this "Figaro" really remembered, then how about getting Alaïa to permanently transform the look of the L.A. Phil?
'The Marriage of Figaro'
Where: Walt Disney Concert Hall, downtown Los Angeles
When: 7:30 p.m. May 23 and 25
Tickets: $18 to $210
Information: (323) 850-2000 or https://www.laphil.com
Running time: 3 hours, 25 minutes
---
Inside the business of entertainment
The Wide Shot brings you news, analysis and insights on everything from streaming wars to production — and what it all means for the future.
You may occasionally receive promotional content from the Los Angeles Times.