Pioneering AIDS play 'Normal Heart' revived just in time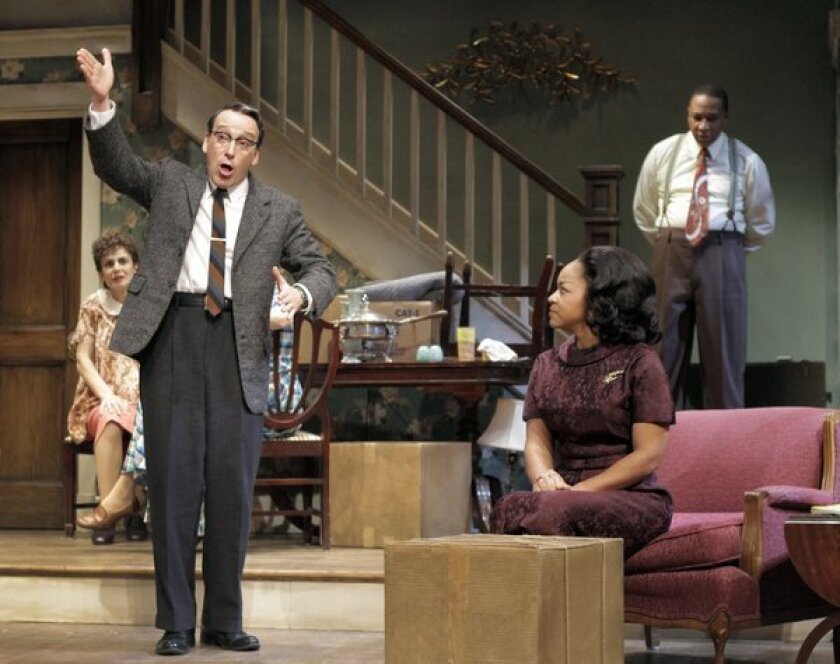 Bruce Norris constructed a provocative history of the house that the African American Younger family is heading to at the end of Lorraine Hansberry's "A Raisin in the Sun." An impeccable ensemble, under the direction of Pam MacKinnon, helped this Pulitzer Prize-winning drama capture the Tony Award for best play after the production went on to Broadway.
(Lawrence K. Ho / Los Angeles Times)
Mike Nichols' Tony-winning revival of Arthur Miller's classic was wobbly in spots, but Philip Seymour Hoffman's Willy and Andrew Garfield's Biff found the emotional combustion when it mattered most.
(Brigitte Lacombe for New York Magazine)
Sheer ecstasy for musical theater aficionados of a Sondheim bent. The side dishes alone (Elaine Paige singing "I'm Still Here," Jayne Houdyshell belting "Broadway Baby") are pièces de résistance by any showbiz standard.
(Glenn Koenig / Los Angeles Times)
Part of Tarell Alvin McCraney's acclaimed "Brother/Sister Plays," this still-running poetic drama introduces L.A. audiences to an adventurously lyrical talent in a production directed by Shirley Jo Finney that is a marvel of ensemble acting.
(Ed Krieger)
Anton Chekhov's first major dramatic offering was played more comically than usual in an insouciant production by Bart DeLorenzo that still somehow managed to zero in on the tragic pathos of a decent man who cannot make sense of a life that to others seems reprehensible.
(Odyssey Theatre)
Set in the 1970s, August Wilson's drama was brought to life in all its funky, recessionary, keep-on-trucking glory in a South Coast Rep production, directed by Ron OJ Parson and starring the dependably wonderful Charlie Robinson as the demandingly upright boss of a down-and-out Pittsburgh taxi depot.
(Henry DiRocco / SCR)
John Hurt's performance in this two-character piece (the aged Krapp and his recorded younger voice on tape) was a tour de force of Beckettian acting in which slapstick and poetry united to scale our common abyss.
(Anne Cusack / Los Angeles Times)
David Cromer's stark revival, starring Helen Hunt as the Stage Manager, wiped away the bittersweet sentimentality of Thornton Wilder's classic to expose the savage beauty lying beneath the years of accumulated theatrical clichés.
(Iris Schneider)
Alan Mandell and Barry McGovern made a Beckettian dream team in this reinvestigation of the absurdist classic incisively directed by Michael Arabian. It's been a long time since existential anguish felt so good.
(Craig Schwartz / Center Theatre Group)
In Pam MacKinnon's justly celebrated revival of Edward Albee's masterpiece, Tracy Letts (author of "August: Osage County" and a first-rate acting talent) and Amy Morton bandy the acerbic zingers with drunken relish but never at the expense of the play's realism.
(Michael Brosilow / Booth Theatre)
Actor Tim Cummings is quietly stripping on stage at Los Angeles' Fountain Theatre. Each item of clothing comes off with mounting dread.
Now Cummings, who plays writer-turned-AIDS activist Ned Weeks in Larry Kramer's pioneering play "The Normal Heart," stands in his underwear, somewhat bow-legged. He faces the mostly empty theater looking like an oversized, bearded boy, helpless, his buff arms hanging loose at his sides. He lays down on a steel gurney.
"Dr. Brookner, what's happening?" Cummings asks.
"I don't know," the doctor replies flatly.
CHEAT SHEET: Fall arts preview
The play takes its audience and cast back to 1981, when AIDS was an unnamed mystery virus infecting gay men in New York and the rest of the country mostly remained ignorant.
Lisa Pelikan, as wheelchair user Dr. Emma Brookner, peers down her patient's throat with a tongue depressor, then gently massages his glands.
Suddenly, Pelikan breaks character addressing a real doctor, a neuroscientist, sitting in the theater's front row with a script on her lap. Pelikan peppers her with questions: How do you properly hold a stethoscope? Which symptoms should she check first?
Director Simon Levy watches intently from the corner of the stage. "I'm a real stickler for verisimilitude," he says, addressing the presence of the neuroscientist. "This is the opening scene, so it's really important we get it right. The drama is in the details."
CRITICS' PICKS: What to watch, where to go, what to eat
The Fountain Theatre is taking this revival of "The Normal Heart," which runs through Nov. 3, particularly seriously.
Kramer's semi-autobiographical work is a touchstone of arts activism and was the first play to give voice to the AIDS crisis of the early '80s. It was named "one of the 100 greatest plays of the 20th century" by the Royal National Theatre of Great Britain in 2011.
"The Normal Heart's" world premiere, directed by Michael Lindsay-Hogg, took place at New York's Public Theater in 1985; a different production, directed by Arvin Brown and starring Richard Dreyfuss, played in Los Angeles later that year at the Las Palmas Theatre. A more recent Broadway production earned a Tony for best revival in 2011. But the play hasn't been staged in Los Angeles for more than 15 years.
The Fountain revival couldn't be more timely or, Levy says, more relevant.
PHOTOS: Arts and culture in pictures by The Times
"People have fallen asleep again — especially in the gay community," he says, settling into a folding chair in the theater's cafe. "Millions of people are dying from AIDS every year. But no one's talking about it anymore. We're all pretending that it's yesterday's illness."
Pelikan first came to know the play through her ex-husband, Bruce Davison, who co-starred opposite Dreyfuss in the 1985 L.A. production. She says it's the new generation of gay men, still in their 20s, that she's most concerned about.
"Even I didn't realize, until I started doing this play, how rampant the virus is right now and how young people don't realize there is no cure — there still is no cure," she says. "The understanding of what AIDS is, I find, is very casual among young people."
Set as it is in a micro-community of Manhattan between 1981 and 1984, "The Normal Heart" is a socio-political time capsule. But Levy cautions against labeling it a historical play.
For one thing, there's a timeless love story at the play's core. And its themes — not just the AIDS epidemic but issues of gay marriage, the healthcare system, the responsibility of the media — are universal.
PHOTOS: Best in theater for 2012
"If anything, this play is very much alive," Levy says. "It's full of passion and outrage and a lot of humor."
The Fountain's production of "Normal Heart" almost didn't happen. In late 2011, Levy had been looking to direct a new project. He was hoping for something political and romantic at once. For more than a year and a half, he re-read plays from his personal library, poured over new scripts, solicited commissions. Nothing grabbed him until last summer, while in Washington directing a reading at the Kennedy Center, he caught the Broadway production of "Normal Heart" on tour at the Arena Stage.
"I was sitting there and literally, 10 minutes into the play, I went: 'This is what I've been looking for!'" he says. "I was a mess by then end of the show — emotional, charged, outraged."
PHOTOS: LA Opera through the years
But when Levy tried to acquire the stage rights, he found out they weren't available. It wasn't until March of this year, after many phone calls from Levy to New York producer Daryl Roth, who manages the play's rights, that the director got the clearance to stage "Normal Heart" in Los Angeles.
Kramer himself and "Normal Heart" are undergoing a resurgence of attention. In addition to the Fountain's revival, an HBO movie starring Julia Roberts and Mark Ruffalo is currently in production, with Ryan Murphy directing.
Kramer, who was a Pulitzer Prize finalist in 1992 for his play "The Destiny of Me," received a 2013 Pen Literary Award for "Playwright in Mid-Career" and was an honoree at this year's Tony Awards for his "contribution to humanitarian or charitable causes."
In July, he married his longtime partner, David Webster, in the intensive care unit of NYU Langone Medical Center, where he was recovering from surgery.
PHOTOS: Hollywood stars on stage
The playwright, who first learned he was HIV-positive in 1988, wasn't available to speak on the phone to The Times about the L.A. revival of "The Normal Heart," but he did email good wishes to be passed on to Levy and the rest of the "Normal Heart" cast and crew. "It feels great!" he wrote. "Break a leg! Wish I was there with you!"
Levy says the recent attention around "Normal Heart" is no accident — with the passage of time, the play has transcended its initial political agenda and holds up as a literary work.
"In the mid-'80s, it was completely agitprop. It was all about anger, about the city's lack of response, the government's lack of response. It was all about getting our voices heard," Levy says. "It's been 30 years; people now look at the play and go, 'Oh my God, this is a really good play.' It's one of the great American plays. It's probably one of the top two or three great gay-themed plays ever written."
During the play's run at the Fountain, which sees community activism as one of its core missions, the theater will distribute educational materials about AIDS, and several associated with the production plan to participate in L.A.'s upcoming October AIDS walk.
"I feel like my job as an artist is to awaken, or reawaken, people to things," Levy says. "I want people to leave this production not going 'Oh, look what happened in 1981 and 1984'; I want people to walk out going 'Oh, my God, I didn't realize that this was still a tragedy.'"
------------------------------
'The Normal Heart'
Where: The Fountain Theatre, 5060 Fountain Ave., L.A.
When: 8 p.m. Thursdays-Saturdays, 2 p.m Sundays. (Call for exceptions.) Ends Nov. 3.
Tickets: $34
Contact: (323) 663-1525 or https://www.fountaintheatre.com
Running time: 2 hours, 30 minutes
---
Inside the business of entertainment
The Wide Shot brings you news, analysis and insights on everything from streaming wars to production — and what it all means for the future.
You may occasionally receive promotional content from the Los Angeles Times.