SoCal theater listings, April 14-21: 'Falsettos,' 'The Niceties' and more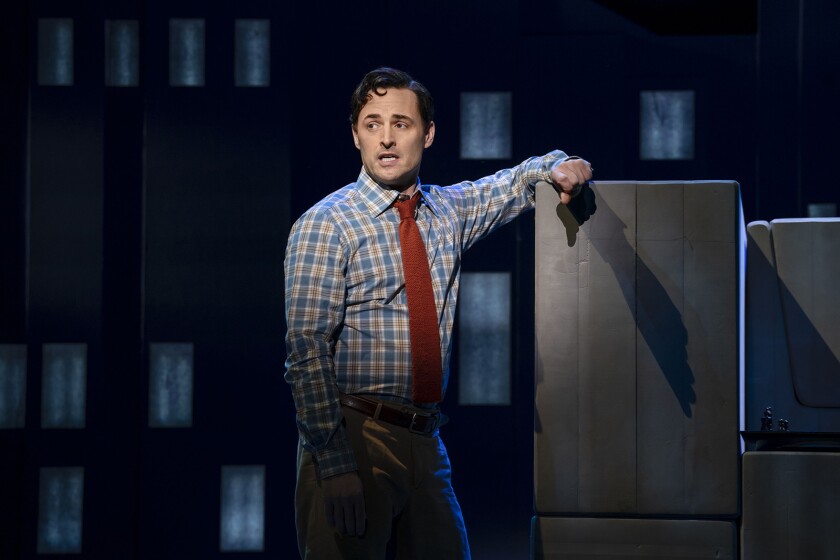 Capsule reviews are by Charles McNulty (C.M.), Philip Brandes (P.B.), F. Kathleen Foley (F.K.F.), Margaret Gray (M.G.) and Daryl H. Miller (D.H.M.).
Openings
Tiny Beautiful Things Nia Vardalos heads the cast of this drama she adapted from the writings of "Dear Sugar" advice columnist Cheryl Strayed. The Pasadena Playhouse, 39 S. El Molino Ave., Pasadena. Sun., 5 p.m., Tue.-Fri., 8 p.m.; Sat., 2 and 8 p.m.; next Sun., 2 and 7 p.m.; ends May 5. $25 and up. 626-356-7529. www.PasadenaPlayhouse.org
Twisted Broadway Benefit presented by Theatre LA Cares features re-workings of favorite show tunes. Upstairs at Vitello's, 4349 Tujunga Ave., Studio City. Sun., 1:30 p.m. $40, $50; food and drink minimums apply. (818) 769-0905. www.eventbrite.com
The Vagina Monologues Benefit performances of Eve Ensler's hit play; for ages 21 and up. The Federal, 5303 Lankershim Blvd., North Hollywood. Sun., 1 p.m. $20. www.ticketweb.com
Adam Pascal and Anthony Rapp: Acoustically Speaking The two "Rent" stars reunite to share songs and stories. Catalina Bar & Grill, 6725 W. Sunset Blvd., Hollywood. Mon.-Tue., 8:30 p.m. $25-$60; food and drink minimums apply. (866) 468-3399. www.TicketWeb.com
The Living Room Series Staged reading of Tori Kennan-Zelt's "Seph." The Blank's 2nd Stage Theatre, 6500 Santa Monica Blvd., Hollywood. Mon., 8 p.m. $15 suggested donation. (323) 661-9827. www.theblank.com
The Pack at the Pico Monthly reading series features original short comedies by Eugene Pack; with Barry Bostwick, Laraine Newman and others. The Pico, 10508 W. Pico Blvd., L.A. Tue., 7:30 p.m. $5 suggested donation. (310) 204-4440. www.thepico.com
Alan Cumming: Legal Immigrant The Tony winner ("Cabaret") shares songs and stories. Musco Center for the Arts, Chapman University, 1 University Drive, Orange. Wed., 7:30 p.m. $40-$85. (844) 626-8726. www.muscocenter.org
The Columbine Project The Loft Ensemble and the Whitefire Theatre co-present Paul Storiale's drama about the mass shooting at a Colorado high school in 1999; for ages 16 and up. Whitefire Theatre, 13500 Ventura Blvd., Sherman Oaks. Wed., 8 p.m.; ends May 22. $25. (818) 687-8559. www.whitefiretheatre.com
Falsettos Lincoln Center Theater's revival of William Finn and James Lapine's Tony-winning musical about a charming but neurotic gay Jewish man and the various people in his life. Ahmanson Theatre, 135 N. Grand Ave., L.A. Wed.-Fri., 8 p.m.; Sat., 2 and 8 p.m.; next Sun., 1 and 6:30 p.m.; ends May 19. $30-$135. (213) 972-4400. www.centertheatregroup.org
Tapestry: The Carole King Songbook Tribute artist Suzanne O. Davis salutes the Grammy-winning singer-songwriter. Laguna Playhouse, 606 Laguna Canyon Road, Laguna Beach. Wed.-Fri., 7:30 p.m.; Sat., 2 and 7:30 p.m.; next Sun., 3 p.m. $56-$71. (949) 497-2787. www.lagunaplayhouse.com
The Niceties A white female college professor clashes with an ambitious black female student in the West Coast premiere of Eleanor Burgess' drama. Geffen Playhouse, Gil Cates Theater, 10886 Le Conte Ave., Westwood. Wed.-Fri., 8 p.m.; Sat., 3 and 8 p.m.; next Sun., 2 and 7 p.m.; ends May 12. $30-$120. (310) 208-5454. www.geffenplayhouse.com
Chicas in Space Drag trio Chico's Angels return in their latest comedic adventure. Cavern Club Theater, Casita Del Campo Restaurant, 1920 Hyperion Ave., L.A. Thu.-Fri., 8 and 10 p.m.; Sat., 4, 8 and 10 p.m. www.chicosangels.com
Diana of Dobson's Antaeus Theatre Company presents a partner-cast revival of Cicely Hamilton's early 20th-century romantic comedy about a working-class woman who reaps an unexpected windfall. Kiki & David Gindler Performing Arts Center, 110 E. Broadway, Glendale. Thu.-Sat., 8 p.m.; next Sun., 2 p.m.; ends June 3. $35. (818) 506-1983. www.Antaeus.org
Fiddler on the Roof Classic musical about a tradition-loving Jewish milkman raising five daughters in a shtetl in czarist Russia. Hollywood Pantages, 6233 Hollywood Blvd., Hollywood. Thu., 8 p.m.; Fri., 8 p.m.; Sat., 2 and 8 p.m.; next Sun., 1 and 6:30 p.m.; ends May 5. $35 and up. (800) 982-2787. www.hollywoodpantages.com (Also at Segerstrom Center, May 7-19)
Nancy and Beth The music-and-comedy duo comprising Megan Mullally and Stephanie Hunt performs. Largo at the Coronet, 366 N. La Cienega Blvd., L.A. Fri.-Sat., 8:30 p.m. $30. www.nancyandbeth.com
The Rape of Lucrece: Shakespeare's Epic Poems Part 2 Radio-style presentation of the Bard's dark drama; parental discretion advised. The Helen Borgers Theatre, 4250 Atlantic Blvd., Long Beach. Fri.-Sat., 8 p.m.; ends April 28. $12.50. (562) 997-1494. www.LBShakespeare.org
Sand Moon Secrets are revealed when a brother and sister bring their respective girlfriends along on family vacations in writer-director Liz Lanier's drama. Son of Semele Theater, 3301 Beverly Blvd., L.A. Fri.-Sat., 8 p.m.; next Sun., 5 p.m.; ends April 28. $20. (213) 351-3507. www.sonofsemele.org
Sister Act The Musical Stage adaptation of the 1992 Whoopi Goldberg about a lounge singer who hides out in a convent after witnessing a murder. Casa 0101 Theater, 2102 E. 1st St., Boyle Heights. Fri., 8 p.m.; Sat., 2 and 8 p.m.; next Sun., 4 p.m.; ends May 19. $35-$50. (323) 263-7684. www.casa0101.org
Talent Show Cal-Arts students and alumni are joined by guest artists for this variety program. REDCAT, 631 W. 2nd St., L.A. Fri., 8:30 p.m. $9, $12. (213) 237-2800. www.redcat.org
The First Wives Fight Club Drag artists Raja, Peaches Christ and others star in this musical mashup of two classic 1990s-era films. The Montalbán, 1615 N. Vine St., Hollywood. Sat., 8 p.m. $20 and up. (323) 461-6999. www.themontalban.com
Happy Birthday, Mr. Shakespeare! A celebration of the Bard includes live performances, sword-fighting demonstrations, a sonnet-writing contest, craft workshops and more. The Old Globe Theatre, 1363 Old Globe Way, San Diego. Sat., 11 a.m. to 2 p.m. Free. (619) 234-5623. www.TheOldGlobe.org
Macbeth Female-centered, Nordic-inspired take on Shakespeare's tragedy about an ambitious Scottish warlord. Loft Ensemble, 13442 Ventura Blvd., Sherman Oaks. Sat., 8 p.m.; next Sun., 7 p.m.; ends May 27. $10, $20. (818) 616-3150. www.loftensemble.org
Revolutions/Revoluciones A desperate mother in an unnamed Latin American country searches for her missing son in Elaine Romero's drama presented by the Latino Theater Company and Mexico's Foro Shakespeare; in Spanish with English supertitles. The Los Angeles Theatre Center, 514 S. Spring St., L.A. Sat., 8 p.m.; next Sun., 4 p.m.; ends May 12. $20-$38. (866) 811-4111. www.thelatc.org
Sheepdog The romantic relationship between a female African American police officer and her white male partner reaches a crisis after he shoots a young black man in the line of duty in Kevin Artigue's new drama; contains adult language; for ages 14 and up. South Coast Repertory, Julianne Argyros Stage, 655 Town Center Drive, Costa Mesa. Sat.-next Sun., 2 and 7:45 p.m.; ends May 5. $23 and up. (714) 708-5555. www.scr.org
Singin' in the Rain Stage adaptation of the 1952 movie musical about the transition from silent films to talkies in 1920s Hollywood. La Mirada Theatre for the Performing Arts, 14900 La Mirada Blvd., La Mirada. Sat., 8 p.m.; next Sun., 2 p.m.; ends May 12. $15-$94; discounts available. (562) 944-9801. www.lamiradatheatre.com
The Taming of the Shrew The Porters of Hellgate present a gender-swapped staging of Shakespeare's romantic comedy. The Whitmore-Lindley Theatre Center, 11006 Magnolia Blvd., North Hollywood. Sat., 8 p.m.; next Sun., 7 p.m.; ends May 19. $20, $30. (800) 838-3006. www.portersofhellsgate.com
Critics' Choices
Argonautika Mary Zimmerman, known for her compilation of Ovid's tales in "Metamorphoses," isn't on hand to stage her 2006 take on the myth of Jason and the Argonauts, but as directed by Julia Rodriguez-Elliott, the show generates the eye-widening, gasp-inducing excitement that is characteristic of Zimmerman's work. Everyday objects are repurposed as building blocks of the fantastical worlds encountered by Jason and his intrepid adventurers. In this enduring story, we see our own challenges, temptations, fears and transforming loves. (D.H.M.) A Noise Within, 3352 E. Foothill Blvd., Pasadena. Next Sun., 2 and 7 p.m.; ends May 5. $25 and up; student rush, $20. (626) 356-3121. www.anoisewithin.org
Friends With Guns Although it may be misconstrued as a defense of gun ownership, Second Amendment issues are peripheral to Stephanie Alison Walker's remarkable new play, which is actually a savage feminist parable, a cautionary tale of the peril that may await women who dare to venture outside their accepted roles. When an apparently stable, politically liberal couple splits over the question of gun ownership, the deceptively genial husband cannot handle his perceived loss of control over his wife. The progression from the initially humorous to the terrifying is so subtly charted by director Randee Trabitz and her superb cast that you are emotionally floored before you know it. (F.K.F.) The Road on Magnolia, 10747 Magnolia Blvd., North Hollywood. Sun., 2 and 7 p.m.; Fri.-Sat., 8 p.m.; next Sun., 2 p.m.; ends May 5. $15, $34. (818) 761-8838. www.roadtheatre.org
Heisenberg A bold new interpretation eliminates much of the uncertainty in Simon Stephens' one-act, transforming an ambiguously quirky May-December romance into a moving meditation on the need for connection across the full spectrum of humanity. (P.B.) Laguna Playhouse, 606 Laguna Canyon Road, Laguna Beach. Ends Sun., 1 p.m. $56-$86. (949) 497-2787. www.lagunaplayhouse.com
Lackawanna Blues Ruben Santiago-Hudson's theatrical memoir, about being raised by the big-hearted proprietor of a boardinghouse for castaways and strays in an industrial upstate New York city near Buffalo, was turned into a TV movie that won S. Epatha Merkerson an Emmy Award. But the compact stage version at the Mark Taper Forum — written, directed and performed by a harmonica-wielding Santiago-Hudson, who's accompanied by Chris Thomas King on guitar — is still the most potent way of experiencing this beautiful story of gratitude. (C.M.) Mark Taper Forum, 135 N. Grand Ave., L.A. Sun., next Sun., 6:30 p.m.; Wed.-Fri., 8 p.m.; Sat., 2:30 and 8 p.m.; ends April 21. $30-$99. (213) 628-2772. www.centertheatregroup.org
The Mother of Henry Evelina Fernández and Jose Luis Valenzuela, two of the founders of the Latino Theater Company, have been married to each other and creating theater together in L.A. for decades. Their latest collaboration at the Los Angeles Theatre Center, "The Mother of Henry," written by Fernández and directed by Valenzuela, may be their most magical yet. Set in East L.A. during the late 1960s, it tells the story of a mother, Concepcion or "Connie," whose draft-age son is fighting in Vietnam. Through her job at Sears, Connie finds a diverse group of friends — a substitute family — who help her navigate the rapidly changing sociopolitical landscape. She also develops a personal friendship with La Virgen de Guadalupe, who has a powerful singing voice and many of the best lines in this sharply written, warm-hearted and gorgeously produced world premiere. (M.G.) The Los Angeles Theatre Center, 514 S. Spring St., L.A. Sun., 4 p.m.; Wed.-Sat., 8 p.m.; ends April 20. $20-$50. (866) 811-4111. www.thelatc.org
Native Son As profound as it is disturbing, Nambi E. Kelley's adaptation of Richard Wright's groundbreaking 1940 novel features a stellar cast in a surreal descent into a violent criminal protagonist's internal consciousness, revealing the fractured black identity that remains an enduring tragic legacy of racism. This encore Antaeus Theatre Company production is presented as part of Center Theatre Group's "Block Party" series. (P.B.) Kirk Douglas Theatre, 9820 Washington Blvd., Culver City. Sat., 8 p.m.; next Sun., 6:30 p.m.; ends April 28. $25-$77. (213) 628-2772. www.CenterTheatreGroup.org
Smart Love Fine performances and a strikingly original premise elevate a witty but at times convoluted comedy about romantic possibilities afforded by the brave new world of ever-accelerating technology. (P.B.) Pacific Resident Theatre, 703 Venice Blvd., Venice. Sun., next Sun., 3 p.m.; Thu.-Sat., 8 p.m.; ends May 5. $25-$34; discounts available. (310) 822-8392. www.pacificresidenttheatre.com
The Wolves Sarah DeLappe's stunning debut drama, a Pulitzer Prize finalist, presents the world through the prism of girls soccer. In this superb Echo Theater Company production directed by Alana Dietze, the play revolves around the overlapping exchanges during the pre-match warm-up sessions of a group of high school juniors who play for the Wolves. The talk is fast and fragmentary — routine banter of girls confronting the same social pressures as their minds and bodies transition into adulthood. By the end of the season, each of the girls is given a rigorous Chekhovian education in life. (C.M.) Atwater Village Theatre, 3269 Casitas Ave., L.A. Sun., next Sun., 4 p.m.; Mon., Thu.-Sat., 8 p.m.; ends April 22. $34; Mondays and Thursdays, $20 in advance, pay-what-you-want at the door (subject to availability). (310) 307-3753. www.echotheatercompany.com
---
Inside the business of entertainment
The Wide Shot brings you news, analysis and insights on everything from streaming wars to production — and what it all means for the future.
You may occasionally receive promotional content from the Los Angeles Times.