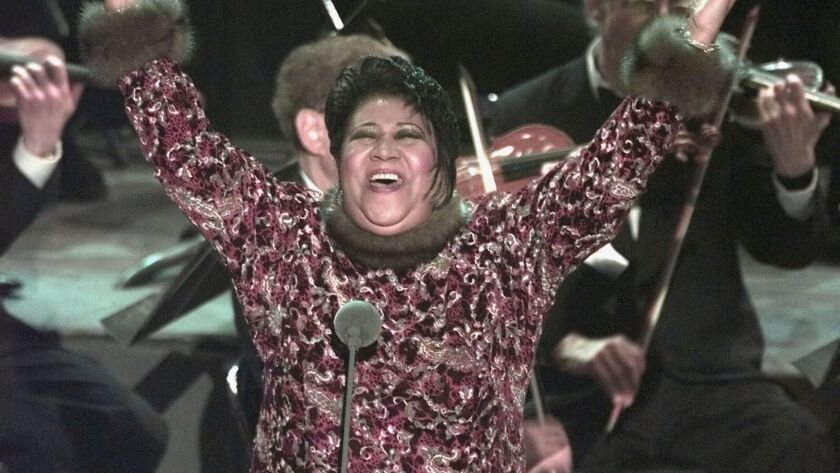 Music Critic
I watched the 1998 Grammy Awards broadcast out of a sense of duty, catching whatever classical bones might be thrown, figuring I needed to know how artistically low the whole thing could sink. Luciano Pavarotti was scheduled to sing Puccini's aria "Nessun Dorma," something he had once made the spectacular epitome of feel-good ecstatic triumph. But it, and he, had become commercialized clichés, his rendition having become a bruising soccer anthem and the once-great Italian tenor having become just as conventionally commercialized.
Nor did I greet the surprise announcement of his cancellation (calling in sick after the show had begun) and of his replacement, Aretha Franklin, with much pleasure. The Queen of Soul was in danger of becoming soullessly commercialized herself. She had recently contributed an over-produced, vocally uneven account of "Somewhere" on a pop compilation of numbers from "West Side Story."
But this time, she proved an inexorable natural woman; this time, she got respect. She had no time to prepare, as Times staff writer Randy Lewis describes in his account of that night. She relied on what she knew: her background of gospel.
RELATED: The night Aretha Franklin turned to opera and saved the Grammy Awards »
Once African American singers finally broke into the opera, gospel began to inform the overall style of American opera singing significantly. Marian Anderson, Leontyne Price, Jessye Norman, Kathleen Battle and many other opera singers grew up in world of gospel and sang in church choirs as kids. They still do, as is the case with the striking young countertenor John Holiday. They may go on to professional voice training, but they retain an essential sense of rhythm, particularly the theatrical hitting of a note an arresting fraction of a second off the beat, creating an unforgettably operatic emotional charge.
Embellishment is hallmark of gospel, as it had been of 17th, 18th and 19th century opera — the era when gospel developed. The worlds may have been different, but a singing zeitgeist was not.
Remembering Aretha Franklin: Complete coverage »
All of this was becoming lost in the early 20th century when Puccini wrote his last opera, "Turandot," and this is precisely what Franklin returned to with its best known aria, "Nessun Dorma." Opera, furthermore, had always been meant to be sung as if it were of the moment. Franklin's version was more cover than anything classical, but it felt thrillingly true to the spirit of Puccini.
More has probably been made of this than deserves to be. There was talk of an aria disc, but nothing ever came of it. On "Aretha Franklin Sings the Great Diva Classics," the Grammy "Nessun Dorma" is the only operatic classic. The rest are pop hits. But on that Grammy night 20 years ago, classical music was not thrown a bone. It was the evening's greatest delicacy, and it has become a classic Grammy moment.
---